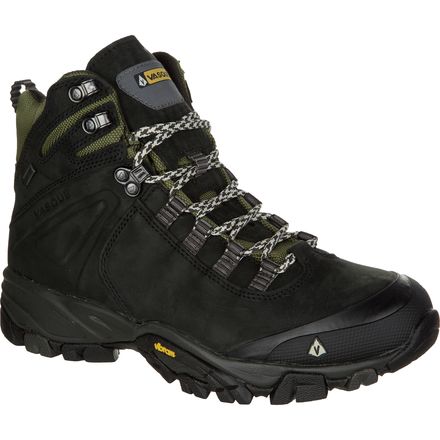 Detail Images

Videos
Description
The Taku GTX doesn't slog to the summit. It hops, skips, and jumps there.
Long, technical trails call for a lightweight yet capable hiker like the Vasque Men's Taku GTX Hiking Shoe. Vasque managed to pack a whole slew of mountain-munching features into this waterproof breathable, mid-high boot without weighing it (and you) down when the going gets rough.
Waterproof nubuck leather and Airmesh uppers are flexible, breathable, lightweight, and durable
Rubber toe bumpers protect feet from rocks and other obstacles
Gore-Tex inserts block outside water while allowing perspiration to escape
Anatomical, dual-density EVA footbeds offer support and cushioning
Molded polyurethane midsoles cushion and absorb shock
Thermoplastic urethane shanks increase support and control under heavy loads
Arc Tempo Last construction creates an agile, athletic fit with an asymmetrical curve that's great for higher arches
Arc Tempo Last also directs more power to the toe during foot push-off
Vibram rubber outsoles offer serious traction
Disapointment
Familiarity:

I've put it through the wringer

Fit:

True to size
I don't typically write reviews about anything, but these boots suck so hard I couldn't hold my tongue. I have given these boots every opportunity to impress me, and they fall short every time. I bought these in May of this year and the soul is already falling apart. A huge chunk completely fell off and the toe cap has begun to separate in a number of places. I just did a 23 mile hike in the rain last weekend in the Northwest and I had puddles in both boots while everyone else's feet were dry as a bone. I didn't even step in a puddle more than a couple of inches deep! On top of both of these issues, I find these boots to be straight up uncomfortable. My feet hurt after a hike of any distance and I get hot spots on my feet and ankles from them. I have never had issues with blisters in any other shoe I have owned. I have never owned a pair of Vasque boots before. I had high hopes for these and they completely crapped the bed.
Durable for sure.
Familiarity:

I've put it through the wringer

Fit:

True to size
I got these boots to replace my beaten out North Face hikers. I wanted a durable and comfortable replacement. This boot is very well made, the leather is very stiff, but repels nearly everything you throw at it. It is indeed water proof and is fairly comfortable. My main issue is that it can be very roomy in the shoe even if it fits your foot size. In the beginning the leather is so stiff it is difficult to tie up. I recommend a leather conditioner or patience for this boot.
Solid boot
Familiarity:

I've put it through the wringer

Fit:

True to size
I've hiked at least three hundred miles in these boots, everywhere from Alaska's Gates of the Arctic to work projects for Eagle Scouts and everywhere in between. They took a big beating on the 150 mile AK trek, particularly in terms of abrasion, but they're still ticking. They are stiff, but I believe that will change once I use some leather product on them. Minor cosmetic stuff has come apart. Comfortable, relatively light, and GREAT ankle support.
Vasque Taku GTX Hiking Shoe - Men's
These were working so well for me, very comfortable and well made until they got soaked in a 22 mile hike in the rain. They stayed dry for about 15 of those miles but the water eventually worked it's way in, but that wasn't the problem. I expected some water to get in, especially in the heavy rain i was in, the problem was two weeks after. I took the soles out and let them air dry for two weeks before i used them again, they were never the same again. The boots became very stiff and uncomfortable and i started to get blisters that i didn't get before they got wet. I still like this boot but i had to return and get something else. good boot if you don't get wet inside.
Well i had these boots but there isnt alot of room in the toe box my toes would go numb after a couple of hours....... Probably for narrow feet only my suggestion
I thought these boots were great at first, but after a couple of months of fairly hard use, the cool looking toe cap construction fired back. Because of how and where the rubber comes over the toe box, a crease formed over my toes. It permanently stuck down and put pressure on my toes and feet, making the shoes very uncomfortable. otherwise, they did hold up pretty well and were comfortable otherwise, so your mileage may vary.
Just returned from 10 mile hike that had a little of everything, dirt, rock, river crossing's, 10 to be exact, and some bolder hopping. They held up really well and very comfortable during the whole hike. They require very little break in time, my feet began to feel a little discomfort at about mile 9 but that's to be expected after jumping around on rocks all day. The only thing I noticed on the shoe once I cleaned off all the dirt was that the toe guard piece peeled back just a bit. I'm going to clue it back and hope it does not get worse, other than that they are very nice boots. The water proofing worked very well, did not feel any moister at all other than a little sweat from my feet but even that was not bad, they breath pretty good. Ready for the next ten miles +.
Vasque - The Master of Fit in The Story of the Last