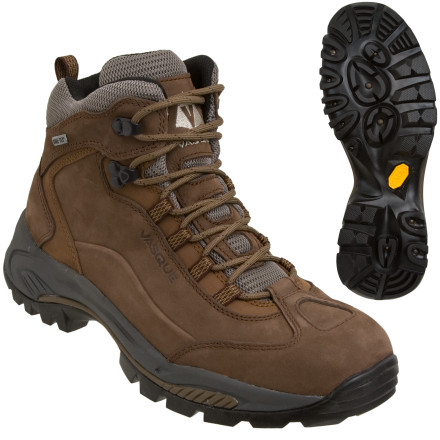 Detail Images
Unanswered Question
What are the best hiking boots for someone...
What are the best hiking boots for someone with wide feet - ee
I have searched for boots that feel like tennis shoes but perform like army boots and are still light enough to let me hike without weighing me down......AND HERE THEY ARE! I have never had a better fit in the toebox as well...I have very long and narrow feet and Vasque is an excellent find.
Comfortable, good snugg fit, stylish with a soft warm look and feel. Good support without stiffness or the need for a break-in period. Light enough for everyday wear and tough enough for the trail with light loads.
Out of the box, they went 2 days in the Gila Wilderness (hills, water, and sand), 1 day at White Sands (yes, in the desert), 2 days at Guadalupe Nat. Forest, one day of horses, and one day caving at Carlsbad. These trips were very aggressive day hikes. Excellent fit, true to size, no problems, and absolutely perfect. Tight heel, good arch support ,and good toe room. Better than Breeze, more robust wrt rocks and water with the same firm heel and arch. I tried 7 different sets and ended up with these as the best for the performance and cost ratio. These are great day hikers or light back pack shoes. They are not too hot and seem to be more robust than the Breeze with the same sole. I am from the Southeast, a runner, and these are perfect for here, and they survived NM.
Definitely a high quality boot. As of this review I've logged about 150 miles on these boots. The best thing, without question, is that I can step in the mud you thought wasn't deep, but then it was, and my feet stay dry. As long as the water/mud doesn't go above the top of the boot, your feet will not get wet. And they have great ventilation, my feet aren't sweaty when I take my boots off and start setting up camp. That means I'm the only one that doesn't have to leave my socks out to dry. Definitely go for the Gore-tex version if you do any serious hiking.
These are a very good boots. The gortex sleeve is completely waterproof and the bottom treads are not showing any signs of wear after nearly 100 miles already. The boots break in quickly but just keep getting more confortable with each wear.
VASQUE SWITCHBACK GTX BOOTS
I wear a size 11 and found these boots to be a good fit. One of my feet is on the wide side, and although these boots are a medium width, they fit great. I am tall and thin so a snug heal pocket is a must, and these boots fit perfectly and prevent slippage. They are amazingly lightweight (perfect for my ultra light backpacking) yet the soles are stiff with good torsion control. They are not designed for heavy backpacks, but are perfect for light loads or serious hikes. I recommend these boots.
Vasque Switchback GTX Hiking Boots
I ordered a size 12, I'm usually a straight 11.5 US D width and sometimes a little wider. Tried them on with wool liners and a heavily padded Smartwool mountaineering wool sock. The first thing I noticed is the heel pocket was too tight squeezing my heel towards uncomfortable. After several walks around the I knew these were not the hiking boots for me. I like the meaty Vibram sole, and wondered why this boot didn't have some extra toe protection other than the suede leather. Generally speaking I think Vasque makes a good boot, however most models are too narrow for my barely beyond "D" width preference.