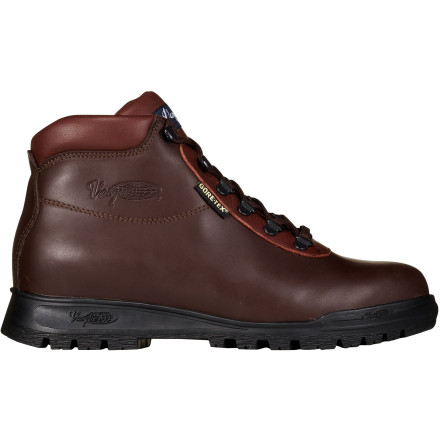 Videos

Community Images
Description
Time tested design meets new technology.
The Vasque Sundowner has gained a reputation as an excellent hiking boot for a variety of conditions. Vasque continues that tradition with the Sundowner GTX. This Gore-Tex lined boot is completely waterproof for the soggy conditions that so many of us hike in and retains all of the quality and comfort of an old school full leather boot. Do you wish the good old leather mid-weight boots would come back? Well, they never actually left.
Best Boots I've ever bought
Familiarity:

I've put it through the wringer

Fit:

True to size
These boots are still going strong at 8 years and are extremely comfortable. I have replaced the insoles once and kept a good layer of leather treatment on them and the waterproofing is still bomber
Similar experience to others
Gender:

Male

Familiarity:

I've used it several times

Fit:

Runs large
I have two pairs. The 1997 pair are fantastic, best boots I ever owned, in almost every way. Just bought a new pair and the fit is bad for one foot and good for the other, its weird. Tried all sorts of solutions (two pairs of socks, high-volume insoles, etc.) nothing seems to stop the one boot being "floppy". As others have said, the ROC-made ones aren't "poor quality" so much as "variable quality"
Wrong size.. great customer support
Familiarity:

I returned this product before using it

Fit:

Runs large
I ordered the wrong size but wanted all to know that the customer service from the staff was awesome and took care of me. Well done! Got the size I needed in 2 days -

By the way- Classic boot! love it.
Yup, these run big for their size.
Gender:

Male

Familiarity:

I returned this product before using it

Fit:

Runs large
I got my boots today and they are too big. I guess I should start buying 2 pairs at a time and returning one.
Nice boot, could be better
Familiarity:

I've used it several times

Fit:

Runs large
Roomy boot, too roomy for my somewhat narrow feet. Quality seems overall good. Seam down the midline at the back of heel seems ripe for causing heel rub on ascents, which is does, though it hasn't been a major problem for me so far. Not getting blisters, put Superfeet in for a little extra cushion.
I just bought a gently used pair of...
I just bought a gently used pair of Sundowners at a garage sale yesterday for $1.00. I know, right? Looking inside the tongue, I see they were made in Italy which, according to what I've read on this site, would mean they were made no later than 1998. Stamped into the inside of the tongue on both boots , on one side is the number "96" and on the other, the letter "L". Since the 96 can't be a size (these are probably size 9 US since they fit perfectly), could the 96 refer to the year of manufacture?
Thanks Wayne. On my bargain boots, all of the information is printed directly on to the leather of the inside of the tongue and, being black, would probably not show up in a photo.



On the left side is a large "96". On the right side is a large "L" and in the middle, in a smaller font, is the information about what they're made of and where they were made.



I polished them up last night and got rid of the scuff marks. They look almost brand new but are likely at least 16 years old.



-Steve
Best Answer
I have had several pairs of the original "made in Italy" sundowner, which used to actually go by another name. Since they started being made in china the quality has obviously declined significantly. I just received a new pair from back country in the mail last night and will definitely be returning them. They are nothing like they used to be. Its a shame too, I have been wearing these boots since high school. (im 38 now) One review stated that they run large, as far as fit, and I can confirm that to be true. Last year I had two older pair blow out in the same day while cutting fire wood. And I had just finished bragging about them. (they were both Chinese made) The soles just came un glued all of the sudden.
My husband was a big fan of these boots while they were still made in Italy. Now that they are manufactured in China the quality is no where as good. The soles are not sewn any longer, which was on of the qualities he liked about the boot originally. Sad to see a nice quality boot get shipped out to China for production. Now we are on the hunt for another good quality hiking boot! So if you do find this boot before it was shipped out to China......definitely a keeper!
I just checked my old pair and they say "98" in black ink on the leather tongue, over on the left, and "G" over on the right. Elsewhere on the tongue it says the size and materials ("Uppers cowhide", for example, and then the most important detail, "Made in Italy".)
Best Answer
They are not. Sorry.
NOT the same sundowner from a decade ago
My first sundowners lasted more than ten years before the sole fell off. They remained water proof until just before then, when rocks started puncturing the sole. I bought a new pair last year. Both of the new boots leak water if I get in the least bit of moisture: wet grass, 3 inches of snow in the grocery store parking lot, puddles, ect. They are not the hiking boot of past fame. What a shame. Look for another brand, that IS MADE IN AMERICA or some other country that is not China. Quality is not Vasque's priority any longer.

A sad former customer says goodbye.
I've just reconditioned an early version...
I've just reconditioned an early version of a Sundowner GTX, with Kiwi polish and new laces. It's as beautiful and easy walking as the boot I remember that carried me over Bishop into Evolution Valley, through Yosemite high country, Desolation Wilderness, Emigrant Basin, around Glacier Peak.

Since I'm long past such trips, I'm planning to sell these boots and wonder if anyone has a suggestion for a fair price to charge.

Thanks for any notions at all.
I don't know what a fair price would be but I bought a pair at a garage sale this weekend for $1.00. They polished up to look like new. I saw a smaller pair at a Goodwill in Eugene, OR a week or two ago for $4.99. However, if someone was specifically looking for a pair of older (Italian, I presume?) Sundowners, and didn't just want to take their chances at the second-hand stores, I'd think you'd be able to get much more than that. At least I hope'd so
Very disappointed and returned the item
Familiarity:

I returned this product before using it
I previously owned two Sundowners over the last 20 years . They carried me over volcanoes, through the Amazon, even protected me from a snake bite in Indonesia. The Italian made versions were amazing and I loved them. When I recently replaced my wornout pair, what arrived was a cheap Chinese knockoff. It didn't fit well. Didn't look the same and the soles were trash.....just didn't deserve the Sundowner name. I returned it and decided to superglue my old sole back together for perhaps another year of service.....ahhh, very sad.
I have an old pair of Sundowners. The...
I have an old pair of Sundowners. The size on the inside appears to be 96 M but I don't see that size on the size chart. Most of my regular shoes are 11-11 1/2.
Hey Greg,



The only thing that I can think of is that the 96 might be a little faded and its actually a 46 European which would be about a size 12 in US Mens. If you wanted to give our Gearheads a call at 800.409.4502, I bet they can help figure out which size you had before.
Hey Greg,



As noted in a message above, I bought an older pair that say 96 L but they're US size 9 as near as I can tell by how they fit.
Vasque Sundowner GTX Backpacking Boot
I just replaced my older (~8 yrs, resoled once) Sundowners, and I can already tell the new version will not hold a candle to the old. My older Sundowners were from the days when Vasque was still manufacturing in Italy and using vibram soles. These are now made in China and it shows, and they've dropped the brand name soles. The size is off, even though I bought the same 10.5 - there's a wierd combination of fit by length but too much room in the toebox, and there's significant slip in the heels that I can't fix with different lacing styles. As much as I hate to say it, if you got used to the old school, you will be disappointed by the new.
SUNDOWNERS
Gender:

Male

Familiarity:

I've used it several times
TOUGH BOOT. VERY FLEXIBLE AT THE TOES & NOT GOOD IF YOU HAVE ANY TOE ISSUES AS IT PUTS TO MUCH WEIGHT ON YOUR PAWS. SEEMS DURABLE AND VERY WATER PROOF. $150 BUCKS... PROBABLY LAST IF YOU DONT HAVE THE ABOVE PROBLEM. BOOT SEEMS READY TO GO FOR THE SOLID FOOT.
Hell of a boot
Gender:

Male

Familiarity:

I've put it through the wringer
I got these boots for Christmas when I was in 9th grade. I am now 24 years old and still wear the hell outta these boots! Although the sole is very warn (to be expected after 8+ years of use) the leather is still in great condition and the sole still provides reasonable support! I've had 2 other pair of $200 range backpacking boots that have fallen apart in much less time. Most comfortable boots I've warn and like other reviews say.... GIVE THEM TIME to break in! Any full leather high end boot is going to be stiff straight outta the box. Break them in and you'll have yourself an incredible boot for years to come. (One disclaimer.... I bought these when they were made in Italy, and I'm pretty sure they are now made in China. So if they fail to hold up to the abuse I described.... Blame China!)
I have had 4 pairs of these boots over the last 20 years. I have loved every generation. It's a full on leather hiking boot. So not for the fast and light crew. but if you need something sturdy and long lasting...this can't be beat. Water proof and breathable (for a leather boot.) I review and test gear fro Gore as part of a program called Mountain techs
There is no selection for width..do they...
There is no selection for width..do they all come in standard/medium?
The model we have for sale is the standard D width for men.
Had these for ten years! Over 3000 miles of hikes in the NH Whites, the Alps, 8 National Parks in the west, including famous hikes like Rainier, Half Dome, and many smaller excursions. They are still going strong -- if you ignore some duct tape I had to add to the back of the top entry.
Made in China=junk
When they where made in Italy they where best hiking boots ever made!!!!