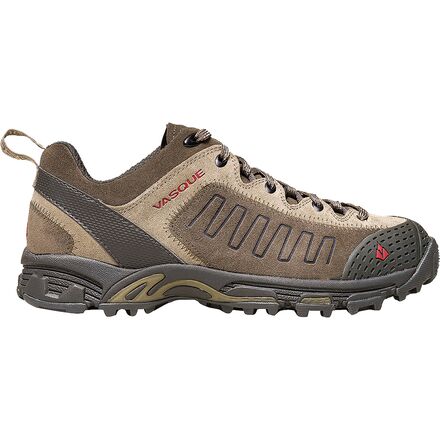 Detail Images

Videos

Community Images
Description
One shoe for walking the long trail, or taking a shortcut to downtown.
From lightweight backpacking to burly trail runs, the Vasque Men???s Juxt Hiking Shoe digs into the dirt and sucks up the impact of rocky ascents. The relentlessly grippy Off The Grid sole is durable enough for seasons of enthusiastic abuse, and a TPU plate in the midfoot protects you from protrusions and uneven terrain without adding unnecessary weight. The medium-volume Arc Tempo last accommodates higher arches and has plenty of vertical room for your toes so you can bound through nature with fleet-footed agility.
Won't buy Vasque shoes again
Bought this shoe 2 years ago, and have only worn to work (office job) during winter months...so basically just walking on pavement and snow 6 months of the year...no trails, no talus, nothing that should cause the wear I see. Already, the rubber on the heels is peeling off, and the leather has pulled away from the rubber toe piece in 2 spots. This is my first pair of Vasque shoes. It will be my only pair. They are a comfy shoe, but the quality of construction is lacking compared to other brands.
just got my 6th pair of JUXT
Familiarity:

I've put it through the wringer

Fit:

True to size
i am going on my 6th pair of JUXT. these are my every day every thing shoe. I wear them for comfort and support.
I've tried other Vasque in supposed the same size and they didn't fit right.
I've been using the JUXT now for over 5 years.
don't discontinue please!!
Perfect shoe to hike in
Familiarity:

I've used it once or twice and have initial impressions

Fit:

True to size
Owned these boots for two days, took them out for a test today on the trail, and man did they feel great. Its nice to have a lightweight shoe with the sole of a boot. I would strongly recommend these!
Perfect desert boot.
Familiarity:

I've put it through the wringer

Fit:

True to size
I work over seas, this will be my 2nd pair. I have worn them in rain, sand, over mountains and miles of concrete (urban environment) with extremely harsh and dirty environments. I would recommend this boot to anyone that has a short work deployment or vacation. They don't hold on much for 4-5 months straight. However, they do wear well and are true to size. I wear a 9 running shoe to a 9 1/2 and a 10 for a hiking/ work boot. They fit well for a 10. Being that they are a very soft sole boot, wear will show quickly if you don't use them for what they are intended for. -"Doing work".

I am glad that they still sell them.
Great Boots
Familiarity:

I've used it several times

Fit:

Runs large
Super comfy, ran a little large so went down a size.
good shoes, bad Vasque
Familiarity:

I've put it through the wringer

Fit:

True to size
I am happy with these shoes. They are comfortable and fit my narrow feet well. However I am not happy with the customer service from Vasque. After a very short time, both laces broke (within a week of each other) so I called Vasque to see if they have a solution. Basically they said too bad, they couldn't help me. It is not that I was particularly upset that the laces broke prematurely, but for shoes that cost over $100 I expect that the manufacturer would be willing to figure out a solution - or even a thankyou for letting them know there were quality control problems with the laces.
Great for what it is
Familiarity:

I've put it through the wringer

Fit:

True to size
Like the name says they are juxt a hiking shoe...I picked these up because I needed a comfortable hiking shoe for chill hikes. I was tired of always hiking in my tight approach shoes and these fit the bill perfectly. They are light and flexible and have lots of room in the toe box so you don't crunch your toes on the downhill. They grip surprisingly well considering the non-vibram sole. They climb/scramble fairly well too. They only down side is they are awful when trying to grip wet surfaces. (Especially wet lime-stone) They are super comfy, right outta the box I took them up to the Teton glacier and had no blisters or problems with my feet at all. They do fit a bit wide which I dig coming from tight approach shoes. These are great for chill trails and scrambling on dry rock. Totally recommended.



UPDATE.

These suck in the snow. We had a dusting last night and I went for a hike this morning and I was slipping and sliding all over the place. They do ok un mud because of the deep tread but the rubber will not grip rocks when wet or snowy. And my feet got cold fast. Not that I expected them to be great in the snow just didn't think they would be as terrible as they are
Great product!
Familiarity:

I've put it through the wringer

Fit:

True to size
I have used this shoe on many MANY trails and it works like a charm. It is light, comfy, and durable.

I've even used it conyoneering at Grand Canyon and on numerous off trail excursions around the southwest including some class 4 climbs. I have never had a problem with traction. ever.

Its a kick ass shoe. get it.
Worthless soles. Fine for around town.
Gender:

Male

Familiarity:

I've used it several times
Stylish, comfortable, fit true to size. Almost no break-in period. A shame, because they are useless as a hiker/trail runner.



The soles are so surprisingly slippery on rock that I nearly fell and twisted an ankle on two separate occasions during the first 1/2 mile of a trial hike. Shocking, because the sole's pattern is aggressive and looks sturdy. The rubber, however, is not meant for real traction.



Not sure why a reputable boot company like Vasque would ever make and sell a light hiker without using Vibram soles (or really any manufacturer for that matter), IMO.



If they were a $40 boot, it would be a no-brainer as a comfy around-town shoe, but at their price (even the sale price),they should have a reliable and quality sole. They cannot be considered a real hiker. My Vibram soled Chaco Flip Flops have better traction...no exaggeration!



Sadly, I am returning them.
Vasque Juxt Hiking Shoe - Men's
I looked in numerous stores for an everyday dress/casual shoe. I'm 51, but very fit and active. No matter the brand or store, nothing I liked.

The Vasque Juxt has gotten me many compliments. They have a subtle flashiness to them, but Olive/Lt Tan/Black is subdued enough.

My feet are medium in width. The shoes feel a bit narrow. But, besides looks, I bought them for the "fully fitted" feel. They do have that. Maybe 2nd best on that score I've ever had.

Looking online to find a place to buy two more pairs! I hate shopping, especially when there is nothing acceptable available. Old man thing. :)
Very nice, especially at half price
These shoes have a very narrow profile. So if your foot is wide be aware of this.

The materials and build is rather sturdy and good all around. This shoe is not made for heavy beatings for extended periods of time as it's rather light without getting into real light shoe territory. The blue is a little more saturated than what I see on this monitor.
just got'em in and i think they look better in person. some may have an issue with the width. i usually get new balance 10.5 wide. i ordered this shoe in an 11 and there is just enough width. after a couple weeks of pounding around at work i think they will be fine.
I needed some light hikers and these hit the spot. They fit great and are very comfortable. We'll see how they hold up to abuse.
Developed Hole after one hike
Seemed like a nice shoe. Went on hike in Northern Vietnam on family trip. This was the first time I wore them, besides the airplane ride. Half way through the hike, noticed a rip/tear where the rubber meets the fabric on the side of the toe. Will take back to REI.
one of the worst hiking shoes
The shoe is very uncomfortable when you hike. Initially when tried on, it seems rather ok, but once you start hiking, it is not flexible at all and give you all kinds of blisters, front and back. It is also very narrow and a bit shorter for its size. I have a size 9 and my toes were bend during hiking to fit properly in it...
These shoes were great for a month or two, until they started to wear out like shoes from payless. I really liked the look and the fit of them when I first got them. The laces allow you to customize the fit for thinner or slightly wider feet, or if you want to cinch them down so you don't pack your toes on the downhill. The tread however wore out very quickly. These shoes are very slippery on polished and wet rocks. After a couple months the stitching that holds the seams together began to spread apart, and a hole was easily ripped in the material on a short day hike. I think these are great shoes to wear around town or for a walk in the park, but if you plan to put them through the ringer like I did, get something that will give you more for your money.
So far this hiking sneaker has lived up to what you would think. I did heed the warning and ordered a half size smaller than I normally get in most shoes. This shoe does run a little longer than other shoes. It has a fantastic width dimension from heal to toe that 'fits' your foot just right. I will buy Vasque again and again. Better than Merrell and my trusty Lowa's have changed their design. So, Vasque is my new shoe. Don't hesitate to get this shoe.