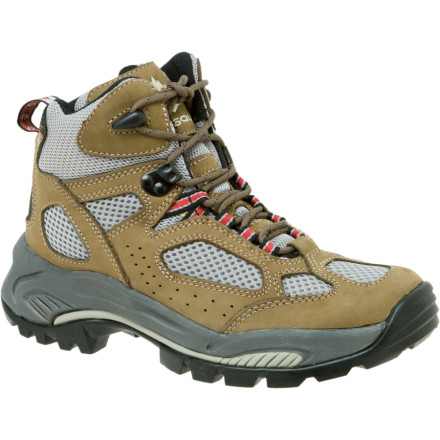 Detail Images
The Vasque Breeze Women's Hiking Boot is a lightweight and stable boot designed specifically for backpacking with light loads or long distance fast hiking. The last thing you need on a 30-mile day is a heavy pair of boots weighing you down. So Vasque combined technology found in the breathable uppers of their trail running shoes with a stable hiking boot mid- and outsole to create a sure winner on the trail. Supporting the Breeze from below is Vasque's proprietary Vibram outsole, featuring aggressive lugs and a super stable heel and toe-off pattern. A nylon plate separates the outsole from the EVA midsole, and is clearly visible through gaps in the Vibram rubber. This plate has incredible forward flex combined with torsional rigidity???letting your foot flow forward on the trail without being deflected by rocks and irregularities. Further, Vasque's high-quality DryTech footbed, with full arch support, rests directly on the midsole EVA for instant comfort and zero break-in period. Not too shabby! Finally, the Airmesh and Nubuck upper is super breathable and light, making the Breeze perfect for use in warm, dry climates. Should you get your boots a bit wet, the Airmesh dries quickly, making this boot great for all but the wettest conditions.
Vasque Breeze's have Changed
Just read the dates on some of the reviews - yes, these used to be the most comfortable hiking - heck, shoes - I ever wore - and yes, right out of the box. But the company has been sold, and the shoes are now dumbed down - it's like walking with bricks on the bottom of your feet - so stiff. Such a shame.
Unanswered Question
My wife has wears a size 6 Wide which is...
My wife has wears a size 6 Wide which is very hard to find any shoes that will fit her feet. I just saw a review from a woman here that said she had the same problem and that the Vasque Breeze Hiking boot was working for her.

Several years back when we were hiking we found that a Youth Boy's shoe would work for her even giving room for a liner sock and wool socks, she is now working daily on a concrete floor and we need to find a good hiking boot that we feel might give her some relief.

Any help or suggestions is greatly appreciated, this is a severe need of my wife.

Thanks,

Larry Isley
Unanswered Question
My wife has small feet size 6 but they are...
My wife has small feet size 6 but they are wide and works on a concrete floor daily and needs but we can't find any hiking boots that offer this size. We see that some women may have gotten good results with this boot.

When we were hiking she had a pair of Youth Boy's that worked well for her but we don't remember the sizing of the Youth Boys boots.

Any help with this would be greatly appreciated.
Lightweight comfort and supportive
Great lightweight hiking boots! As the other reviewers have stated, I can also testify that these boots are comfortable right out of the box. I had to replace my Merrell Chameleon day hikers, and found that the newer design was not a good fit for my feet. I tend to get hot spots in the heel, or near the tops of my toes, but had none of these problems with the Vaszue Breeze. I found that the Vasque Breeze was not only very light weight, but very comfortable. So far I've worn them on various day hikes with the longest distance being 18 miles, and my feet were springy throughout the entire trek. Even though these are goretex lined, they are definitely not waterproof. I also found that dust and sand does have the ability to work its way into the boot through the mesh inserts -- which is why they only got 4 stars. I like the mid-height fit of these boots more than other that I've tried where the tied laces have a tendency to slide above the tongue -- not a problem with the Vasque. While I have not had the opportunity to take them backpacking, I'm definitely planning to use them on my next trip.
Love these boots, but not good in wet conditions
I LOVE these boots. There was no break-in period for these and they fit my big, wide feet perfectly. Recently went on a 16-day trip with a few big hikes, and at the end of each hike my feet were happy and had no sores or blisters anywhere. When we hiked Wheeler Peak in NV, these performed even better than I thought - I am terribly klutzy but didn't have to worry about slipping on the rocky trail, as the vibram soles performed wonderfully. The ankle support is great as well - there were many moment where I would have been hurt in my old hiking boots. I LOVE these boots and highly recommend them, unless you plan on being out in any sort of wet conditions. Wishing I would have bought the GTX after a long day of hiking in rain...however, besides that, I love them.
Unanswered Question
Write your question here... I need a ...
Write your question here...
I need a women's gore teck( water proof light hiking boot.

What do you suggest?
Unanswered Question
Are innersoles removeable? Pretty true...
Are innersoles removeable? Pretty true to size?
Queen of blisters (no more)
I am seriously the Queen of Blistered Heels. I always have 2-3 pairs of boots in rotation so I can be breaking one pair in and then use the comfie pairs while I heal up. I honestly didn't expect much from these boots and now I don't know what I'd do without them. They are my absolute fave boots. They fit well, are downright springy, and so light I feel like I could bounce up the trail. Alas they are indeed not waterproof, but for most of the year that's ok. I do have a pair of heavy hikers for the winter but those took 1 full, agonozing year to break in (and they're too hot 'n heavy for warm weather) so I may see how Vasque's heavier boots work for me when the time comes to replace them. I cannot go on enough about how comfortable these were right out of the box.
I needed lightweight, sturdy hikers for my twice weekly hikes in the Sonoran desert. These boots are perfect, required no breaking in, and have been comfortable from day one. They provide protection to my once-broken ankle without any rubbing or hot spots. Whether on a trail, or scrambling up a brushy hillside,I would recommend these boots for anyone who does day hikes.
, ☃bcs_badge_alumni_label☃
Comfy right out of the box
Finally- a boot that fits well right out of the box. I have difficult feet to fit and I'm a notorious blisterer- so I'd say I'm extra sensitive to tight fitting boots. These are comfy, light, and breathable with a decent sized toebox. I've actually spent the past 2 seasons backpacking lightweight in trail running shoes or Keens, which has been fine, but I've been trashing my shoes too quickly. After half dozen backpacking trips with these, they're holding up well, and light enough that I can bring sandals too and transition in and out of them without being too burdened with extra weight. The only downside to their breathability is that I get a lot of sand in them (in sandy conditions I have to unload them every few minutes). On hardpack, it's no problem. Perfect desert and dry condition hiking boots.
great hiker, but not good in wet conditions
I am happy with this boot because it doesn't need to break it and it's light. It is great on the ankles; however, I did fall in a brook and had cold and wet feet for the remainder of the hike. I was under the impression, from the review of the hiker on Mt. Washington, that this boot was good in those types of conditions, but was shocked to find it was not.
The Vasque Breeze Gortex is worth every penny! I just got back from a hike up Mount Washington on May 28th. There is still snow on the mountain so the trail from the Cog Railway was like one long stream. I was with 43 highschool kids on an outdoor ed. trip and when we reached the top I was the only one with dry feet. The boots had no break-in period to speak of. After two long days of climbing, the first up Mount Washington from the Cog and down Tuckerman's Ravine to Pinkham Notch, and the second day to the summit of Mount Chocoura, my feet were very comfortable with no blisters at all. The grip was amazing even on the slippery wet rocks at the summit of Chocoura as we encountered thunderstorms and hail while we were climbing. The boot is nice and light and that pale yellow along the bottom makes it pretty sweet looking.
Breeze Hiking Boot is all that and more!
I don't know if I qualify as a bonafide hiker because my sport is endurance horseback riding. But Wow! When Vasque says "no break-in time" they mean it. I hiked out of canyons and ran down into ravines in these boots and felt great. No weight to them at all. Don't think I could get my ankle to turn over if I tried and as a bonus they felt great in the stirrups. I am buying my husband a pair for Fathers Day.