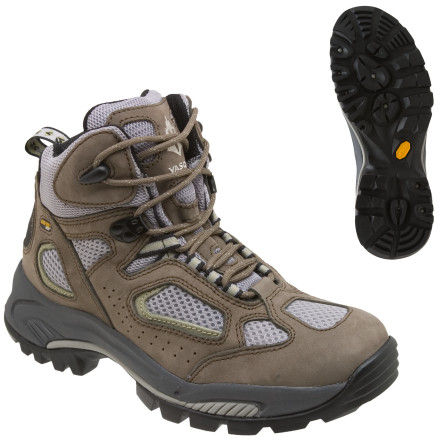 Detail Images

Videos
It's raining like crazy on your three-day backpacking trip, but your feet are dry and comfortable inside the Vasque Women's Breeze XCR Hiking Shoes. Their waterproof breathable Gore-Tex XCR linings keep out moisture no matter how hard it rains. The mid-height Breeze XCR Hiking Shoes support your ankles when you're shouldering a heavy pack and Vibram Contact soles provide excellent traction on the muddy trails. A plastic Flexframe 1 Plate separates the Breeze XCR's midsole from outsole. The frame has an excellent forward flex, but limits twisting to keep your ankles stable.
Too much shoe
Familiarity:

I've put it through the wringer

Fit:

True to size
The roomy toe box, which I was initially stoked on just provides an opportunity for toe bang and movement that can be pain causing on longer hikes. They have a pretty thick sole, especially on the heel. That doesn't work well for me, it tends to be jarring on my lower body, especially on the down hill. They have great grip, well made, and like my last pair of vasques, the tread would probably wear down before the boot itself is worn out. These boots are right for somebody, just not me.
Nice Fit, Comfortable. So Far So Good.
Familiarity:

I've used it several times
A little background: I've owned about 3-4 pair of hiking boots the last 6-7 years, and I've rotated them depending on the length of my hikes, time of year, whether I'm carrying a full backpack or a light daypack. Just recently I?ve discovered my boots are getting a little snug, especially in the toe box, so that probably meant my feet are ever-so-slightly spreading out; a condition of aging, gasp. It was during my last backpack trip in May that I knew I needed a larger pair of boots.



So I shopped the Internet and found a good deal on the Vasque Breeze GTX boots, and I ordered them one full size larger. I usually wear a womens 10 and was apprehensive about getting a size 11, but figured I could double up my socks if need be. When they arrived, I promptly put on a pair of nice thick hiking socks along with some gel inserts and took a 3-mile walk. The boots felt good; I tweaked the laces and had plenty of room where I needed it but yet they were snug around my ankles, which is what I prefer. I had an occasion to take a backpack trip a few weeks ago where my real-world test would prove their worth. I hiked up and down some steep trails; the shoes were a dream. Between the inserts and good socks, the boots fit well and felt great. My toes were not jammed, which is what I experienced from my older boots.



Time will tell how well they hold up, but for today, right out of the box, I am pleased. They don't really look big on my feet either and they don't feel heavy. I like the support, the roominess and they feel like they will hold up to some serious hiking. So far so good.


I hike about 10 miles a day in the desert as a field biologist. Last spring I used this exact pair of boots out of the box and had no trouble whatsoever - fit true to size, did not have any hot spots, and held up as well as I expected throughout the hiking season (I'm 5'6, 135lbs, size 9.5 boot). I would have given the product 4/5 stars.



Since I had such a good experience last year, I re-ordered the boots for this season, and in less than 4 weeks they have totally disappointed me. The midsole and insole don't sit flat and are causing all kinds of pain on my feet due to bumps and seams underfoot. I can hardly fit my feet in the boot since the toebox has warped or something. I'm not sure if they changed production materials or if I just got a bad pair, but I am returning the boots and will be replacing them with something else.
Vasque Breeze GTX Hiking Boot - Women's
I've had these for over three years now, and I love them! I got them as a Christmas gift, and immediately put them to use hiking locally in snowy/slushy conditions. There was virtually no breaking-in process, and they have (I think) the perfect amount of flex in the sole, as well as the phenomenal ankle support.



I scuffed the toes up pretty early, but it had no effect on their waterproofing or wear. As it's been 3.5 years now, I did just give them a good dousing with additional water proofer, but I really haven't had any issues with my feet getting wet.



They fit well with thinner, warmer-weather socks, as well as with thicker wool socks for the winter, though you may need to undo the top lace to get your feet in when your feet are all bundled up.



They definitely breathe well in warmer conditions, and don't hold on to foot funk like my Merrells do.



All-in-all, money well spent! I love these; they'll be my main, go-to hikers, until I wear them out, at which point I suspect I'll be buying another pair of Vasques.


These are my second pair of Vasque hiking boots. I wore these during a hiking trip this weekend and they were fantastic. Fit was really comfortable, great ankle support, great grip on the bottom. One negative comment is that the covering on the toe should have had some type of rubber material on it, I've already scuffed mine climbing up rocks, hence I'm giving it 4 stars. I usually wear 8.5 - 9 in shoes and I bought a size 9 and had to exchange for 9.5 because my toes were touching the front. Need the extra room when going downhill on a trail.
Unanswered Question
I have a wide foot can I get wide...
I have a wide foot can I get wide sizes?


I absolutely LOVE these boots! I am not normally the type to shell out a fair amount of money on boots, but I am so glad I spent the money on these. I originally bought these because I rolled my ankles three times when I was just wearing sneakers and finally caved. They are incredibly comfortable and fit right above my ankle so anytime my ankle moves when I'm hiking the shoe saves me from injuring myself. I wear it on easy as well as difficult hikes and it works well in both.
Great Hiking Boot Delivers in Denali.....
I have wide feet so I usually have to purchase men's hiking and athletic shoes. As with any hiking boot, I bought these a 1/2 size up, in a women's size 11, and they worked great for me. Took strenuous all-day hikes both in Denali Nat'l Park and in Chugach Forest (south of Anchorage). These boots were comfortable and kept my feet dry during stream crossings, with very little break-in b/f my trip. I did replace the soles w/ cushioned athletic insoles for a little more arch support. Loved the boots and so happy to be in the women's version for a change.......
These Vasques are just what I expected: the same great quality as the Vasques I bought 20 years ago. I finally had to throw the old ones out after 20 years of hiking in Glacier National Park, Acadia in Maine, and other parks. My old ones were all leather, so I was curious how these boots would wear. I'm extremely happy with them! They are light weight, but have excellent support for your foot and ankles. They breathe very well, making them great for warm weather hiking. I have used them for hikes with my son's Cub Scout pack, and for camping and hauling gear through the scout reservation. I had plantar fasciitis surgery in January, and I can wear these literally 12 hours a day and my feet don't hurt! I would highly recommend these boots if you're going to do warm weather hiking. I don't know how they respond in cold weather - yet!
How much do boots weigh and are a they...
How much do boots weigh and are a they light-weight hiking boot?
They are approx 2lb 10oz for the women's pair. They are classified as a hiker, or fastpacker boot. Based on weight, I would say they are mid weights, but based on their construction, they are probably somewhere between a light and mid weight.
The Vasque Breeze is very comfortable and fits my narrow foot and heel to a "T". We live in Colorado so hiking in rocks is part of our daily exercise. The only change I'd make is covering on the toe to prevent scuffing.
I didn't even know the name of these boots until I looked up the style. I bought them for stability in walking purposes. I'm a former long-distance hiker who has one last visit to the Rockies before knee surgery. I wanted a shoe that would keep me in place before I hit the ground.
So when I went looking for such a shoe, the guys at Whole Earth recommended these guys as a last chance to purchase. I looked at two more expensive and one all-leather shoes. None had the ankle stability I need. I wanted comfort, NO wobbling inside the shoe, ankle height, comfort, toe room, comfort, and comfort. I'm going to be doing a lot of walking and a little terrain changing here and there but I'm someone who now needs lots of ankle support and comfort.
OMG I never took them off since I purchased except to shower!
Other shoes had ankle height but no stability without strangulation or they just didn't have it. Ditto for toe room and wobbling - it had too much or none. I struck gold on these shoes. With my kind of pronation probably due to weak ankles, my feet stayed in place and I had zero pain. There wasn't any "breaking in" period needed either. They're relatively LIGHT for such a boot too.
I'm sure others have their needs and favorites but for my kinda feet, weight, condition etc., I'm pretty pleased.
Unanswered Question
I have an OLD (7 yrs)? Vasque Clarion...
I have an OLD (7 yrs)? Vasque Clarion IMPACT womens hiking boot I LOVE!!!! I am looking to replace it but Vasque discontinued this line. What is the present BEST womens hiking boot for ZION etc in Utah hiking? In Jan and february? help. Kim Levins
These seem like that would be great boots for somebody with a medium arch or flatter foot. I have a pretty high arch, and on my first hike, my feet were pretty unhappy after the first mile. This boot has plenty of toe space, my heels didn't slip at all, and they would probably be great if I bought an insole. I returned them to buy a pair with a little more support for my arches.
I have extremely bad ankles and I was...
I have extremely bad ankles and I was wondering if these boots would provide enough support for a 8 day backpacking trip in Glacier National Park? I have rolled my ankles in other boots and I am hoping these will be better.... If not, what would you recommend? Thanks!
Best Answer
If you've had trouble in other boots by reputable brands then these most likely won't be any different. You might just need to consider getting an ankle brace, the the type basketball players wear sometimes. They're fairly unobtrusive and could be the answer.
I agree with Ryan. Your ankle bone is going to sit right above the top of the boot. The Breeze is a light-hiker and will give you about as much support as anything else you've used in that category of boot, but if you come down off a little you're going to roll. With bad ankles already, best to wrap up with a brace or Ace bandage before you hit the trail. I can't say for sure, but I believe that Merrel and North Face make a couple models that ride above the ankle. The only other option might be to go with a lighter weight mountaineering boot like an Asolo, Scarpa, or La Sportiva but that's a whole other animal and a lot more money.
I have broken both my ankles and use these boots. I use sturdy ankle braces http://www.supportsusa.com/cmo/Ankle/dermadry_figure_8_ankle_brace_by.htm. Don't rely on any boot to support your ankle enough. Even boots that go a few inches above the ankle don't do it. These boots are perfect because they have the room needed for the brace.
The first time I wore these boots I was hiking up to the top of Yosemite falls, so I encountered lots of different terrain, including dry loose rocks, large boulders, damp rocks, and trickling streams. They provided good support and traction through all. I didn't even have time to break them in before this hike and they still felt great.

Generally speaking, my feet feel very secure and supported in these boots. I have wider feet and I didn't have any problems with rubbing or blisters.
Word of advice...
don't take these boots when you're going to be in Sand Dunes...
I worked at the Great Sand Dunes in Colorado for over a month and the sand got in the boots, like in between the mesh... Very painful on my toes, but I pushed through it. After the week long trips I would throw them in a dryer to shake the sand out and that worked, but when i'd go back it was the same situation all over again.
These boots lasted me 2 seasons. 1 with the Forest Service and the next spring/summer/fall with the Southwest Conservation Corps. I worked em hard and thats why they are no longer with me anymore.
These boots were great right out of the box, didn't really need any time to be broken in. I put snowshoes on them and went on two hikes over a weekend and my feet stayed warm and dry. They were really supportive and comfortable without being too heavy. I also wore them on desert trails and they felt great. I didn't get one blister! These boots are true to size.
Great comfort, right out of the box.
I was between these and the Vasque Briza boot for an upcoming trip to South America.. I'll be backpacking and doing some light hiking, so I need an all around boot. I have a wide toe-box and Vasque fit the best out of any boot I tried. Because I have a wider foot, I did order the wide, even though I tried the regular on in a store and they fit ok. Fit is true to size. I decided to go with this boot over the Briza because I felt like these would last longer.. Just a heavier-duty boot -- The briza almost looks anf fits like a high-top tennis shoe. They are SUPER comfortable right out of the box and haven't required much breaking in, but I haven't worn them hiking yet. Pretty light for how durable they appear as well.