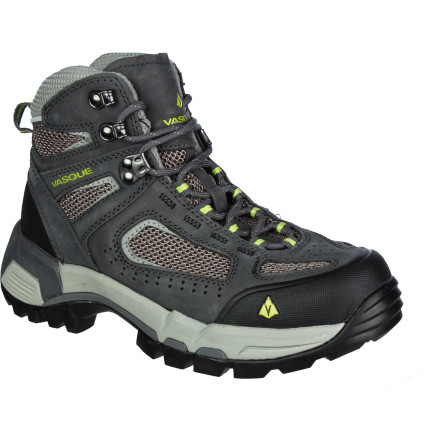 Detail Images

Videos
Vasque changed the world of hiking footwear with its introduction of the Breeze boot in 2004, and it has continued to improve on the design ever since. Today, the Women's Breeze 2.0 WP Hiking Boot uses a combination of design cues taken from the world of trail running and hiking. Waterproof construction keeps your foot dry, a supportive chassis offers stability in technical terrain, and lightweight materials make you feel fleet of foot without sacrificing anything in the way of quality. As an added bonus, the Arc Tempo last is ideal for people who crave agility and exercise a quick foot turnover on the trail. The medium-volume heel fits a wide range of foot shapes, there's plenty of vertical toe room, and there's ample support for a hiker with a high arch. Lace it up, slip on your light pack, and maintain a fast pace on the trail.
Waterproof upper construction keeps your foot dry when you encounter wet weather or soaked sections of trail
Nubuck leather upper protects your foot from sharp rocks and hazards and it breaks in to match the shape of your foot over time
Upper also features synthetic Airmesh that improves air circulation so your foot feels cool and dry instead of hot and clammy
Arc Tempo Last features an asymmetric curve to accommodate high arches, it has a tapered toe box with good vertical toe room, and it has a medium-volume heel
Arc Tempo Last is ideal for hikers who want to move quickly over technical terrain and get a powerful toe-off with each step
Molded toe bumper protects your toe from impact when you're on a hike, approach, or bushwhack
EVA footbed provides light cushioning to relieve pressure underneath your foot
Midsole is made of durable EVA that absorbs impact, and it includes a molded TPU plate to provide support
Vibram Contact sole is exclusive to Vasque???it offers the traction you need for steep ascents or descents and is highly durable
If I am goimng to be wearing different...
If I am goimng to be wearing different weight socks, because of varied climate, should I size up a half size? Or, stay with my standard size 7. I know that the boots need to be tight , no slide,but not to tight.
Three, perhaps glib, notes here:



-- Since boots vary widely in size anyway, you're going to have to try these on to make sure they fit right. Generally speaking, buy your actual size unless you're aware of the boots fitting loose/tight based on others reviews. (Remember: the folks at Vasque know that their buyers often wear heavy socks and have designed accordingly..)



-- When you try em on, try em on with multiple types of socks. Sounds simple, but this is a benefit you get from mail order which people typically do not get when shopping in a store!



-- Lastly: I generally find mid-weight hiking socks work for everything from cool spring to hot summer days on the equator. Wool breathes well!
How are these boots for hiking long distance,...
How are these boots for hiking long distance, like for instance the AT with a heavier pack?
You've asked a religious question. :-)



-- Many people (and I am not one) would tell you to hike the AT in low-top running shoes or low-top hiking shoes. These same people would argue that "a pound on your feet is like 10 on your back" ... and they would also advocate for ultralight packs.



-- For me, I believe in treating my feet as good as I can, knowing that they are my only ticket in our out, that discomfort in my feet will make the whole trip stink, and that a pound on my feet might save some pounding in my feet.



So... the other question is "what is a heavier pack?"



For my part, if I'm day hiking or carrying 20lbs or less, I'll go with low-top hiking shoes -- sometimes -- if I know I have an easy exit and plenty of time to get help if I hurt myself. If I'm carrying more than that, traveling deeper/overnight, hiking in particularly rocky environments (like anywhere in New England!) or have small children or teens with me, I go with real rigid backpacking boots.



So what does this have to do with your actual question and these particular boots? Well, they are somewhere in between a low-top hiker and a true backpacking boot in terms of stability and protection... so with that, I'll leave it to you!
Is there any boot that has a removable...
Is there any boot that has a removable insulation that is also waterproof???? Out trip will be on a variety of terrain and have varying temperatures. We also need to pack light.........I cant see bringing two different pairs of boots, not practical....
Best Answer
Hey Jane,



Socks are the answer! I suggest getting a really good pair of waterproof boots and packing a lightweight, mid-weight and heavy-weight pair of socks to keep your feet warm.
Are these boots recommended for hiking on...
Are these boots recommended for hiking on ice? I am preparing for a trio to Patagonia early next year and part of the trip will be on and near glaciers. We will be day hiking with daypacks.


Best Answer
Jane,

These would suffice for an all around boot for your trip, but I would highly recommend that you upgrade to the Vasque Breeze 2.0 GTX Hiking Boot ( http://www.backcountry.com/vasque-breeze-2.0-gtx-hiking-boot-womens ), which are Gore-tex.

Enjoy your trip and post some pictures of it and your Backcountry gear here so we all can see the beauty of Patagonia.



Scooter
do you ship to Canada and if so how much...
do you ship to Canada and if so how much ?
Lesley,

Yes. We do ship to Canada and we can even send the Vasque Breeze 2.0 WP Hiking Boot to Canada. Actual shipping rates will be calculated at checkout based on your specific postal code but if you chat or call in our Gearhead team can give you a close estimate.
are these warm enough for snow hiking?
are these warm enough for snow hiking?


Best Answer
H Katharine,

The Vasque Breeze are a great lightweight hiking boot that offers waterproof-breathable construction. Unfortunately, it is not insulated and has several areas of high breathability to help ventilate your feet and keep them comfortable during high energy output. As a result, they won't do a very good job at keeping your feet warm in the snow but do a great job for warmer weather hiking. I'd recommend checking out a pair of insulated boots that have ankle support and waterproof protection, such as the Vasque Snowblime: http://www.backcountry.com/vasque-snowblime-ultradry-winter-boot-womens?ti=UExQIENhdDo6MToyOmJjc0NhdDQxMTEwMDkz
Vasque Breeze 2.0 WP Hiking Boot - Women