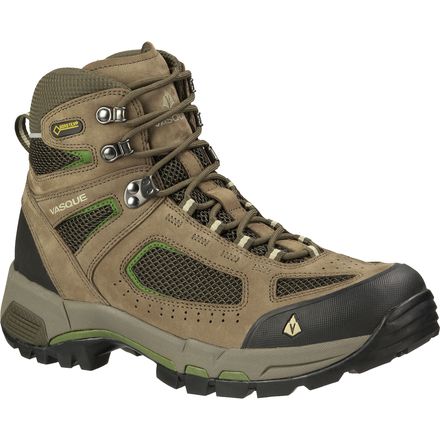 Detail Images

Videos
Description
A game-changer in its original form, this boot is now even lighter and more breathable.
With its introduction of the Breeze boot in 2004, Vasque changed the world of hiking footwear. And in 2013, Vasque is once again shaking things up, this time with the release of the Men's Breeze 2.0 GTX Hiking boot. A remastered version of the original Breeze, this boot is lighter and even more breathable thanks to its Gore-Tex waterproof breathable membrane. A marriage of design between a trail running shoe and a mountain boot, this pace-setting hiker is lightweight, stable, agile, and capable of protecting your foot from wet, nasty weather on the trail and beyond.
Gore-Tex waterproof breathable membrane keeps your foot dry from wet weather, wet trails, and moderate precipitation
Gore-Tex waterproof breathable membrane breathes so sweaty moisture can escape from inside this boot without allowing external moisture in
Nubuck leather upper protects your foot from sharp rocks and hazards and it breaks in to match the shape of your foot over time
Upper also features synthetic Airmesh that improves air circulation so your foot feels cool and dry instead of hot and clammy
Arc Tempo Last features an asymmetric curve to accommodate high arches, it has a tapered to box with good vertical toe room, and it has a medium-volume heel
Arc Tempo Last is ideal for hikers who want to move quickly over technical terrain and get a powerful toe off with each step
Molded toe bumper protects your toe from impact when you're on a hike, approach, or bushwhack
EVA footbed provides light cushioning to relieve pressure underneath your foot
Midsole is made of durable EVA that absorbs impact and it includes a molded TPU plate to provide support
Vibram Contact sole offers the traction you need for steep ascents or descents; highly durable, it's a Vasque exclusive
I could live in these boots
Familiarity:

I've put it through the wringer

Fit:

True to size
Bought these shoes two years ago to go with a mountain house purchase. They're great. I've been known to wear them for days straight, only taking them off for bed and occasional showers. My land is steep and they provide great support. It's rocky, and I haven't stubbed a toe yet. I have worn them while landscaping, covering them in mud with my feet remaining dry. Just bought a pair for my brother in law as a gift for helping me on land work. He also loves them. They also look good for trips into town (though they have lost a little luster over the years..more grey than black at this point). I have not had any of the issues others cite, but everyone's feet/use are different. Would definitely recommend (as I'm doing now).
Nice Boots
Gender:

Male

Familiarity:

I've put it through the wringer
The info above says a single shoes weighs 2lb and 7 oz. That is for both shoes combined. These shoes do take sometime to break in. The tongue at the very top would give me some problems at first. Once they were broken in I have no issues with the tongue. I have been thru many creeks with these shoes and they kept me dry. I have not have a massive rain fall so far with these shoes, but I don't get many living in the arid pacific northwest region of Washington/Oregon. These shoes are very comfortable to me and feet. I would suggest a half size up to help with the narrow toe area.
Loosey Goosey
Familiarity:

I've put it through the wringer

Fit:

True to size
I had just spent ungodly amounts of time researching hiking boots and needless to say when the package for these shoes came in, I was ecstatic. So I put them on and thought to myself "how comfortable AND stylish". However, this honeymoon period could only last for so long. It started with a bit of nagging, up by the tongue, rubbing my ankle sore. It was something I could put up with, for awhile, until thankfully the leather loosened as the boot broke in. Unfortunately, that wasn't the only thing that loosened up. After just a few months in the rubber scuff guard on the toe began peeling up on the corner; collecting bits of dirt, grass and emotional baggage. Luckily, it's still just as waterproof as day one, but with questionable panel construction I do not know how much longer this marriage will last. I wrought these thus far trusty boots through a jaunt across Iceland and the mountains surrounding my town. Overall it's a great boot that does it's job and it fits true to size, it's just the quality that worries me.
Wet Feet
Familiarity:

I've put it through the wringer

Fit:

True to size
I bought this pair because I have had 4 other pairs of Vasgue that I have liked and these looked good and had the features that I was looking for.

The Breeze 2.0 GTX are comfortable, nice looking, and have kept my feet dry on short 3.5 mile hikes in the snow. They do tend to come untied easily and have to be double knotted to prevent that.

Yesterday while on a hike the skies opened up on us and sadly these shoes only kept my feet dry 5 minutes longer than my friend that had boots that weren't waterproof at all. I dumped the water out of them a few times and wrung my socks out and then when the rain stopped I took them off and placed them by the fire, hours later they were still soaked.
Excellent Boot
Familiarity:

I've put it through the wringer

Fit:

True to size
All feet vary in their configuration as well as size so it is hard to get a boot that will fit everyone. Nonetheless, this is the best fitting boot I have ever owned. It is also extremely water and snow proof. I have walked in snow that was a foot above my ankle and still none leaked into the boot. I have worn these literally every day this winter and they still perform fantastically. The boot is also very well put together and made of high quality materials.
Great Breathable hiking boot
Familiarity:

I've used it several times

Fit:

Runs large
I have used this boot about 2 dozen times now and they are great. From the first time I put my foot in the boot I was sold on it. The boots is decently light compared to some of the other boots I have had and they are breathable enough where my feet are not sweating a lot when I hike in the Uinta mountains and in the Sawtooth mountains near Sun Valley, ID. The soles on these shoes are great, I have had no problems with loosing my footing thanks to the Vibram soles. The only issue I had with these boots was the ankle area was to narrow because I have boney/funky ankles from ski boots but after I broke them in there were no other issues with them. I also went a half size down from my normal tennis shoe. If you want a great pair of breathable and waterproof boots definitely check these out.
Fantastic Boot!
Familiarity:

I've put it through the wringer

Fit:

True to size
I got the Breezes in 2008 and they have been going strong since. Even the laces are the originals, there is no sign of break-down anywhere on the boot and I have worn these everywhere (Arkansas to Canada to Colorado) They are quite durable yet light weight enough to sport on all day hikes. I wore these up Longs Peak and had happy feet even by the last of the 14 mile trip. Exceptionally good boot for the price.
Finally!
Familiarity:

I've used it once or twice and have initial impressions

Fit:

True to size
It is hard for me to admit, but upon my arrival to TN, I didn't really place any emphasis on buying hiking boots and chose to just hike in athletic shoes. Now, over 5yrs later, I have planned a much more adventerous hiking experience in a foreign land so I decided to just fork up the cash for some decent boots and gear in an attempt to have a much more enjoyable time.



I bought these boots in Castlerock/Solar Power color, and I couldn't be happier with my choice. Upon purchasing these boots, I also decided to stop using 100% cotton socks. I never new it was possible to hike 10+ miles and not have drenched socks. Opposed to some other's reviews, I feel as thought these boots breathe exceptionally well and very true to size. I have only put maybe 30miles on these in the couple trips I have taken, but they aren't showing any of the normal signs of premature failure/wear. Also, these boots felt like they were instantly broken in.



My ONLY concern was the laces looked like they could "ride" above the tongue of the boot. It has yet to happen, and I don't think it will since there is now a groove being formed. It looks like the tongue needs to be 1/2" longer.



The icing on the cake from ordering these boots? I ordered them late on a Saturday evening, and I think the boots were at my house either Monday afternoon or Tuesday morning. Super-fast shipping... much like everything else I have ordered from BC.
Sent Back
Familiarity:

I've used it several times

Fit:

Runs small
These are my fourth pair of Vasque's . First thing I noticed is how narrow they looked. The boot fit well except the toe box. Way to narrow. I hiked in them 5 times hoping they would break in but no luck. Sent them back, very disappointed. Not sure I'd trust Vasque again.
Vasque Breeze 2.0 GTX Hiking Boot
Feels like a Prototype
Familiarity:

I've put it through the wringer
I'll be upfront: I have the original version, meaning my qualms could have been dealt with in this iteration.

With that in mind, my Breezes have treated me well, carrying me through miles on the long trail in summer and winter, through farm barns, rain storms and motorcycle rides. At the beginning, they could fend of an antediluvian flood, but now, I'm not so sure. The rubber has begun to separate from the upper, and the rigid sole reinforcements have broken. The Gore Tex is in need of replenishment.

Fit wise, I threw a pair of SuperFeet in, which helped quite a lot. I have a narrow, low volume foot, and with the foot bed in, my foot felt wonderfully. They have held up, but the seams are starting to burst and the leather is begging to look pretty shabby. Keep in mind, this is after 3 years of semi often hard use, but still, these aren't built to the quality of old Limmers boots or Asolos.

I've used this a fair amount with Micro Spikes, and I will say they work quite well. The "flared" boot board helps a lot in keeping the silicon harness up. Keep in mind though, this is not a winter boot. If you are moving throughout the day, in cold temps, these will work, but if you put them on the next morning and they haven't had the chance to dry out/warmup, (a winter backpacking trip per say) you may be in for a whole world of hurt.

All in all, ok product, fair price. They have the potential to last, but they aren't going to age gracefully. Waterproofing is great at the beginning, but deteriorates quickly, all while the stitching goes to the wayside as well. Great for day hikes and light scrambles, but I would not put my faith into these for any long distance trip or heavy load.
I just received my Vasque GTX 2.O hiking...
I just received my Vasque GTX 2.O hiking boots and really like them so far...just noticed that one shoe string is cut off and very frayed...can you help with that?
Hi,



I'm not clear on if you damaged the lace or if it came that way for some reason. If it came that way, send them back or try to get a new set of laces. If you somehow damaged the lace, and it's still long enough to tie properly, cut off about half the frayed end and take a flame (lighter) or very hot knife to the rest. That should seal it off and stop any more fraying.
Great boot!
Gender:

Male

Familiarity:

I've put it through the wringer
I am a size 11 - 11 1/2 but I bought 12s after checking at a brick mortar store. The main reason is so that my toes wouldn't hit the end going down hill. This was a good idea, and proved itself on the first trip... a steep 10,000 foot accent/decent. The break in was quick and easy. The water-proof lining seems to do well. I didn't wade in creeks, but definitely stepped though several and remained perfectly dry. The aren't too hot, and were comfortable right away. As a light/medium duty boot I think they are a good value!



My only struggle was getting them laced up tight enough to prevent heel lift, due to them being a 1/2 size up. This worked out though as they broke in, and even on the first trip, no real blisters in 12-14 miles, most of which was going up or down steep terrain.



I have and will continue to recommend them to others. My friend bought the women's version and had a similar positive experience on her first time out (with little break in time) on a 17 mile, hilly trip.



The soles and uppers were tested on some pretty nasty volcanic steep trails (very abrasive) and though they did show a little chipping out of rubber, they are pretty durable.
Great
Familiarity:

I've put it through the wringer

Fit:

True to size
Wore these this past summer on a 30-day canoe trip. Dried quickly, good waterproofing, tough and comfortable. Didn't see any cons to them. Also good colors.
Close but not quite
Gender:

Male

Familiarity:

I've used it several times

Fit:

True to size
I thought these were the perfect boot for me. They are a nice balance between light weight, comfort and just enough support and they fit my fickle feet. I was a big fan of the original and wore them until they literally fell apart. I thought these were even better and they would be just the thing for Summer hiking if it wasn't for the fact that my pair leaked and leaked badly from the first time they got wet. Might as well have bought the non Goretex version and saved some money. Seems to me that a boot that advertises Goretex should be water proof. I think the water gets in through the mesh and then the pressure generated from walking forces the water through the seams at the bottom where it appears the Goretex ends. I might still wear them but not overnight or when I expect rain or a stream crossing. Too bad as it seemed like we had a promising relationship but it wasn't meant to last. My search for the ultimate lightweight yet supportive (and waterproof) hiking boot continues......
New improvements
Familiarity:

I've put it through the wringer

Fit:

True to size
I love these boots! I still have my old pair and just picked these up. These have a 10 step break in. They wear and feel like sneakers, but are a pretty deisel boot. I love the Gore tex and the breathability on these as well. I use them all year round and they work great. All I do is adjust my sock thickness. They upgraded the sole and made them way more rugged and modern looking good job Vasque!
Original Vasque Breeze was better!
Familiarity:

I've used it several times

Fit:

True to size
I went through about 11 pairs of the prior version of this boot - the version without the Gore Tex. I now have a pair I bought from REI of the new version 2.0. and they have so much more material (Gore Tex) around the toes that Yes they do keep out sand better and no water penetration. However, this is at the expense of the boot now being dramatically HOTTER. Most of the time I do not have a stream or creek to cross so I am not concerned about cold water causing me a problem. What was unique and wonderful about the original Vasque Breeze was that it was obtainable WITHOUT the Gore Tex. Which meant on those days that were sunny and you knew the weather was going to be wonderful you could choose to wear the best boots in the world when it is hot hot hot out. The original boot had the support and strength of a BACKPACKING BOOT and the breathability to keep your feet from sweating excessively. The new boot has been ruined because it is not offered without Gore Tex. The Gore Tex is not only complete overkill for when you have fantastic weather, it functions as an extra layer of insulation making your feet swelter! There are many times when Gore Tex is best and truly what you want. But most of the time for me I am choosing to go when the weather is a delight. It is really too bad the old boot is no longer made. The old version was also available with Gore Tex. But my favorite boot of all time ( And I am 43 years old) is the original Vasque Breeze in smoke gray color without the Gore Tex. I would even wear those boots to the Gym when I was going to be lifting heavy weights. I should of bought 50 pairs of them in size 11.5, and regret not having done so. I have contemplated searching for a shoe repair specialist to see if they could remove the Gore tex from the new boot. And I have also contemplated either using a small drill or a large needle for sewing to puncture the boot in a hundred places to see if I could get it to truly breathe like the old boot.
Comfy but very narrow
Gender:

Female

Familiarity:

I've put it through the wringer
I was first introduced to the older version of these boots. I loved them! No breaking in required. I wore the heal right out of them. So, when the Vasque Breeze 2.0 GTX came out, I couldn't resist I had to buy them. They are considerably lighter, but also narrower than my older pair of vasques. I quickly found that out, when out on a 21km hike with a 30lb pack, that my baby toes were not happy with my boots. Never had this problem with my old Vasques.

So, if you like room for your toes-look for the wider boot. Other than that, they are a great boot, great waterproofing as well.