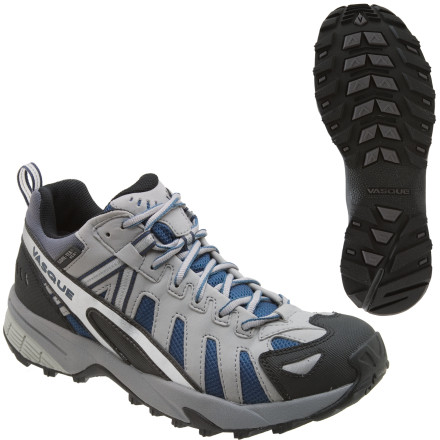 Detail Images
Unanswered Question
I've had two pair of Vasque Spindrift that...
I've had two pair of Vasque Spindrift that I've enjoyed year round. I believe the Spindrift is discontinued. Is the XCR the closest match to it? Also , I don't pronate or supinate and have average width foot. Is this shoe a fit?
I use these shoes for work. They are extremely durable and comfortable. The Gore-Tex liner stands up to its reputation. Great all around shoe. I am going to buy another pair.
I also own the Vasque Velocity - the Blur has a far better fit with more room on both sides of the toe box and a well-designed, non-slipping heel fit. The Gore Tex works great - super for wet running. I also use them snowshoeing (very comfry with the Atlas' strap system), and they're great for winter backbacking - just add a pair of OR Rocky High gaiters. The fit is SO stable and very secure around the arches. Excellent for a normal to wider foot, in the normal sizing. Impressive tread.
heavy duty shoe, minimal cushioning underfoot
These are a heavy duty shoe, much more so than a typical trail runner... Stout materials and construction you will want to try these on vs buying blind, a somewhat straight and narrow fit (like a Salomon) the laces are difficult to adjust due to the leather they run through, feels like there is NO insole, very firm feel to the bottom of my feet, heel cup is excellent!! I wear this type of shoe daily and reach for my Asics or Salomons first... New insoles might make a cushion difference but then fit may be affected...