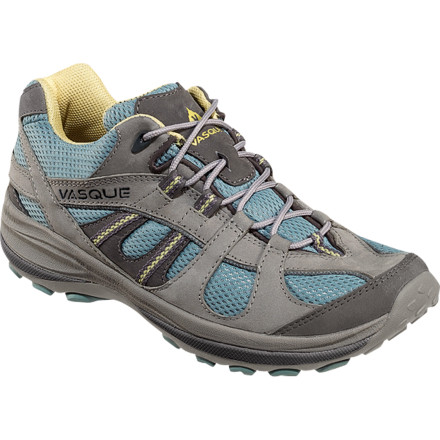 Detail Images
What do you think about this product?
Have questions about this product?
I was nervous when I first tried them on because they have so much arch support it felt like I had rocks in my shoes! But two miles into a hike, I completely forgot about it. The support is probably a really healthy feature and I quickly got used to it. They're super comfortable shoes. I especially like how wide the toe box is, since most hiking shoes have a toe that's more pointed. (I always order wides in Chacos, etc.) These shoes give my toes plenty of wiggle room, but my heel still fits snug, so I'm not sliding around. They've performed well so far on wet terrain and rocky trails, and I wear them mountain biking and they feel stellar. I recommend them for a great look and comfort. I can't vouch for their sturdiness cuz the longest hike I've taken them on is a 10 miler.
Need a narrow boot. Are these boots cut...
Need a narrow boot. Are these boots cut to fit a 8.5 narrow foot.
Dee
According to Vasque, "Narrower heel pocket, added support in the instep, heel to ball ratio adjusted (relationship between the first and fifth metatarsal heads or flex zone), and higher arches.", "The tapered toe box offers adequate room without wasted space. And the medium volume heel fits a wide range of shapes. Perfect for shorter distances on technical trails.", check it, there's videos and everything. http://www.vasque.com/vasque-shoe/7065-vasque/7065-vasque-womens-amphora-brindleburnt-orange