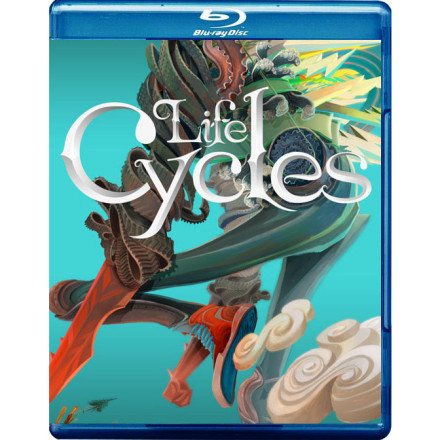 Where we live the life ordinary between our most recent and last best rides, Life Cycles takes the changing seasons and fast-forwards through them, slowing time only momentarily to reveal the highlights. And where we might take more than a few years to squeeze all the life from a new bike, Life Cycles does it in less than two hours. Life Cycles is a different bike movie, one with inspiring footage of bold riders, of beautiful scenery, and of change.
The Life Cycles Film also uses thoughtful narration to propel you through the movie along with a soundtrack that keeps pace with the riders as they sweep through bermed turns, cut narrow paths of dust through twisty singletrack, and snake down sinuous lines on vast mountainsides. Of course, there is airtime, as any good bike movie should have. But you'll get it here in a palatable dose, along with a wide range of camera angles that makes you feel like you were there and wish afterwards that you actually were.
If you love riding, you'll love the Life Cycles Film. Featuring riders like Graham Agassiz, Matt Hunter, Cam McCaul, Brandon Semenuk, and Thomas Vanderham, their individual riding styles are as different as one trail to the next. It's this diversity along with the diversity of nature, a thing we all love (and a thing largely missing focus in other films), that makes Life Cycles compelling.