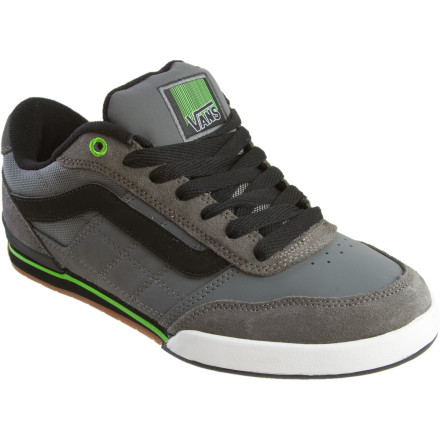 Detail Images
Slide on the Vans Wylie Shoe, grab your tiny dancer and walk out the door for an urban sesh. When launching stair gaps, bunny-hoping inebriated transients, and manualin??? through robotic pedestrians, the Wylie???s sticky gum rubber outsole, tough mix of suede and leather, and double-stitched toe cap keeps your feet planted and protected.
wylie's for bmx
Gender:

Male

Familiarity:

I've used it once or twice and have initial impressions
these are good shoes. super grippy soles. i wear a 10-10.5 depending on where they are manufactured, vans always fit my feet perfect in a size 10.
Unanswered Question
I wear size 10.5 Shoe, Should I get the...
I wear size 10.5 Shoe, Should I get the same size for VANS Wylies Shoes
when will you have a bigger size in the...
when will you have a bigger size in the vans wylie shoe in the (colony)black and yellow
E-mail the BC staff for stock inquires, they usually answer with a day even if it's just to tell you they're checking on it for you.
New Vans Go Steezy and Unbreakable!
I bought the Vans Colony Wylie shoes because I tried a pair on in a retail mall shoe store and was stoked on their weightlessness and comfort. I always use the Air Jordan criteria for any pair of shoes that I might buy, and that is, the way they feel & fit the very first time you try them on. These shoes rated a 4.5 out of 5. This criteria has served me well over the years, so that's how I roll.

The price the store was asking was way too high, 75.00 for a new style Vans shoe, I think not. So, as soon as I returned home, I Googled the info and bought a pair from backcountry.com. As quickly as you could say Jeff Rowley has worn Vans his entire life, my shoes arrived at my doorstep. I have been wearing/skating them for a good solid month, and I still rate them 4.5 out of 5. My only complaint is the lack of glue used around the heel edge, so I need some Shoe Goo to fix that. It's a minor complaint, but, hey, you wanted the straight dope right.

Maybe you could send a tube to me for my product review. I will be buying another pair when these blow out, and props to Vans for going lightweight and stylish.

Yours truly, I Rep the East,
Mike Hefner
MK-ULTRA
Wore them for the first time tonight. Great. Stuck like glue to the pedals and very comfortable. Excellent deal and cool looking too. Got the Colony Black/Yellow ones. Only bad thing is the laces are too long.
I was thinking about getting the five-ten...
I was thinking about getting the five-ten spifire, but these are a lot more cost friendly and i wanted to know if there worth the buy.
These shoes are great. I can't afford the five-tens either. Just got these today and wore them on the trail tonight. very comfortable.
Great shoe overall. I was a bit skeptical of buying a skate shoe for my platform pedals but man do they stick well. I really wanted to go with a five-ten shoe but these work very well and have surprising stability on the ankles (they do sit right at the ankle but support well). Very nice.
These are comfortable, grippy shoes, with a surprisingly high level of durability, especially for the cost. They work great with my straitline platforms. I've shredded the soles a little, but i also used these while riding a brakeless bmx bike through a garage (the concrete was rough, and i had to use the foot brake strategy more than once). For the price, these shoes will do the job. Ive got grippier shoes, but found these to be more than functional... Vans are the bomb.
I really love the kix, it's hard to find a good pair of vans that suit my needs these days and unless you live near an outlet... you'd have to settle with what JCP offers. Honestly, I'm still reminiscent of the xl rowley days and haven't owned a pair of vans since 'cuz i've found alternatives that compensated. I went out on a limb and bought the Wylies via HUCKnROLL (solid shippn) and flipped when I got em. Not as brutally amazin as the old rowleys, but they will give you flashbacks.

I hate to part with my old kix like any other guy but after a week of breakn' em in my feet have found a happy home.