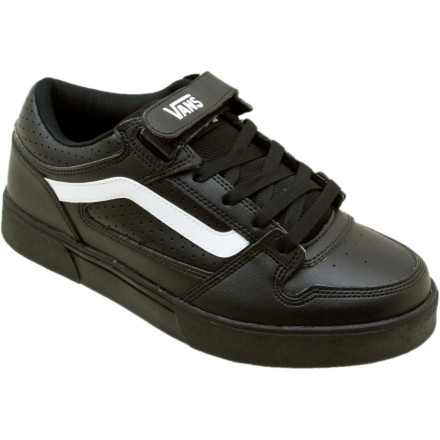 Detail Images

Videos

Community Images
Built like the race horse it is, the Vans Warner SDP Mountain Bike Shoe enjoys purebred status with classic styling that transcends fickle fashions. Compatible with two-hole-style cleats, the stiff-soled Warner can clip in for hole-shot winning sprints, or match up with platform pedals and send it unclipped thanks to a sticky gum-rubber tread.
Stiff mid-foot area provides a solid pedaling platform without making the entire shoe feel clunky

Vented ballistic nylon mesh for breathability

Removable hook-and-loop adjustable tension strap

Self-centering gored tongue keeps rocks out of the shoe

Molded EVA foam sock liner provides support and comfort

Triple-stitched toe cap for extra durability

Great shoe for multiple uses
Familiarity:

I've put it through the wringer

Fit:

True to size
I have used this shoe for my commute, as well as DH and FR style dirt ripping. fits great and has the Vans style I am backing.
Do they come in size 9 1/2?
Hi Wes,

They do make them in a 9.5, but unfortunately we have completely sold out of that size and at this time do not have any more ordered to come in. Sorry about that!
Extreme discomfort
Familiarity:

I've used it several times

Fit:

True to size
Before buying these shoes, I tried them on and walked around the store. They felt great. But after just two rides I had to stop wearing them, as extreme discomfort began developing around the bottom of my tibias on both feet. The pain was so bad that I can no longer wear these shoes. I would advise anyone, that even though shoes feel good at first, that comfort may not last.
Unanswered Question
Could you let me know width of this item...
Could you let me know width of this item in size 6.5, 7 and 7.5. Thank you.
Durable
Familiarity:

I've put it through the wringer

Fit:

True to size
I was originally looking at the Vans Gravel but could not find them anywhere so I shelled out a little more for these. I love them. I don't plan on using the clips because they grip awesome with my 5050 pedals. They are heavy and stiff but I like that since that has saved my toes a few times already.
What's the difference between "SPD" (in...
What's the difference between "SPD" (in the title) and "SDP" (in the description)?
MikeB,



The difference is that it was spelled correctly in the title and incorrect in the description. It is a SPD style cleat for these shoes.
Great Shoes
Familiarity:

I've used it several times
I have been riding these in between others, mostly for testing purposes. My three main shoes are Specialized Comp level XC shoes, FiveTen HellCats and these. I generally leave these to use when I am riding lifts more than anything else. That being said, these shoes do pedal uphill well, but for super hot days in Utah I prefer either the Hellcats or my XC shoes. I like the cleat placement and the stiff sole, but feel as though the laces could be better quality.



All in all, a great shoe for descending and I want to get a few more days in before i fully make my decision.
Vans Warner SPD Men's Shoes
can i use these shoes for flats until i...
can i use these shoes for flats until i need to clip in
Van Warners
Gender:

Male

Familiarity:

I've put it through the wringer
These shoes are by far the most comfortable riding shoes so far. They are a little on the heavy side compared to the racing stuff out there but I wanted something stouter then all that flashy you no what and these shoes go through hell they've been beaten banged and drowned and still are as comfortable and durable as ive found yet and yes you can run 2 sided pedals without slipping off the platforms in the downhill rides
My favorite DH Clipless shoe
Gender:

Male

Familiarity:

I've put it through the wringer
Great, classic styling.



Stiff,, responsive sole with good feedback. My favorite part of these shoes is how inside the cleat is set. This is great for that squared up aggressive stance on a downhill bike. The effective q-factor is a bit wide for XC riding but you can set them up comfortably if you move the cleats towards the outside.
Run a solid bead in between the sole and hard plastic, then run a small bead around the edge (like welding) after it heals. Tape off the rubber sole and add a touch of black paint of your choice, mine was sharpie. Work with what you have right. It sealed the sole, does NOT move, waterproof, and looks decent.
Got these for x-mas and liked the feel of them at 1st. Had some toe sleeping issues with them though. After four months of use the soles are breaking free of the bottom. The shoes still look new without any wear at all. I think once you cut the SPDs out the sole weakens significantly.
Love the shoes but be careful when ordering they run about a half size larger than they are marked. Great spd shoe.
If you like vans and bikes you found your shoe.
Very stylish and comfy just like vans should be. I have only used them with platforms for the local bike park and they are great for that. My feet feel much safer in a stronger/stiffer shoe designed for biking. I plan to try them with CB Acids soon, I will update after it goes down...
Unanswered Question
If I have two sided pedals, SPD on one...
If I have two sided pedals, SPD on one side and platform on the other, can I use both sides of the pedal with this shoe? Clipped in for climbing and unclipped for downhill. THX
so good i likey hard soles so you don't get sore feet a little warm in the sun, i hate treaded xc shoes, what's up with the tread? like i'm walking or something. The cleat positions are perfect for xc or down hill, and i love having a little extra weight around my feet you know what i mean? i also have the shimano dh shoes and these look way more chill. flat soles are good for sliding your foot over the dirt or a rock without jamming it into a jumbo tread or one of those crazy front metal cleat stud things on sidi shoes.
I ordered these the week they came out through the Vans website, I was so psyched... I have had lot of all mountain shoes over the years. My favorites were the Oakleys from 6-7 years ago. It's a bummer they stopped making these SPD shoes. Vans always makes good shoes and these are quite well made. However, should you use these for anything other than going downhill, you will feel how bad they are... First off, in all the shoes I own, these have the most off-center cleat position. The cleat is literally under your big toe and most of the shoe fall outward off the pedal. So any power transfer going uphill feels awful and power gets wasted. The other thing is this shoe is like a skate shoe on steroids. It's stiff (which is good) but it's so bulky and so darn heavy, even my FiveTen Minnaar feel lighter!! And that's saying something because those are freaking heavy too. So I know some riders like these, but for foot position and weight penalty, I cannot recommend them. And oh yeah, Oakley please, bring back some biking shoes...!! Yours were the best. I can't stand to ride Shimanos anymore... ; (
I bought these so that I could unclip and ride just as easily as when I am clipped in and they work perfect for this. The rubber sole grabs the pedals as if they were platforms allowing me to drop my foot for balance when needed and then clip back in and cruise. I would have given them 5 stars if they were a little lighter but they get the job done and I find them fairly comfortable. Not to mention the classic Vans look is awesome, of course.
I love these shoes!!!!!! Thx u guys!!!! I will send a pic soon!!!!!!