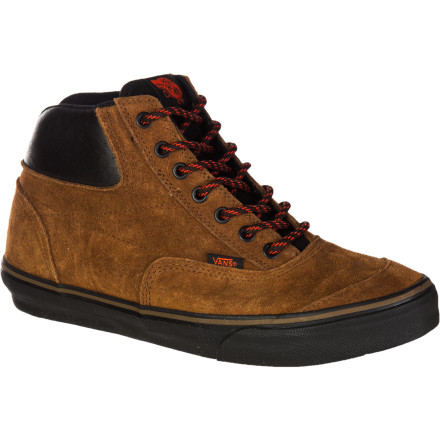 If you consider your cup of tea kick-flipping over slush puddles in the middle of winter, you'll blow a gasket over the Vans Men's Switchback Winter Shoe. No doubt Aunt Freddie will holler at you to put on a hat, but all you really need to skate during the winter are these water-resistant kicks. Tough Scotchgard-infused pig leather puts up with abusive weather and abusive activities. Cinch down the heavy-duty, non-stretch laces, ditch class, and hit the park for a little deep-freeze 'crete shredding.
These shoes are great for wearing to the mountain or just shoveling the walk. One gripe would be the sole getting cold while walking on snow/ice. Just be sure to wear thick socks on those extra cold days.
, ☃bcs_badge_alumni_label☃
Casual bar hopping shoe!!
This feels like your average Vans but performs like a mid level winter boot. I have found it perfect for trips up to the bird and as solid townie shoe on snowy nights in SLC. Fits true to size and built real strong. Also, they have changed the waffle tread under the ball of the foot to give it great traction!!!
Unanswered Question
Are these slip resistant?
Are these slip resistant?
Comfy, practical aaaand good looking
Super comfy sneakers and they look pretty good on your plates-o-meat (feet). I wear them for everyday wandering around and getting to work etc. Not sure how they'd hold up skateboarding.

They are also really good in the wet. All my other regular Vans in the past have leaked through and you get wet feet for an hour or so. These bad boys keep you toasty warm AND dry. Perfect for crappy weather days.
These shoes are epically awesome. I have a pair of winterized Vans from a few years ago and was so happy to see these come out this year. I have the (outdoor)Brown/Dark Brown color and the rubberized upper is sweet. They fit true to size. I wear a men's 8.5 and they fit great. These are gonna be my go-to shoes for driving up to the mountain this year and they aren't super bulky while being really weatherproof!
Unanswered Question
Y U NO SHIP TO ESTONIA
I just got these, and I think this is the best purchase of my entire life. They are snow proof and look amazing. I was tired of walking with my regular sneakers around NYC, but now Im prepared for everything, specially for those coming snowboard trips. Thanks dog funk!
can you tell me about the shipping to...
can you tell me about the shipping to Russia?
, ☃bcs_badge_alumni_label☃
Sorry, we don't ship to Russia.

What Countries Can We Ship To?
https://sales.liveperson.net/hc/s-9551721/cmd/kbresource/kb-1695553983756680077/view_question!PAGETYPE?sc=84&sp=97&sf=101133&documentid=239530&action=view&VisitorProfile=DogFunk&MESSAGEVAR!home=no&MESSAGEVAR!cookie=no
You can use ebaytoday.ru or nja business.com.
Hello! I am interested in http://www.dog...
Hello! I am interested in http://www.dogfunk.com/vans-switchback-winter-shoe-mens. How much is shipping to Russia?how long it lasts?
This particular Switchback model is designed to last through winter conditions. If you take proper care of them they could last for years. Feel free to contact a customer service member through our "Live Chat" feature. You should be able to find the link at the top, right of your screen. They are available 24 hours.