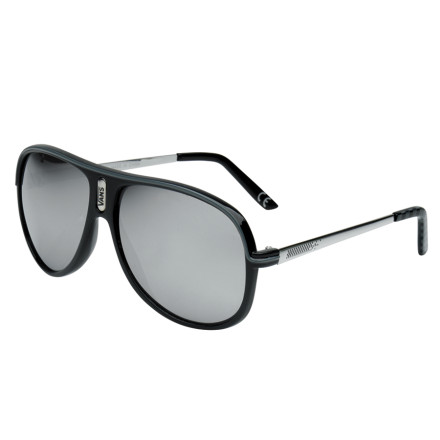 Community Images
Bite a bit of ???80s Euro moto-racer style with the VANS Sport Sunglasses. Strong metal frames, solid construction, and large UV-blocking lenses make these shades well worth the pocketful of change you???ll shell out for ???em.
Excelent price for this product
Familiarity:

I've used it several times

Fit:

Runs large
I like it a lot, maybe there are big for small faces, but for me are ok.
Vans Sport Shades are my #1 fave pair!
Gender:

Female

Familiarity:

I've used it several times
They really should be unisex cause look good on everyone! My face is small but they still fit just fine. If you have a larger face, they'll stretch so don't worry about that! I refuse to pay more than $20 because I always lose/ break em and these fit, dim and I won't give a damn if they break or fall off cause I can just get another pair! Everyone, guys and girls are always commenting on good they look and I get a ton of second looks when they realize that they're made by good ol' Vans - who doesn't love a good pair of Vans?!? As soon as they ask how much they are, they're hoppin on Backcountry.com to snag a pair!
As some reviews have pointed out, these are not the most quality glasses. However, my 4 star rating is based off of cost vs performance/style. They're $12 and for good reason, there are no bells or whistles (hell, a bell and a whistle on sunglasses might be the next big thing, eh?). You get what you see, so if you're looking for a good looking pair of shades that you couldn't care less about losing, hop on these! They look almost as good as their $150 counterparts. Be sure to add another $38 worth of goods to get hooked up on free shipping and make the purchase worth it!
the charcoal lenses are pretty much...
the charcoal lenses are pretty much reflective/ mirrored rite? And also, how dark are the black lenses; can you see the wearer's eyes when looking thru them?
Hey Kevin,

Not really mirrored and it depends on the light but your eyes are fairly visible the majority of the time with the black lenses.
Cheap, but what can you expect?
These sunglasses have a cool look. Got a lot of compliments. Comfortable to wear. Break really easily. But for $10 what did you expect? Great sunglasses for being cheap.
Those are really nice sunglasses, they look sick, fit very well on the face and the glass is supposed to be shock-resistant.
You have to treat them nicely though, they are pretty fragile, I would recommend getting a case.
Got these for my boyfriend, and they fit him perfectly, and block out the sun. Best part, is that he loves them too!
You reaky getwhat you pay for
look good, but design is cheap and broke after a week.
You sent me a pair with a scratched lens and then you tried to charge me more than what the shades are worth to return them! Such bad form! I'll probably never shop at Dogfunk.com again.
Bought these stupid things twice, they broke both times. They work well, for a couple of days. Don't waste your money.
great glasses. owned for 6 months and they kill it!!! heavy and strong. awesome!
Cool glasses for the price, I love the outside mirror on the frames, definitely noticeable.
these glasses broke after one day of having them. they are cheap and feel cheap. dont waste your money.
Plastic on the eye casing broke after two wears. Awful quality...don't buy them.
Plastic on the eye casing broke after two wears. Awful quality...don't buy them.
Unanswered Question
What color are the lenses on the tortoise...
What color are the lenses on the tortoise shell frames? Are they brown or red?
I got the tortoise shell ones. They look snazzy and the lenses seem nice when looking through them, but they do not fit my regular sized head at all. They are quite large both in the size of the lens and the size of the temples.
I have a couple of these in different designs, they are comfortable, an do the trick, specialy for the price!