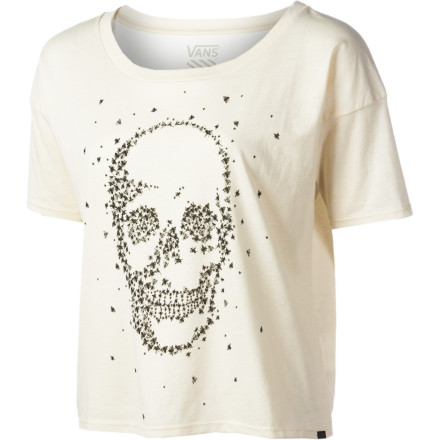 Detail Images
Shoe Fly? More like "I'm fly!" in this skull-tastic short-sleeve flowy top!
I effing LOVE this top! It's by far my FAVORITE shirt I've ever had! Maybe it's because I love skulls or maybe it's cause of the relaxed cut or maybe it's because flies have never looked fashionable...regardless, it's an awesome top! Totally stylee (SO many compliments...lots of second looks like "are those flies?!?"), versatile (wear it with or without a cami, wear it out on the town or to the gym), totally comfortable and true to size (you need to consider that it's relaxed though so I normally wear a small, I ordered a small but it's flowy, hangs off the shoulder, goes below my waist on the side that's hanging off the shoulder while on the other side, it's above my waist).
Flies may be scaring you off but you'll regret not getting this if you don't hurry and get it before it sells out and Vans doesn't make it again!