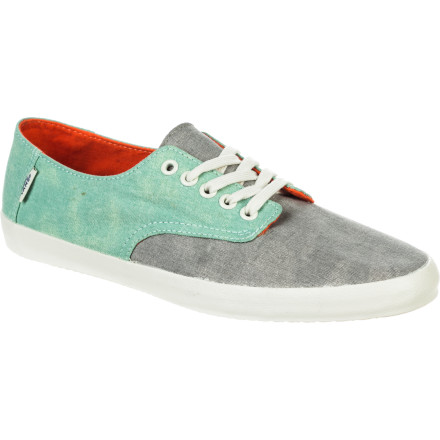 Detail Images
Vans created the Men's E-Street Shoe using environmentally friendly fabrics because it knows that one day our skateparks could turn into backup landfills if we're not careful. And it's our responsibility to look after the earth as much as the street, so the E-Street comes in a variety of earth-friendly variations. A beach-inspired low-cut cuff might not immediately look like your average shred shoe at first, but Vans didn't go all namby-pamby on you; the E still rocks the classic tough-as-nails vulcanized sole you love.
These are great casual shoes that are comfortable and light. They aren't quite as sturdy as normal Vans, but the lower profile, lightweight sole is kind of a nice change.
Comfortable, Casual everyday wear
The Sanuk Standard used to be my go to everyday foot gear. I have like 6 different pairs and would wear them everywhere.



Decided to switch it up a bit and purchased the E-Streets and I haven't worn my Sanuks since.



The soles are very comfortable, the shoe is very lightweight and low profile on your foot. I'm not really a fan of tieing casual shoes so I leave them untied and there is no problem in terms of staying on my foot.



I've worn them everyday for over a week with no socks and they still smell fresh.



No negatives at all. The only nitpicking I could do is to say the rubber sole may not be the most durable sole ever. It's a pretty soft rubber and with my week of wear I've seen some light wear in the heel. Nothing I'd worry about.



Great shoe for someone looking for a lightweight, low profile casual shoe that looks great and smells good without socks.


Unanswered Question
How do these run in comparison to Nike?...
How do these run in comparison to Nike? It's been a while since I've had my foot in some Vans so I forget. I wear a 13 Nike and the fit is perfect. What size would I need for these?

By the way, awesome shoes. I'm looking forward to them!
These are super comfy and can easily be washed. I normally wear them without any socks and after some time they get a little funk to them, but after a spray down, they are right back where they started. Great shoes to wear on the beach.
Very sick shoe if your a vans fan. These things are good for just about anything. You can rock em' while cruisin on your board or show the ladies you know a thing or two about style without forking over the dough. Light weight and super comfy. Makes all the hipsters in their TOMS look homeless. Also dry super fast and do super well for popping tricks on the wakeskate.
Cool shoe very light, was looking for something a little heavier but awesome shoe that you barely know you're wearing.
These shoes are basically wearing socks that have laces and rubber soles. fit true to size and look super dope.
I have these in the distressed charcoal and love them. I would describe them as if Vans took Authentics, lowered them to the ground (thinner vulc), put an easy dry foot bed in them, removed all extra support, and made them slightly more narrow in the toe. In a lot of ways, it seems like Vans style, with the guts of a Sanuk or something like that. These would be great for a shoe that can get wet and dry quickly. A lot of Van's surfers are behind them, for that reason

Anyway, I wear 9.5 in authentics, chukkas etc and I got the same size in these. Worked out great.