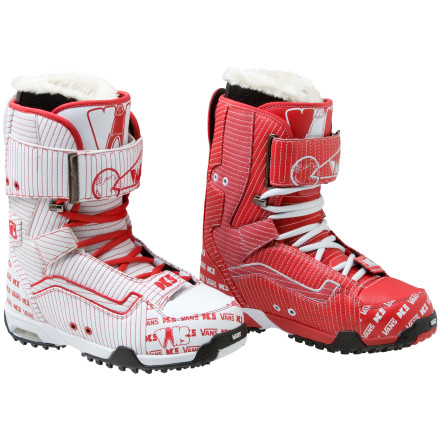 Detail Images
These boots are great!!! I'm waiting august to try them in Chapelco, San Martin de los Andes, Argentina... I'll write again in august...
the most comfortable boots I have used in my 7 years of sb. as soon as I bought these boots I was sticking nasty roastbeef grabs off a hip with style. I had burton hail and 32 ultralights and tm2. these boots blow them out of the water on comfort. these are deff. on the flexy side of boots. I almost rolled my ankle in the boot on a squirly landing, but I wasn't tightening them properly. after I sinched down on the liner pull string and cranked the velcro strap on the outside, no problems. warm on cold N.E. days, no pressure points at all, sick!!
does this boots have recco??
does this boots have recco??
Nope. No recco on this one.
I can't believe the price on these...really?!? The Last edition of the DK boot...its like a collectors item!
Great flexing boot...perfect park type boot...STEEZY!
i tried this boot at high cascade and i gotta say it was a turn on, very supportive. they have stiff ankle plates to make sure you dont hurt them. so make sure to get the correct size because if you get them a little to big they will cause you discomfort on your ankles.
these boots are mad sick the red and white combo is dope and the ladies love it. so comfy and feet stay dry and warm nothing could make them better
Alright, just to start out my review, you should know that I am a skier, however I borrowed these boots and my friends board/binding setup one day so that I could try snowboarding. Compared to my ski boots and other snowboard boots I have tried on, these boots felt really light weight, and really comfortable. I did wish a little bit though that you could tighten the boot up around the shin a little bit more, but maybe having the boot be the right size, instead of shoe size, would have made that better. All in all, this felt like a really soft boot for me, but maybe that is just my feet being used to a ski boot. I think you will like this boot.
these boots are by the most comfortable boot i have ever worn. the power straps lock you in nice and tight so your feet don't fly out of the boot. the only problem i had was the Velcro thing on the liner's tongue. it would always stick to the mesh on the liner and tear it, but i solved that problem by cutting that Velcro piece off.
ok to start off with the red & white mix are sick looking and definitely will turn heads very warm good whether you like boots looser to super tight alot of support and the heel impact features are awesome dont have to worry about bruising your heels!!!!
Really Good boot made well very flexable and they get really tight 2 thanks to the strap, which is excellent cause u deff. dont want all that much movement, all in all perfect.