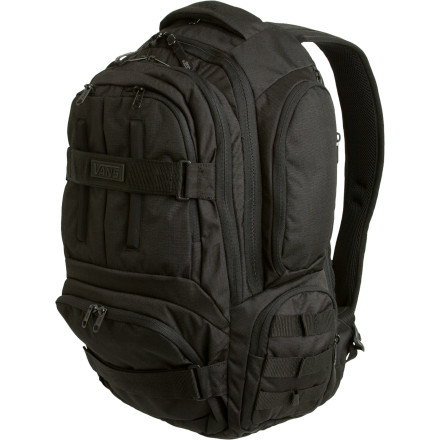 Detail Images
Despite the name, the Vans Combatant Backpack is actually really easygoing. Rather than bloodthirsty combat, it actually prefers long, romantic walks on the beach ... while safely carrying your laptop, media player, and other essentials. A built-in cooler pocket makes it easy to share the good times on the go, and the molded rubber skate bumpers prevent your grip tape from tearing your bag to shreds.
Share your thoughts
What do you think of the
Vans
Combatant Backpack
? Share a...
Posted on
Slick-looking for travel
I bought this in Grey Slub which looks very nice. But, there are a few design flaws that hamper its utility:
1) The skateboard straps go across the external pockets, so that you can't fully unzip them without 1st loosening the straps
2) There's no easy-access mesh pocket for a water bottle (although, the upper side zip pocket fits a 16.9 oz bottle perfectly)
3) The fleecy laptop pocket is inside the back padding which is sweet, but...there's nothing to keep the laptop from sliding around in there. I forgot to zip it one time, and my laptop fell on the ground (oops)
4) The snap-on pouch on the shoulder strap can fall off easily, and it doesn't hold anything bigger than a thinly cased iPhone.
Some of the features that I really like:
1) The cooler pocket is great for food. Convenient if you get take-out at school and don't finish it.
2) The top pocket for sunglasses is nice but I wish it was more padded
3) Chest-straps are very comfy
4) Waist straps are good and can be hidden away
5) The side pockets seem designed for pencils/pens and the bag is quite school-friendly.
6) Padding is very comfy overall.

Overall, I like this backpack. With a few minor mods, it will be perfect.
purchased this for my 14y.o. son as a school book bag. very well constructed with nice features. judging from the quality, he should be hauling this to school for the next four years. plenty of room for a weekend trip too.