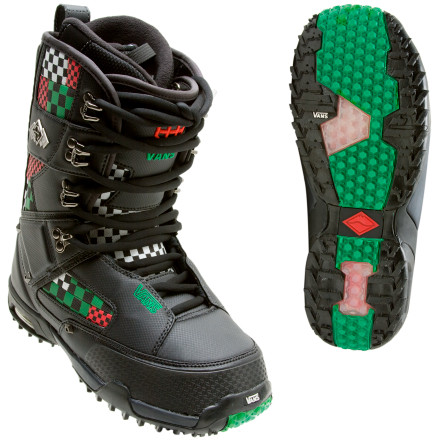 Detail Images
I've tried on lots of boots and sort of settled on these as a compromise of a few factors. I love the all black, traditional laces, med/stiff flex, syn leather and bottom tread. The boot is a bit heavy. The fit is a bit small. I'm usually a 10 1/2 and i'm in an 11 in this boot and could still use some more toe room. I switched to a different insole and I am using really thin snowboard socks or just a sock liner. The insole that came with the boot did not offer the comfort needed and I switched to a hiking gel insert. So I've gotten the boots to a place that works great for me, but it has taken some experimentation and a long break in time. I can now where them BC hiking for turns though.
Great boots but my one of my D-rings for...
Great boots but my one of my D-rings for the laces broke. Is there a place to get spares and replace the broken one or am I screwed?
I'd first try Vans Customer Service (vanscustserv@vfc.com or call 888.691.8889 ) to see if they can fix it or at least provide you with a replacement part.

If not, try your local shoe repair store. They should be able to at least come up with a similar D-ring they can put on, if not the exact same type. From the pic it looks like the same kind you might find on a serious hiking boot.
if Karate kid used these...
he would play the Joe Esposito Song, "yer the best around!" and kick some butt!
The BFB is a super solid boot with a great flex..(mid to stiff flex) great lace boot holds up for tons of days shredding...

bottom line...Best eFfing Boot!
These boots are great! Ive bought the 2005 and 2007 models so i knew what I was getting: the BEST Fing BOOT there is. Im a lift operator and wear these boots 7 days a week both working and free riding. They will last more than one season, staying warm comfy and water proof. A bit bulky but you feel it in the quality. Get em.
are these boots as big as moon shoes??
are these boots as big as moon shoes??
That, my friend, is a very strange question. Probably.
These boots are a little bulky because Vans doesnt skim on materials to make the lightest boot, they make quality gear that will last.
boots ran really small for me. I wear a size 10 1/2 running shoe and the 11 1/2 boots were a touch too small. I needed size 12.
Vans BFB are the perfect boot for any type of snowboarding Super good foot and ankle support great for going fast and avoiding injury .
The BFB really surprised me on Hood this summer. It had a great flex, was comfortable and just looked really cool. The picture don't speak for how cool these boots are. Fits true to size.