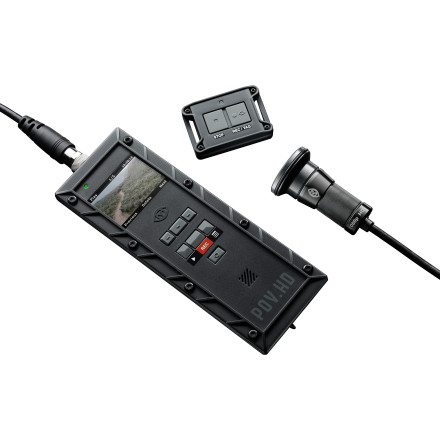 Detail Images

Community Images
No other wearable camera on the planet has the professional-grade HD video, extra-wide field of view, and on-the-fly editing capabilities as the V.I.O. POV HD Camera. The rugged POV HD captures video with its camera head and then stores up to 4.33hr of 1080p video in the cable-attached recording unit. But with the unit???s built-in, 2-inch LCD display and a wireless remote, you can delete all the superfluous shots and save only the best moments of your skiing, boarding, or base jumping.
Kit includes POV HD recording unit, wide angle camera head, LVDS cable, wireless remote control, carrying case, mounting systems, 4GB SDHC card, USB cable, analog A/V cable (enables live video streaming), quick start guide, 4AA batteries, and preloaded tutorials
Four recording modes (Clip Mode, Loop Mode, Loop & Forward Mode, and Still Image Mode) provide standard recording as well as the ability to recapture video from those moments before you press the button, which helps prevent missed shots
Records in full 1080p HD at various frame rates and the 720p setting records at 60fps with a 95-degree field of view for slow-motion shots
In-field editing allows you to tag scenes while still recording and save them to larger clips
Water-, shock-, and dust-proof unit and metal camera head mean you can haul it out into the nastiest storms or windiest desert trails
Exposure Control feature automatically tweaks color saturation and contrast to match the blue or grey-bird conditions
Record times: [1080p 30fps, 720p 60fps] 4.33hr; [480p 30fps] 16hr
Battery life: [1080p 30fps, 720p 60fps] 2.5hr with 4 AA alkaline or 5hr with 4 AA lithium ion; [480p 30fps] 8hr with 4 AA alkaline or 12hr with 4 AA lithium ion
Backcountry.com is one of two dealers worldwide that have been selected to sell the POV HD Camera, so get yours while they last
Date & time lost , every time I...
Date & time lost , every time I disconnected from motorbike power supply ?? I'm not using battery's so. how can I keep date and time by still using bike power?
Hi Jack,



I'm about to buy a POV.HD so I've been doing a lot of research on it. Luckily, I have an answer for you!



The internal capacitor (short-term battery) only lasts ~one (1) hour. To preserve the date and time settings, you'll need to either ensure bike power is still live when you turn off your bike, or insert four (4) AA batteries .



Check the POV.HD User Manual (https://vio-pov.com/support/multi-lingual-pov-manuals)- on page seven (7), it in describes that the system time and date will be cleared if you do not power down the recorder before removing the batteries, or you remove the batteries and do not replace them within one (1) hour.



Thanks!
This was super rad when it was first released years ago but with all the smaller options I would recommend a smaller camera with a rechargeable battery.
I really disappointed with this cam. I have used this cam for the first time at Snowbird at the temp. of 24F, but it could last only 2 hours with a new set of batteries. I needed 16 batteries totally for a whole day. It really sucks.
I'm wondering what everyone is using for...
I'm wondering what everyone is using for batteries in this device ? Standard batteries just drain way to fast. Any help would be much help...Thanks
Try the lithium Ion batteries, they work the best if you are draining your battery fast.
Swimming with Nurse Sharks
Check out the crystal clear underwater footage of some hungry nurse sharks grabbing a bite to eat. Shot with the POV.HD - vio-inc.com, this camera has shark bite ruggedness. Footage provided by lathamcams.com
POV.HD Resolution Comparison
Shot with the V.I.O. POV.HD camera. - http://vio-pov.com - Here is a resolution and field-of-view comparison between the 720p60 and the 1080p30 settings.
This thing is pretty awesome. Tons of options for mounting, great field of view, and the ability to view your image on the main unit to make sure your video is going to be exposed correctly, and filming the proper angle is great!
The camera generally takes about 1 hour 25 minutes of video in 720 on the included card, and generally can last a full day on a set of batteries in cold weather, and much longer in warm climates. With 1080, the total time on the included card drops to around 40 minutes.
The remote start/stop/tag buttons are awesome! I attached them to a lanyard around my neck for skiing so it was really easy to start and stop filming, and on my bike, velcro'd it to my stem and had the ability to film descents and hit the stop button for climbs with out stopping.

All in all, a great camera. Look forward to experimenting with it more!
CNET rated the POV.HD a 9 out of 10 on Performance

http://reviews.cnet.com/search-results/v-i-o-pov/4505-5_7-34660637.html?part=cnet&subj=V.I.O.+POV.HD#reviewPage1
Skiing Alta with the VIO HD POV April 30th, 2011
Outside Mag. POV.HD Review
http://theviovoice.vio-pov.com/news/outside-magazine-pov-hd-review/
Rugged cam, Beautiful image
I bought this camera to film helicopter assaults in Afghanistan and keep my hands free for the gun. Saying I am happy with the product is an understatement. The 1080p image is beautiful, very clear and crisp. I was nervous about the durability when it first showed up, my job has a tendency to ruin electronics. More than one camera in my unit has already been destroyed by dust from a landing. Not the case here, the outer glass has stood up to blasting from our rotor system. Trying to get a cool shot, in a moment of genus, I mounted it in the stream of spent shells from my machine gun rather than above it as I meant to. After firing off 200 rounds - aka 200 direct hits to the cam- the camera head was pretty beat up, the outer lens was cracked and parts pulverized to a powder. I was about to write it off as a loss but decided to plug it in and see what damage was done. Even in 1080p I can't see any distortion in the recorded image.

Some guys have cheaper cams that also shoot in "1080p". There is a very noticeable difference between their footage and what I get from the VIO. Not just in image clarity while still, but the VIO really has nearly eliminated distortion based on vibration. The only time I have seen image distortion is when the cam gets mounted on my machine gun's optics rail, and even then its not that bad.

It will suck through batteries, I got some rechargeables and that fixed the problem
This camera is awesome! It exceeded my expectations. The camera structure itself is solid. Camera-head and body are built to last. I purchased a 32Gb card with provides ample recording space. The (4) AA battery capability is very convent too. I've not filmed at 1080p yet. But the 720p setting is outstanding - sufficient for my use and quality on youtube. I highly recommend this camera.

I'm sharing a video that I recorded using my POV.HD @ 720p. I had the camera mounted inside my vehicle, which was approximately 15 ft from where I was standing. The handheld remote control is also a great feature.
Ive been using the VIO HD for a while now, first in its beta stage, and now with the full production version and have been so happy. With its top end electronics, and in field versatility it exceeds the competition. Design wise its the best out there its streamline look, and functionality are top notch and you dont have to look like a telletubby. I love the fact that I can review, make setting adjustments, and check angles while in the field and on the fly. the unit is super bomber too, its made to withstand, harsh climates, and moisture, and there for makes shooting in the snow, or dirt easy.
Let's be honest, the POV.HD isn't pricepoint competitive with either the GoPro or Contour HD, so why shell out $300 more bucks for it? I'll tell you why, because despite the fact that the pixel dimensions look the same on all the boxes, image quality and in-field flexibility vastly differs between products. Despite the fact that most POV cameras claim 1080p quality, not all can claim they record in native 1080p — which means that the sensor actually records "X" size and then the processor "stretches" the image to fit 1080p dimensions.

It's also important to note that different sensors use somewhat differing algorithms to create pixels. These algorithms are tweaked to move toward the best trade-off between accurate color rendition, image sharpness, high contrast range, low light sensitivity, and minimal pixellization in low light. I think you'll notice, when edited and rendered side-by-side under the same conditions, the POV.HD produces the best result each time.

All that, and the POV.HD comes with a remote, LCD playback (so you can make sure you're not staring at the sky), a tiny camera head profile, audio-in jack, and lots more.

So yeah, this isn't the cheapest camera on the market, nor frankly, the easiest to use (multiple recording modes, exposure control, etc. make it more powerful and also more complex), but for those of you who dig nice SLR's over point-and-shoots, you'll be glad you spent the money.