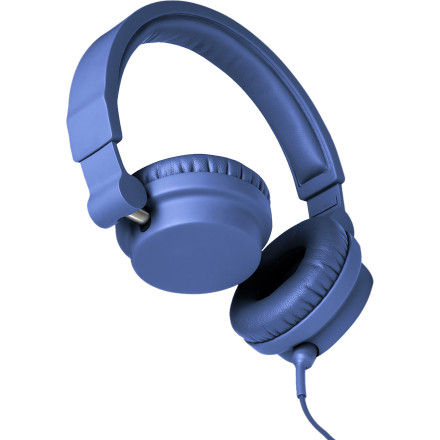 Enjoy professional-quality sound at amateur-level pricing with Urbanears Zinken Headphones. Zinkens come with big 40mm dual diaphragm drivers to capture all the bass in your favorite dubstep or hip-hop record, and come with features that you didn't even know you needed like the Turncable and the Zoundplug so you can share the experience.
Turncable with a 6.3mm plug at one end for DJ sessions and a 3.5mm plug at the other for regular listening, and a coiled section for freedom of movement
Zoundplug allows your friend (or lover) to plug directly into your headphones to listen to what you're listening to
Padded headband and comfortable swiveling ear cushions with multi-density foam
AWESOME HEADPHONES FOR A GREAT PRICE
Familiarity:

I've put it through the wringer
Pretty good sound quality and ultra comfy. The zoundplug makes it easy for friends to join in on what youre listening to, or watching. The fold up easily which allows for compact storage, and they can handle a beating so no need to baby them. The turn cable allows for you to switch from a standard sized plug to a 6.3 mm plug, which is good if you dj or what not.



Overall, I'd recommend these head phones. Not expensive and theyre reliable.
Solid Affordable DJ headphones
Familiarity:

I've used it several times
These headphones are a great alternative to the fancy ones twice as expensive. The turncable is really convenient and the cable seems pretty solid. They are well constructed and the design is good. The remote button on the cable is kind of finicky, but the microphone is good. The sound quality is good with solid bass, but not quite as nice as those 200 dollar headphones. They are generally pretty comfortable, but if you have a big head they might cause some discomfort after prolonged wearing. They do sort of fold up, but not very compactly or practically. Time will tell how long they hold up.

Overall good bang for the buck.
? The Pros- The Zinken by Urbanears is an affordable DJ headphone. It comes in a variety of 13 different color options, all soft-matte plastic giving a simple look. It is clear that this headphone was designed as a fashion-conscious item. This style has DJ features (swivel on each ear cup to use one at a time) and strong bass. Very comfortable. Foldable capacities make it more convenient to store in small spaces.



The cable is also a unique function of the Zinken. The cable is removable, so is replaceable if damaged. The coil in the cable gives more flexibility so it you jerk or move away from your electronics you will not pull them down; it also gives the opportunity to have a longer cable without much dangling and getting in the way.



? The Cons- With great bass, the sound quality of the Zinken headphone is not impressive.



? The Conclusion- The Zinken by Urbanears is a quality headphone for the price point. The simplistic design offered in an array of colors encourages people to match their outfits to their headphones. The sound quality, however, could be better.


These are real good on-ear headphones for any kind of listening
UrbanEars > Beats by Dre
Gender:

Male

Familiarity:

I've put it through the wringer
In terms of fit, finish, and features, the Zinken has it all. What truly sets the Zinken apart is the "TurnCable" it comes with. There is a 1/4-inch plug at one end, a 1/8-inch plug on the other, so depending on the gear you're using you simply reverse the cable! If you're like me and into electronic dance music or hip hop the Zinken brings the bass - HEAVY.

Prepare accordingly.
I fell in love with these headphones from the moment I put them on! Music is dead without good sound/bass and this pair has definitely passed my bass test! Can't go on my morning commute without them. I also love the extra jack slot, so I can easily let my friends plug in to hear my latest mixes.
Have been a fan of the brand since seeing them pop up in Apple stores. Had a couple of my DJ friends try these out and have not heard anything but good words. I prefer to use them at home and I would love to say the sound is amazing...really help me zone out and get things done. THANK YOU UE!
I had a friend who got these as a gift and DJ's locally and said how great the sound was for being so affordable. He was right these have such a great crystal clear sound and super comfortable. They also bend and twist so really great for DJ or for those of us that are prone to breaking headphones like me sitting on them =(. Another great thing is no branding...why wear a logo when I'm not getting paid by them.
These are high-end dj headphones!
Gender:

Male

Familiarity:

I've put it through the wringer
Really all you need to know is that the price is the best on the market for a high-end headphone. Myself and a handful of Los Angeles DJs have been using these constantly for the last few weeks, performing as well as in-home. The cord actually comes out and is reversible, so if you need to switch from a mixer to a laptop you can easily do so without having to add an adapter... this feature alone is AMAZING.
Forget about any version of Dre Beats.

This UrbanEars Zinken Headphone was designed for DJ's like myself. great sound, great quality. Awesome product!
Indestructable
Gender:

Male

Familiarity:

I've put it through the wringer
I have a habit of breaking my headphones when traveling from gig to gig. I wouldn't say that I overly rough with them but if they are in my bag over time some have snapped or cracked. These things are pretty much indestructible. I can bend them any which way and cause literally no damage. You can completely bend them back as if you are trying to snap them and nothing will happen!
I am DJ who always looses the 6.3 plug. With this chord that turns around from the 3.5 to the 6.3 my days of scrambling to find a plug at the last second are over.

Genius!