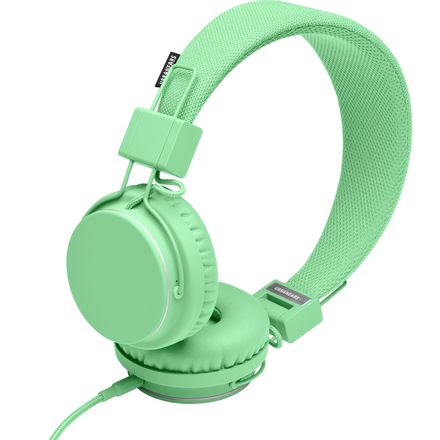 Colors

Detail Images

Community Images
Description
One mother-loving sweet pair of speakers for your ears.
Your mom called from the microphone on her folding Plattan Headphones to say that these crystal clear headphones blew her mind last night. She was floored when these simply styled, but cleverly designed 'phones collapsed down the size of a fist and fit in her purse. We're sure she would have called you directly but she was busy sharing acid-rock with her pal thanks to the 3.5mm Zound socket that allows the Plattans to share music with another pair of headphones. You might want to call her now because once she discovers the on-cord pause and play button you may not hear from her again for quite some time.
Urbanears Plattan Review
Familiarity:

I've put it through the wringer


? The Pros- Another affordable, classic on-ear headphone, with foldable capabilities for storing in smaller spaces and mobility. ?ZoundPlug? allows for music sharing. The cord of the headphones strong fabric prevents the damaging of wires. Stylish headphone available in 14 different colors.



? The Cons- With prolonged, the Plattan becomes almost painful to wear because they are so snug on the ear. Although outside sound is filtered well with the Plattan, the sound quality could be better. The cord length is great for phones, iPods, MP3 players and other portable electronics, but not very useful with other devices.



? The Conclusion- The quality of the Plattan fits the price range it holds. These are an upgrade from the lowest quality headphone, but not quite as good as top of the notch headphones. This is a very stylish design, but are too tight fitting, becoming painful to wear for a long period of time.


These headphones are great! There small and compact and even the earphones fold in and can be wrapped closed using the audio cable. Also the cable is fabric so it doesn't tangle!
I can listen to these for hours and never have any ear pain. they fit snug and the sound is great. I have tried the mic out a few times and really liked it. The only downside is they buttons are a tad hard to find with gloves on in the middle of winter, but nothing I can't live with.
Best acquisition on headphones i've made in a long time! first of all the design is exquisit, quilting on earphones very nice and original, i chose them black because they look really nice, they are soft and comfortable to wear, my head does not hurt when i wear them, and the padding over the headphones makes them enclose the sound perfectly to enjoy music at its finest. other physical atributes that i liked about them are how easy they can be folded and carried on a bag without damaging them. it has a socket perfect for sharing music without having to take your headphones off.(thats one of my favorite part about this headphones) and the sound! ohh the beautiful sound all the songs sound perfect, great lows, great bass, sometimes without the proper headphones you miss the bass on the songs but with this ones you get every detail.
great product!
The four bright color options are embellished with a textured cloth headband, matte ear cups, and a braided cord, adding stylish appeal for the young crowd. They have so many different colors to choose from which is great so I can coordinate with my outfits. I would feel comfortable to buy these earphones as gifts because of the durability and great style! If you haven't bought one you're truly missing out! Urbanears came up with a unique design that is comfortable for your ears and head as well as keeping a good sound! The sound quality is impressive. They are light weight and the swivel earpieces make them easy to store in a laptop bag or backpack. I cannot say enough about the COMFORT. These things could be worn all day long without a problem. I would recommend these to anyone looking for a good priced over-the-ear headphone.
FYI
The Highs are Lows are awesome the Mids are as solid. Lightweight, compact, and stylish with many colors. The mic can also be used to pause the song you're listening to.
So I got these headphones yesterday and theres so many things I love about them..

the sound is awesome, perfect and clear.
the fabric cord is sick, havent seen something like it with other headphones.
also, the "zoundplug" is something else new to me in regards to headphones. you can plug in another pair of headphones so a friend can listen as well. super convenient!
the fabric on the headphones itself is comfy too and i think it looks great.
I also like the microphone/remote, i can go back and forward on songs!

very affordable and well worth your money!
Sweet minimalistic design!
Bought these on a recommendation from a friend. Mainly using these as a back up and with my phone. It has a good sound quality for the price. It has a really nice range and the bass isn't muddy. These are pretty comfortable, but can feel a bit tight after a long period of time. Other than that, these are really great headphones for the price.
UrbanEars Plattan are where it's at - I picked up the grape ones. The design is so sick from the matte earcups, braided wire, and even the plastic connection hardware and cords. Buying these headphones you get something that's unique with a one of a kind look, but not for a one of a kind price!
I had been eying these for awhile and finally decided to buy them! I love that a headphone company actually makes products in my favorite color, tomato red! :) Can't go wrong with some bright colors to stand out in a crowd! The sound quality is also dope and better than other headphones i've used. They are also super comfy.
BANGIN'!
Gender:

Male

Familiarity:

I've put it through the wringer
bought these cause i needed a pair of headphones. Couldn't believe the amazing sound quality plus the foldable design makes it easy to put them away. seriously BEST.HEADPHONES.OUT! and not too painful on the pocket like other brands
So sick how my friends can plug into my headphone and listen to the same thing. Never saw this on another headphone before.
Unanswered Question
Are these new plattans or old one because...
Are these new plattans or old one because the ear cap adjuster on the website are black and these are silver
will these work with sony cd walkman?
will these work with sony cd walkman?
Good sound, light and awesome colors to choose from! Not too much bass but enough. for the price, think its worth it...
Great design and simple looks make this one a favourite!