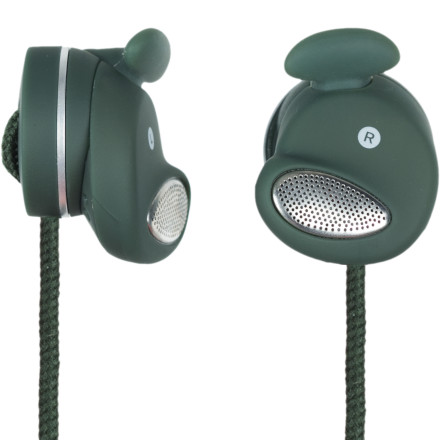 Detail Images
Choose one of the interchangeable earpads, slip the UrbanEars Medis Headphones into your ear canal, and flood your brain with delicious tunes. Tiny handmade drivers replicate your Australian techno-rap mashups with crystal clear quality and a built-in microphone means you won't miss a beat when grandma calls. After she's done berating you for forgetting her denture cream last week reach to the on-cord button, end the call, and start up your soothing tunes again. Even if you have to sprint to the pharmacy to grab some glue for granny, these buds won't budge an inch thanks to the earClick fit system.
Whats good? Everything is awesome. The quality and sound is absolutely incredible, you can hear the bass and the rich sound of the tune. You can easily adjust and make it comfortable so you wont have to worry about them falling of so easily from your ear. The style is unique and it stands out.
Love these.
Familiarity:

I've put it through the wringer
What's awesome: the color options. I got mine in Julip and always get compliments whenever I use them... which is a weird thing to be complimented on, but I guess it's because you don't see such rich-colored headphones that often! I LOVE that it's phone-integrated--I can pick up calls with its built-in microphone.



Ultimately, it's a great buy for a great price. The sound is good and the design is super clean. I've taken mine everywhere with me and it's been through some tough times in my huge purse, but it's still alive and well.
Medis: $49.90



? The Pros- The Urbanears Medis earphones are affordable w/ a unique design available in 13 different colors. Provides a comfortable fit. The cord includes in inline microphone and a pause/play remote.



? The Cons- The Urbanears Medis earphones offer a mediocre audio quality.



? The Conclusion- This affordable earphone has a great design, but the audio quality is just mediocre.


Good for daily use
Familiarity:

I've used it several times
I love the Medis! They come in handy when i'm at the gym, when im listening to music on my ipod , when im using the elliptical at the gym or simply working out. They're also great, if and when your hands are full and you can't have your mobile device on hand. Sound quality is on point and mute option is excellent. Highly recommend it for a daily use with simple and stylish look.
I bought a pair for my Mom and a pair for my Dad. They both love them and use them frequently.
Perfect for under my helmet
When I'm skating I can rock these underneath my helmet, they don't dig into my head or fall out of my ears. Bottom line: these are the most comfortable in-ear headphones I have ever put on. I have little ears, Apple's in-ear headphones hurt so bad and have sound quality anywhere near the Medis!
I work out...hard, and I sweat, these are the only headphones that actually stayed in my ears! Before scooping the Medis I was working with Apple's iPhone 5 In-Ear headphones which never stayed in my ears. Medis come with different size adapters to fit all ear sizes, so comfy. Grrrreat for athletes who don't want to sacrifice sound quality when demanding performance.


Superb Scandinavian Design!
I purchased these as a gift for a friend and he could not stop talking about them, so I had to take a listen for myself! The design in itself was what I liked, but the sound quality is also amazing! These never fall out of my ears when I'm doing cardio. Also, these are the first pair of headphones that actually fit my ears, as the modern design is engineered to fit your ear a bit differently than regular earbuds. My new favs.
Definitely the most secure set of bud phones I've had. They come with 4 different sets of ear wedges to get the fit dialed. While the fit is good the sound quality on these is definitely not studio quality. You never get a great seal between your ear and the bud. This might not be a bad thing if you are doing something where you would like to hear your surroundings. I also found that if you have anything pushing in on the buds they can get a bit uncomfortable like a goggle strap. All things considered these are some great headphones but I wouldn't count on them being the answer to all of your personal audio quandaries.
Tune in, and drop in!
Familiarity:

I've put it through the wringer
These sound really good and clear for ear buds (as somebody who has also been shopping for studio recording headphones recently).They are pretty balanced/passive so you won't get any huge bass boost or highlighting of certain frequencies (a.k.a. if you listen to rap or (dear god not) dubstep these might not punch your ear with bass and drum enough).



The icing on the cake for me was the partially-open back design. This allows you to listen to your music with clarity and without feeling like you're isolated in your own sound bubble. I've also heard from audio engineering friends that it's less damaging to your hearing.



Before I got these, I read some reviews that said the cord can be a little bit fragile but haven't had any problems after the first couple of months. I'm trying to treat the cord well to keep the tunes pumping through it.
At first they hurt my right ear. I tried all the sizes and the one that fit the best still hurt a little. If I pull the bud out a little after putting them in my ear it doesn't get as irritated. The sound is pretty good, which is why I gave them 4 stars. They look really cool and stay in my ears when running.
Cool design and sound clarity aint' too bad...
My UrbanEars are by far the best headphones I have ever used. Great sound quality and great fit. Stays in your ear no matter what you're doing.
hated it. the music botton just dont work with almost anything
So do these headphones have a mic in the...
So do these headphones have a mic in the wire?
Hey Clint,

They do indeed.
, ☃bcs_badge_alumni_label☃
Hard for me to visualize how these fit in...
Hard for me to visualize how these fit in the ear. Does anyone have a picture? (Or a thousand-word explanation?)
they will fit in your ear just like a standard earbud
They fit pretty nicely. It's a different fit though. For me they stayed in better than just the squishy ear bud ones. I've had mine for awhile but the wire is finally messing up and the sound is going out in the right bud. But otherwise all my friends asked me where I got them and wanted a pair. So they look pretty legit.
I just bought a pair and I do have to say they do look pretty tight. They're nice and sturdy. They also do a pretty good job at blocking out outside noise. The sound quality is good for the price, but not the best. But as of now, I'm a happy camper with em.