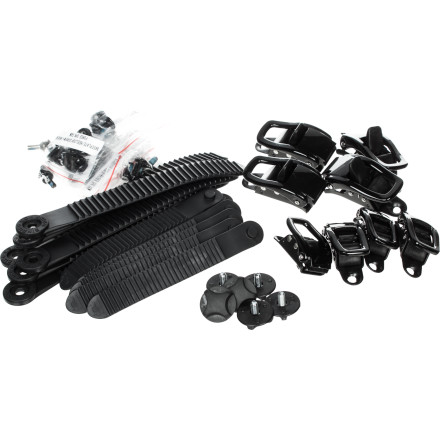 Tired of scrounging for old parts to Frankenstein your bindings with every time something breaks? Got a whole crew riding Unions that's always on the lookout for spare components? Get the Union Parts Kit for your crew or team and have everything to keep everyone's bindings going all season, or pick up a kit for yourself and keep riding those same old Unions until your knees give out and you have to pass your gear down to your grand-kids.

Medium Parts Kit includes:

Ankle Ratchets x4
Toe Ratchets x4
Disc Screws x4
Thumbscrews x 8
Ankle Connectors M/L x4 L/XL x2
Ankle Ladders x4
Toe Ladders x4
Toe Strap Adjuster Screw + Washer x4
Highback Insert + UFO x6
Baseplate Heelcup Screw x6
Highback screw + washer x6
Disc Cover Screw x4
Buckle Screw x4
Highback + Insert Washer x6
Large Parts Kit includes:
Union Screw Driver x1
Ankle Ladders x12
Toe Ladders x12
Ankle Ratchets x8
Toe Ratchets x8
Toe Connectors x4
Thumbscrew x12
Forward lean adjuster x8 (4 Force and 4 Atlas)
Union Apron x1
Highback Insert x12
Highback Insert Force x12
Toe Strap adjuster Screw +Washer x12
Buckle Screw x12
Gas Pedal Screw Force x 12
Disc Screw + Washer x4
Highback Screw + Washer + UFO x12
Baseplate/Heelcup Screw+ insert x12
Baseplate/Heelcip Screw + insert x12
What do you think about this product?
Have questions about this product?
WARNING! INCORRECT DESCRIPTION
Familiarity:

I returned this product before using it
the reason this is being offered at a 40% discount is because they are misleading you. you get no straps with the medium parts kit. I repeat, no straps. you are paying over $100 for some buckles and some screws. Just go to your local union shop and they would be happy to give you any screws you need, this kit is worthless to the daily rider who is looking for the comfort of new straps to go with his lifetime baseplate