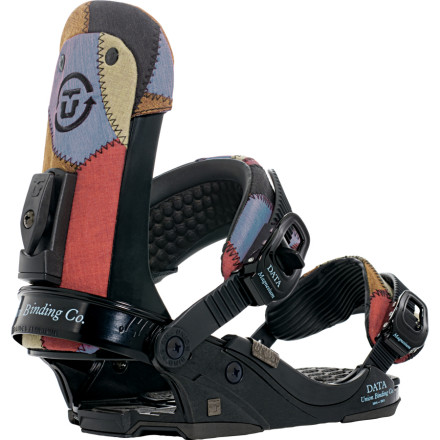 Community Images
In addition to providing top-notch performance and comfort, the Union Re-Union Data Binding gives nature a welcome break from excess waste.
EVA cushioning on the baseplate bushings, highback, and straps is made with recycled foam
Sage II baseplate is crafted with scrap materials left behind in the manufacturing process of other Union bindings
Multizone Zytel ST highback provides the vertical strength to provide stability at speed and support when you go big and land hard
Grade 8.8 hardware is made from high-grade steel to provide exceptional strength and longer life
Magnesium used for the buckles is extremely light, easily recycled, and is one of the most abundant materials on the earth
3D Multi-layer ankle strap features foam cushioning and a contoured shape for mobility and comfort as you ride
Movable toe strap allows you to find the ideal fit and features soft foam for all-day comfort
Share your thoughts
What do you think of the
Union
Re-Union Data Binding
? Share a...
i ride park mainly jib would these be good...
i ride park mainly jib would these be good for me
Best Answer
If you mainly jib, then you should get the Contacts bro. The Datas will still do alright in the park, but will not allow for that true park flex. I have last years Contacts and I love them. I take them from park to steeps to trees and they hold no problem. The Contact is a 'park specific' binder but is able to tear up the whole mountain. Hope this helps bro
Any Hemp size M/L expected in the near...
Any Hemp size M/L expected in the near future?
Nope. None are expected, sorry.
Best Answer
Guess I'm going with the flashy ones then. Just a little unnecessary flare.
these Bindings!! are BAD A**
these are sick totally made for some hard riding! i have them on my 2011 TRS an they really do well on hard pack ice cause their so stiff! i just wanna get some stiffer boots. . . . DC status OR the thirtytwo PRIME!
I heard the toe straps come up off the toe...
I heard the toe straps come up off the toe for some riders. Can anyone confirm or deny this?
If the toe straps are coming off, then these people do not have their strap tight enough and its not sitting proper on the boot. I have Contacts and Forces and I have had no problems with the toe strap slipping or coming off. It is made up from a synthetic material and it holds quite well. So to answer your question.... No they will not slip as long as they are set up proper to your boot
What about the toe strap?
I heard the toe strap comes up off the toe. Can anyone confirm or deny this?
These a noticeable upgrade from the Forces?...
These a noticeable upgrade from the Forces? Other reviews tend to say they're identical besides the look. Anyone rocked both?
The straps are a little plusher and are a little stiffer. Also the high back is a touch stiffer aswell and a little more padded, but you wont really feel the difference. Both have a stage 2 base plate, same 8.8 hardware, and same magnesium buckles. Its basically a beefed up Force binder, geared more towards the BK, with a different look. Plus the majority of the Data's are made from recycled product, so better for the environment. Hope this helps :)
Nice, think I'm going to go with these. Could you clarify what BK is from "towards the BK?" Haha..
Haha sorry bro.. I mean they are more for the back country where you would need that little stiffer feel. But like I said you can still rip anything with these. They will be stiffer than the Forces or the Contacts, but you could def still cruise park with these on and have no issues
the highbacks are solid stiff!!!!
Eco Friendly for the all mtn Thrasher!!
While reducing our environmental foot print for the sport we Love Soooo much, this bindings kills all aspects of the Mountain!!!! Similar to the Force yet more responsive w/ extra padding in the straps & highbacks. From carving groomers to climbing Pipe walls to shredding steeps,trees, & fresh backcountry Pow; this is such a well balanced & extremely comfortable binding!!!!!!!
To Top it off Union used recycled outerwear from "Holden", 100% recycled aluminum heal loops & 15% recycled base.