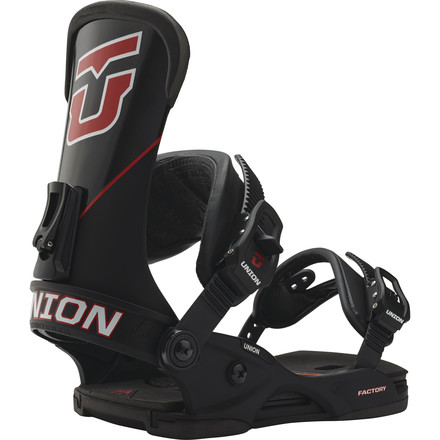 Few riders can truly "do it all" the way Torstein Horgmo does. From winning park contests and crushing rails in the streets to going huge in the backcountry, Torstein gets it done with the help of the Union Factory Snowboard Binding.

The extruded anodized aluminum heelcup reduces weight while maintaining strength and stiffness, and it never loses it's shape no matter how much you abuse it. The Stage III Atlas baseplate makes minimal contact with your board to eliminate dead zones in the board's flex beneath your feet. It also has a Team highback to make it flexible enough to tweak grabs, yet stiff enough for reliable response and support, and injected EVA bushings dampen vibrations for a smooth ride.

Canted Gas Pedals align your legs more naturally to reduce fatigue, and they improve leverage for more ollie power for riders with wider stances. The SonicFused ankle strap minimizes stitching to increase overall durability, and the Open Toe Strap is low-profile and cored-out to wrap around the front of your boot for a comfy and secure fit. Plus, magnesium buckles shave even more weight while increasing strength.

Team highback
Stage III Atlas Duraflex baseplate
Extruded aluminum heelcup
Multizone EVA footbed with Canted Gas Pedals
3D Direct Connect ankle strap
Ultra Grip toe strap
Grade 8.8 steel hardware
Magnesium buckles
Universal disc