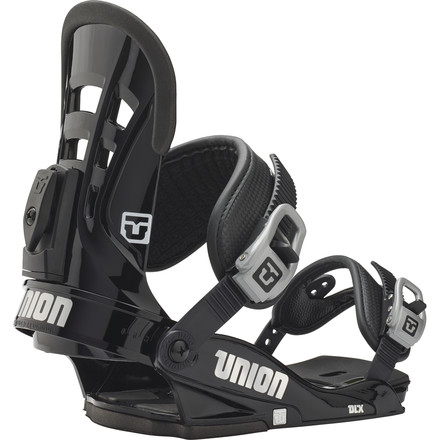 It doesn't matter if you're looking for your first binding or you're a freestyle veteran on a budget, the Union DLX Snowboard Binding has the soft flex and durable construction you need to shred all season.

If you're not sold on the lightweight and responsive Stage 1 Zytel ST base, the lifetime warranty against breakage should do the trick. A soft-flexing highback allows for easy steering and tweaked-out grabs, and an extruded anodized aluminum heelcup reduces weight while maintaining strength and stiffness.

An EVA footbed reduces vibrations for a smoother ride and absorbs harsh impacts. The Direct-Connect ankle strap provides a secure and responsive fit without creating painful pressure points, and the Open Toe Strap is low-profile and cored-out to wrap around the front of your boot for a comfy and secure fit.


Dupont Zytel ST highback
Stage I Zytel ST baseplate
Extruded aluminum heelcup
EVA footbed
Direct Connect ankle strap
Ultra Grip toe strap
Grade 8.8 steel hardware
Aluminum buckles
Universal disc