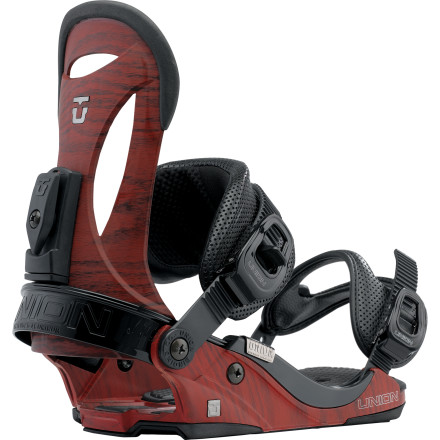 The Union Asadachi Binding offers the same fit and feel as the popular Force binding, but enhanced with premium materials and a look that's all its own. The Asadachi Binding also addresses the need for us to be thoughtful of Mother Nature and uses a recycled aluminum heel loop, recycled EVA padding on toe ramp and highback, recycled EVA bushings, and a 15% recycled base. And in case you're wondering, the term 'asadachi' means 'morning wood' in Japanese???thus the wood-grain finish.
Symmetrical/asymmetrical highback provides an even shape with a a softer medial flex
Injected EVA bushing sit underneath the base to allow for true board flex instead of a dead spot under your feet
Size M/L uses 7% injected fiberglass in baseplate to allow for a mellower flex relative to riders with a smaller foot
Size L/XL uses 14% injected fiberglass in baseplate to allow for a slightly stiffer flex relative to riders with a larger foot
3D tapered ankle strap with more material on the inside for lateral support and less material on the outside for a better fit.
The crem-de-la-crem of bomber! These bindings are nice and responsive but super comfy. I def reccomend them to anyone looking at unions, but they def need to be on the right shtick. Na'm sayin'?!