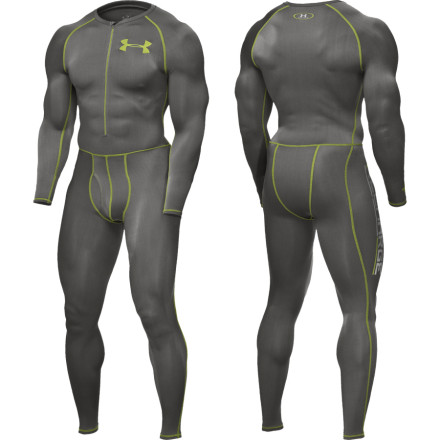 Wrap your rippling muscles in the Under Armour Generation II Recharge Compression Suit and warm up quickly, ride longer, and recover faster so you can wake up and do the same thing the next day. Put on this tight-fitting suit to take the edge off your every-day riding habit, because when you compress your muscles they vibrate less and perform better for a longer period of time, as well as help reduce swelling after a rowdy ride or workout. Zip up the ??-length front zipper and feel the moisture-wicking and UPF 30-rated suit hug every inch of your muscle mass for snowboarding, skiing, or any other sort of sports training in colder temperatures. The flat-locked seams don???t rub you raw as you push it to the max and a fly allows you to use the bathroom without stripping down to your birthday suit.
It's not for layering, Dummies.
FYI - This is NOT for wearing as an outdoor layer.

It is for post workout recovery.

It might work OK as a base layer, but that is NOT what it is made for at all.

What it DOES do, however, is reduce the time it takes for sore muscles to not feel sore. Like a 50% reduction. I hear ya', seems like a bunch of hooey, but check out the reviews on UA site. It's legit.
call me old school but i like having one peice base layers for a full day or over night adventure. I think there warmer and better at keeping the cold and snow out. But there is one big problem i find with this suit. There is know drop seat. You would have to completly take all your top layers off to answeer the call of nature. Real shame because i totaly would love to get one.
Would this work for nordic skiing?
Would this work for nordic skiing?
Hey there, yeah for sure! Just remember that one piece long underwear will keep you a lot warmer than 2 pieces... also this particular one piece doesn't have a drop ass, so #2 bathroom visits will require taking the top all the way off/down...
How do I determine what size suit is right...
How do I determine what size suit is right for me? What are the dimensions for each of the suit components?

Thank you,
David Wiggins
Best Answer
David, I do not own this suit but the sizing chart should get you close which is located directly underneath the select options menu. UA compression fits are taken into consideration so your normal size is usually correct.
Best. Halloween. Costume.
EVER.