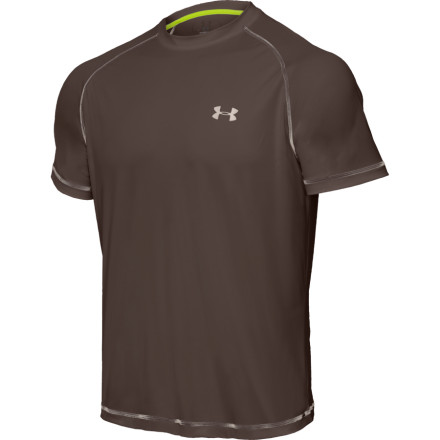 Detail Images

Community Images
Protect any number of houses in the Men???s Under Armour Catalyst Shirt with the help of its UA Green, ArmourBlock, HeatGear, and UPF technologies. UA Green innovations have allowed this shirt to be made from a high percentage of recycled materials so you sleep slightly better at night. ArmourBlock technology neutralizes odor causing microbes so the Catalyst can transport moisture without scaring off the opposite sex while HeatGear helps you stay cool when things heat up. Ultraviolet protection allows you to run sprints until your body gives up without burning covered areas to a crisp in the hot sun.
Bought for hiking trip
Gender:

Male

Familiarity:

I've used it once or twice and have initial impressions
I bought this for a planned hiking trip in New Zealand (Milford Trek) which spans 33 miles over 5 days. I have only tried this on, but by comparison to other shirts I picked up (North Face Reaxion Crew & Flex Crew), I love this shirt the best!
Best Running Shirt I Own...
I am absolutely in love with this shirt. I ordered the Large and it is a loose fit, but not super baggy (I'm 6' 185 lbs). I pick this shirt over all my others when it's clean :-)
Shirt fits well, the color in the picture is off. Maroon is the color.
Nice shirt, however the color is maroon not the red hue as you see here. Look at the color at the collar, this is a closer representation of Color, again nice shirt.
But aren't plastics toxic??? I was gonna...
But aren't plastics toxic???

I was gonna buy one of these shirts, but my girlfriend's worried it might be harmful to me. Seriously. She says lots of plastics leech out dangerous microbes over time. Same reason why so many people are against eating and drinking out of plastic containers.

I contacted UA customer service and they couldn't tell me what sort of plastics (the safe or bad kind) they use for these shirts.

Does anyone know if these shirts could potentially be toxic to oneself over time? Or is it a silly concern? Thanks!
says its made from cotton
Best Answer
This shirt is made of 100% recycled polyester, the above comment (and the info sidebar) are wrong.

I'm not a doctor, or a research scientist, but I personally don't worry about the safety of synthetic fibers - and I've never heard a reason why I should. If you're really worried about it, but want something higher performance than cotton, check out baselayers made of Merino wool. Stoic, Smartwool, and Icebreaker are good brands.
Simon, Dwayne:

On UA's website it explicitly says the Catalyst T is made from recycled plastic bottles: http://www.underarmour.com/shop/us/en/pid1210671-Men-s-UA-Catalyst-T

There's even a video included.

I'm all for going Green. But not if it involves recycling dangerous products. That makes no sense.
I have had some of these shirts for over a year and have not had any problems. The shirts have held up very well too. I wouldn't worry about the shirt being toxic.
Doesn't really matter what they made it from but it really is anti-microbal. I'm in the army and I was on a 10 day exercise in mid July and I only wore 2 shirts the whole exercise alternating every 2-3 days and trust me it didn't smell bad nor did I get a pimple outbreak therefore I confirm this shirt is AMAZING!
I liked the material but the large was huge on my athletic 5'11" 185 build.
UnderArmour hit the jackpot again with this shirt. Feels great against your skin and wicks moisture very well. If it does get wet it dries quickly and one of the best things, you can't really wrinkle this shirt.
Silky, fast drying and totally comfortable
This shirt is made of a 100% synthetic weave, which offers some stretch, but has no lycra to wear out (like a lot of other under armor gear). This fabric is super lightweight and smooth as silk, yet resists pilling and lasts a long time.

Like other synthetic shirts, this one will retain some level of stench, even through washings. This isn't an issue for me though, as I usually wear it outside.

Sizing is loose but not baggy. Get one, you'll love how it feels

-Simon
Recycled polyester, not cotton
First off, the shirt is 100% recycled polyester, not cotton like they have on the sidebar. With that out of the way...

The shirt is pretty typical of other Under Armor Heat Gear shirts. Works well for getting rid of moisture & drying out quickly. Still has that polyester "shine" to it & looks like an athletic shirt for sure. Not something I'd wear if I wanted the same look as a nice cotton t-shirt due to the material & "shine" that it has.
I am looking for the loose fit in this...
I am looking for the loose fit in this shirt. Is this it?
Best Answer
Hi Lyn,

As I mentioned in my previous answer, the fit is "athletic". Inherently not a loose fit, but a comfortable fit, unlike the way lots of synthetic fabrics feel clingy and kind of gross. I personally hate that feeling, so to get what you're looking for in this particular shirt, I would suggest moving up from the size you would normally wear. That's the way I usually do it anyhow...all the upside of the shirt's technical abilities, but with the fit I prefer.
I use it as a loose fit (just buy one size up) and it's great for me
Is this cut tight like a slim fit?
Is this cut tight like a slim fit?
Best Answer
Yep, cut slim. For future reference, whenever you see the word "athletic" in the fit description, this is the case.
IMO, these are the perfect fit. Not loose or baggy but also not a compression fit. These work great for all activities yet can be a nice casual shirt as well.
Under Armour Catalyst Shirt
Just like virtually all of their products, high quality, super comfortable and lightweight.
I did not purchase this T shirt. It was given to me by my grand son who visited the Naval acadamy and gave it to me. It is one of the finest T shirts (with logo of the Naval acadamy written on it) that I have ever owned. The quality of it is outstanding and wears like a fine glove. I am searching the internet to find out where they are sold in my area
Kudos for making this type of quality T shirt