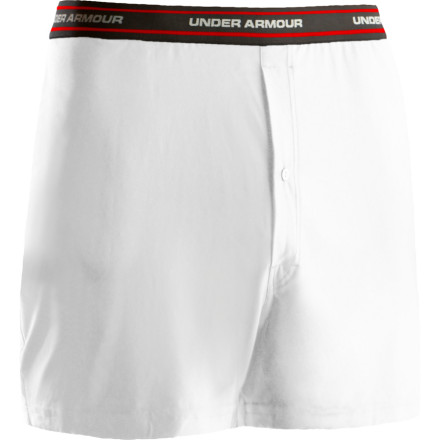 Under Armour gave the Men???s 0 Series Boxer moisture-wicking fabric and a flexible four-way stretch that controls sweat and keeps your jockeys packaged in cool, supportive style from morning ???till night. An elastic waistband locks down these relaxed -it boxers, and the button-fly design makes answering nature???s call a breeze. Don???t worry about your apartment smelling like a back-alley gym either; thanks to Armour-Block odor control technology, these boxers help resist the nasty smells associated with playing outdoors.
A 6-inch inseam offers a more relaxed fit for coasting through your day
What do you think about this product?
Have questions about this product?
OK for sleeping not much else
I expected a good Underarmor product. These don't work for me. Way too loose. Button closure not great. Pass on these and get the short boxers.
I agree with the previous reviewer that the boxers offer no support, but I expected that going in, as they are boxer shorts instead of boxer briefs.

However, that aside, I was still disappointed with the fit. While they were true to size, there is something odd about the way they are sewn together. It's difficult to describe how, but I did not find them as comfortable as your average pair of boxer shorts.
Under Armour O Series Boxer Short 6"
- Bought these by accident and won't buy another pair since I prefer briefs over boxer shorts!
- It's nice and is true to fit unlike the boxer jock which I had to size UP one size!
- Because it's more of a shorts, it should NOT be worn under strenuous conditions that REQUIRE SUPPORT (i.e. running or martial arts); those types of activities are meant for briefs (i.e. boxer jocks).
- It's good for casual wearing but really do NOT see the need to wear boxer shorts!
- It's relatively EXPENSIVE for performance boxers when regular Cotton boxers are at least HALF the price!
- REMEMBER: boxer shorts do NOT offer support so why use them for sports?!
- Lastly, NO, despite what backcountry.com states, it is NOT a relaxed fit as even Under Armour states that it's Form Fitting but not as much as the compression type!!