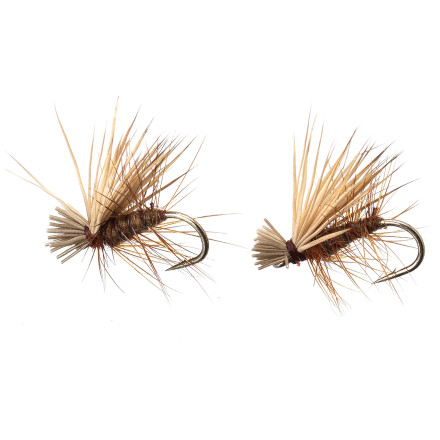 Detail Images

Community Images
Umpqua's Elk Hair Caddis is an must-have for any angler. Match the naturals on your local river with multiple sizing options and colors. Sold in a 2-pack so you have an extra when that bow snaps you off around a log.
Irresistible
Familiarity:

I've put it through the wringer
I caught my first tiger on these bad boys!

A must have addition.

Easy to see and tie.


A+ flies
Familiarity:

I've put it through the wringer
Umpqua makes some fantastic flies. I have been fishing Umpqua flies for over 20 years, and they are the best quality flies I have purchased. the quality is unmatched as is the selection.
Buy Umpqua and slay the trout.
Crusher
Familiarity:

I've put it through the wringer
Best way to catch fish. I love a good caddis hatch, crushing browns while skating these buggers. They also do a good job imitating a few other insects and tie one on up in the high mountains, and you won't be able to take the fly off the water without a strike from a hungry brookie!
Pretty Fly pretty fish!
Familiarity:

I've put it through the wringer
I love this fly it's so darn pretty and easy to see in the water. When you cast it at the right time you are for sure going to get lots of fish going for it!
I love it!
Familiarity:

I've put it through the wringer
But more importantly - the trout love it too!
Only fly so far this season - Love it!
Familiarity:

I've put it through the wringer
Initial quality impressions are great. Mine had no loose threads, great attention to detail, and I'm overall very impressed with the color on the tan variant.

Of 6 flies I purchased in the same order, this is the only one I have use on so far. That's because I haven't had a day yet where the size 14 didn't get me bite after bite. This thing has brought in a total of 12 trout from 8 inches to 13 inches in 6 weeks.

I'm somewhat unfamiliar with how durable flies should be, but after all those catches, this thing still looks great. I'm completely pleased and just placed a re-order for the other color.
Versatile Fly
Familiarity:

I've put it through the wringer
In the San Juan Mountains of Colorado the elk hair caddis is one of my personal favorites for small streams. The pattern of the body and the hollow elk hair helps keep the ply on top of the water. This is typically one of my first choices especially if I can see any sort of caddis hatching taking place. I often have used this fly style for multiple days on a trip because why change flies if you are catching fish. Similar purpose of a royal wolf or irresistible, this fly looks buggy in the water make it imitate multiple things beside caddis. I really like to fish it early to mid-morning/dusk when the fish tend to be a little more aggressive on top.
I typically fish smaller sizes because they are easier to set the hook when the fish's strikes are softer or when the fish are smaller in size. Southwestern Colorado typically has more of the tan caddis so I prefer to use that pattern in a 16-18 range.

Great Flies
Familiarity:

I've put it through the wringer
I've used Umpqua dry flies quite a bit and they always work great. They are high quality and allow you to keep hooking fish with the same fly over and over again, they don't just fall apart after one or two fish. They also stay on top of the water like a dry fly should.
Elk Hair Caddis - such a great name.
Familiarity:

I've used it once or twice and have initial impressions
These well-made flies look great in my fly box. Soon they'll look great in a trout's mouth.
staple
Familiarity:

I've put it through the wringer
This should be a staple in any anglers box in the west (never fished east coast, so maybe there too). I used this fly in Utah, Idaho, Wyoming, and Montana, and it has proven itself time and time again. Buy it in 16/18/20/22 and you'll be set once the hatch goes off.
Simply amazing
Familiarity:

I've put it through the wringer
This is by far my favorite fly to throw on. in my opinion, the tan works better than the brown. Its definitely a brown trout magnet.
Good fly
Familiarity:

I've put it through the wringer
This fly has been very effective during the evening caddis hatch. The lighter colors have been working well during the summer months and there a necessity for any serious trout fisherman.
A timeless classic
Familiarity:

I've used it several times
The elk hair caddis fly is something every fisherman should carry in their arsenal. A few different sizes and colors in this fly is just what you need on those hot summer days to fool the most educated trout!
High mountain lake necessity
Gender:

Male

Familiarity:

I've put it through the wringer
If I had to choose one fly to fish high mountain lakes, it would be the Elk Hair Caddis. I hook up more fish in the high lakes on Elk Hair Caddis patterns than any other fly. I would choose the tan if I could only have one color. For size I would have to go with the #14. But since I don't have to choose I carry an assortment of tan in #12 to 16, and Black in #16 and 18, in the high lakes of central Washington State where I live. I have seen fish get real selective in some of these high lakes when the little #16 and 18 black caddis are laying eggs. A nice feature about this pattern is that the elk hair helps the fly float a little longer, especially with some floatant, although I have good luck with fish hitting a wetted out submerged fly a foot or two inder the surface. Perhaps an Elk Hair Caddis is a good attractor pattern. Perhaps caddis just taste good, or are loaded with protein, and fish cannot help themselves. Whatever reason, they work. Umpqua also ties a quality fly that will not explode or unravel after you've released your first two fish.
Well, I haven't tasted them, but the fish think they're tasty
Love to throw this fly on right as the sun sets on the middle provo river, just as the water starts to boil. Tan and brown tend to work best for me, but obviously that's subjective to your area and time of year. Definitely a go-to year after year.
this is the first fly I've ever owned. It was my go to for about a week until I increased my collection. I caught a few fish on it and have gone back to it a few times. Overall a great fly. make sure to apply some floatant to keep it going for longer.