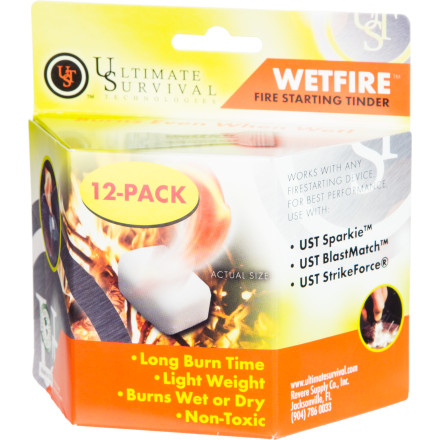 Colors

Videos
Description
Universal lighting material that starts your fire in any weather.
Ultimate Survival Technologies lives up to its name with the Wetfire Tinder. This tinder makes it easy for you to start fires with only a small pile of shavings whether you're camping on a windy hill, backpacking in a rainstorm, or trying to light your stove on a portaledge halfway up a climb.

This firestarter package comes with 12 individually wrapped, lightweight cubes that are safe, non-toxic, and easier to handle than conventional firestarting gels. They don't leave residue like petroleum-based firestarters so you can pack these in your backpack without having them foul up your clothes and other belongings. They burn up to 1300 degrees Fahrenheit but immediately cool down once you easily extinguish them. Best of all, not only are they waterproof and windproof, but they actually burn longer when wet and don't produce much smoke.
Safe, odorless, non-toxic and lightweight material
Completely windproof and waterproof
Extinguishes instantly
Over 1300 degree Fahrenheit flame
Individually packaged cubes
Share your thoughts
What do you think of the
Ultimate Survival Technologies
Wetfire Tinder
? Share a...
I started a campfire with these the other night. I tried lighting it with a spark from a Swedish Fire Starter, but the spark wasn't hot enough to catch it on fire. I put a lit match to the Wetfire Tinder and it immediately caught fire and burn for a while. This stuff works great, just use a match or lighter.
IT BURNS!!!
Familiarity:

I've put it through the wringer
But really, these little guys are great.
These little bad boys are sweet!!!!
Familiarity:

I've used it several times
Okay for all you backpackers out there...here you go!!! These are a must have for any trip.. They are super light...like no weight at all...you will not even notice them. I have been using magnesium for a long time.....I have had the same mag bar for like 6 years...but it burns so fast and you have to take the time to shave the bar...with this it burn and keeps on burning and is easy to use just open the package and shave you some off and lite it no mess no effort...just results!!
Great starter .
Familiarity:

I've used it several times
I have used these on a few backpacking trips . A couple weeks ago I went on a couple day trip. It had been raining solid for a couple days prior . These bad boys saved me some headache and lit my fire no problem.
Always in my pack
Familiarity:

I've put it through the wringer
I always keep these in my pack. They are great to start a fire under damp/wet conditions. They are light weight and don't take up any space. Must have for any outdoors activities that a fire might be needed.
Lite weight, works great. Don't even have to use a whole cube. (I am not cheap) Wish I cold find some old fashion, waterproof, strike anywhere matches to go with them. We are so lucky to have a government that is so concerned about us are we not.