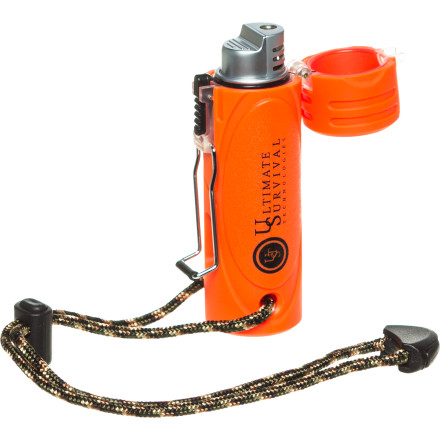 Colors

Detail Images
Fill the Trekker Stormproof Lighter with a single, four gram supply of fuel, and this rugged lighter will give you over 1,000 ignitions on a single tank and a flame that can withstand 80 mile-per-hour wind. This is the largest of Ultimate Survival Technologies survival lighters, and it's the one you want when an unexpected Nor'easter blows through camp during your canoe trip in the Adirondacks or week-long hike on the Appalachian trail.
Rubberized case is highly durable and resistant to impact, crushing forces, and abrasion
Piezo-Electric ignition system is good for over 30,000 ignitions
Catalyzer coil creates a flame that burns at 2,000 degrees Farenheit
Flame is capable of withstanding winds of up to 80 miles per hour without going out
O-Ring case seal keeps water out of the burner and ignition areas when cap is closed
Fuel level indicator and flame indicators alert you to vital lighter functioning
Lighter requires quadruple-refined butane fuel for operation (fuel not included)
Great lighter (FUEL NOT INCLUDED!)
Familiarity:

I've used it several times
I really like this lighter a lot. I've taken it out a few times and it has been stellar. As some of the other reviews have said, it does not come with fuel. You'll have to order that separately. Also, this doesn't take your average lighter fluid, it needs quadruple-refined butane. All in all, it has been fantastic!
Continuation of previous review
Familiarity:

I've used it once or twice and have initial impressions
In my previous review I forgot to mention some pros: it lights up easy after a few trys and has a nice hot flame good for many applications just be sure to get the right fuel
Seems okay so far
Familiarity:

I've used it once or twice and have initial impressions
I got this lighter from a small shop in haines alaska and having paid sixty bucks for it I was pumped to open it up and see what it could do. I was super disappoint to see that It had no fuel in it, so a couple days later off I go to the hardware store to buy some butane. Because this was my first time with a refillable lighter and also my first time buying butane I just grabbed the first one I saw, paid for it and headed home. Upon returning home I got out my lighter and fillef it up. Then I hit the igniter and on the second press it lights up works great burned a couple sticks, light a few candles. the thing works great. Next up I try blowing it out with no success. im thinking this is a great lighter so I put it in my pocket and forget about it for a day. the next day I get it out to start a fire it burns but then it flames up and goes out after about ten seconds of normal burning so I go online and research the lighter a bit and find out I'm supposed to use quadruple refined butane and I think uh oh thats not what I bought so now im annoyed because the store I bought it from does not sell this special butane and im thinking I might have broken my 60 dollar lighter just because it didnt come prefilled and it was not clearly marked that it needs quadruple refined butane so Im giving this lighter three thumbs up because it does not come prefilled and it is a pain in the grass to find the special fuel it needs ( I had to go to wallmart of all places)
I wish fuel came with it.
Familiarity:

I've used it once or twice and have initial impressions
I wish I could review the actual lighter, but I'm still waiting for my fuel to arrive. I had to order that separately. I wish the lighter came with some fuel.
Doesn't Work
Familiarity:

I've used it once or twice and have initial impressions
Only will work when it is almost empty of fuel. It's going back..
Seems nice
Gender:

Male

Familiarity:

I've used it once or twice and have initial impressions
Works really well and seem like a top quality lighter. I guess I will find out more this spring.