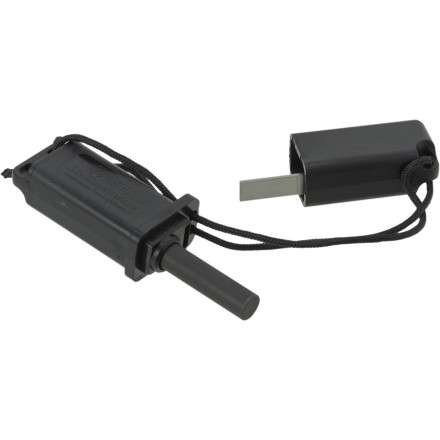 Description
A compact, durable, and effective life-saver.
You don't panic when an unexpected storm rolls in and puts a prompt end to your hike-out; you have a great tent, plenty of food and water, and the Ultimate Survival Technologies Strikeforce Firestarter. All surrounded kindle may be drenched, but the included non-toxic, odorless WetFire tinder wrapped and stored in the tinder compartment starts without hesitation. With a quick, hard strike, the large sparkbar puts out a hot spark that will have you warming your bones and food in no time.
Big sparks means big fire
Familiarity:

I've used it several times
To sum this item up, its big. Questionably too big. About as big as an iPhone folded in half. It sends out a massive shower of sparks and the large plastic handles do make it easy to hold onto while striking, but it is pretty bulky in a backpack. I would recommend putting a longer paracord on, but that is an easy at-home fix.
Essential
Familiarity:

I've put it through the wringer
Throw this in whatever pack you are using and be on your way knowing that if anything went wrong while on the trail you would be able to keep warm. This is an excellent tool to have along on any adventure!
Huge
Familiarity:

I returned this product before using it
I'm sure this think works fine, I can't really say for sure because I returned it before I ever used it. This fire starter is huge! Way to big to be thinking about taking it backpacking. If you are just going to leave it in your car or boat or whatever it would probably be fine.

Matthew Pizza
Expert Gearhead
mpizza@backcountry.com
801.736.5363
Sparks
Familiarity:

I've used it several times
This is a solid option for the price. A buddy and I sat at our campsite for 30 minutes trying every dry piece of tinder we could think of and we could not get something to light (didn't really take into account the altitude 11,000 feet). It sparks really well, and is not all that big, but there are some out there by UST that are 1/2 the size and still spark just as much. Does have the stash pocket for a packet of their wet fire which is a nice added feature. Like everyone else has said, throw one in your pack just in case.
Put it in your pack
Familiarity:

I've used it several times
Everyone should have one or two.
Gets the job done
Familiarity:

I've used it several times
With proper tinder, I've never had a problem making a fire using this firestarter. It may be larger, heavier and more expensive than other products on the market, but I like it and I keep one in my pack at all times. I also keep a spare at home. Aside from being functional, I like the fact that both pieces store securely as one fully contained unit. It makes it easier to locate within my pack, and prevents sharp edges from damaging other items.
In the bag
Familiarity:

I've used it several times
I always keep one of these in my pack. Nice product to keep handy for those "just in case" situations.
Perfect for any outdoor activity.
Familiarity:

I've put it through the wringer
I originally bought this for the backpacking trip on the Teton Crest trail but now carry it pretty much anytime I am out in the wilderness. It creates a ton of sparks which makes getting your tinder going a cinch.
A Must Have
Familiarity:

I've put it through the wringer
This is one piece of gear you should have any time you're in the backcountry. You never know what's going to happen out there and having this little guy lets you rest easy knowing you'll be able to get a fire going if you need to. The strikeforce throws a ton of sparks and the waterproof casing protects the whole set up and gives you something to hang on to when you're striking the sparkbar. There is also a little compartment that opens on the bottom of the spark bar where you can keep your tinder. An all around awesome little tool.
Great tool, I keep a little baggie of dryer lent with it. Spark on that lent and "Bam" fire! Good Stuff!!
This thing is much thicker than other fire steels. This makes it heavier but also makes it throw more sparks. It also makes it last longer, like forever almost. The striker works well but I cut it off and just use my knife now.
No pack should be missing this
I cary a striker and a magnesium stick on every backpacking excursion. Honestly the peace of mind knowing that I'm able to make a fire in an emergency is great in the back country. Lighter run out of fuel, matches get wet or break, but a good striker will see you through anything. I also carry one jar of Maya Dust (flammable wood chips) to ensure I always have dry tender. All in all if you're shopping for yourself or someone else no one should go without this essential.