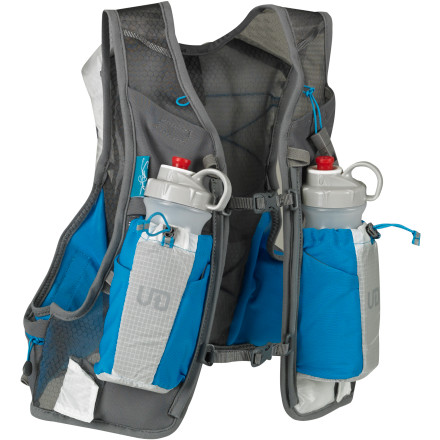 Colors

Detail Images

Community Images
Description
A vest is best.
Run like ultramarathoner Scott Jurek, or at least stay super-hydrated, with the Ultimate Direction SJ Ultra Hydration Vest. Inherently stable, the vest design eliminates bounce; and it holds water bottles in front for easy quantity checks and access and accommodates a reservoir in back for endurance runs. Bombproof, featherweight Cuben fiber and power mesh construction keeps everything together in a lean, low-profile package made for speed. A total volume of about 550 cubic inches means you can take along a light layer, gels, or extra hydration on those epic outings.
The vest design and fit is naturally stable, eliminating bounce and pressure points, for optimal security, efficiency, and comfort
Two front bottle holders plus reservoir accommodation in back provides plenty of hydration during those epic races, ultramarathons, or just a long, scenic run
Cuben fiber boasts the highest strength-weight ratio of any fabric in the world, for durable toughness without the hindering burden
Power mesh holds contents while eliminating fatiguing bounce
Fluid quantity is visible, so you can easily gauge use and plan accordingly; bottles easily accessible in front
Roomy yet low-profile main compartment can fit extra layer(s) or snacks; two zippered pockets and a back pouch accommodate more hydration or gear
Two BPA-free 20oz water bottles included; 70oz reservoir not included
Bungee secures extra frequent-access gear or clothing
Share your thoughts
What do you think of the
Ultimate Direction
SJ Ultra Hydration Vest
? Share a...
bottles hurt
Familiarity:

I've used it once or twice and have initial impressions
Coming from a Salomon vest (XT advanced skin 5) the UD Ultra doesn't have the same comfort and fit. Salomon's vest is stretchy and moves with you as you breathe. UD doesn't have stretch fabric throughout and the straps at the front buckets is also static. The bottles in particular hurt against my rib given there's no stretch from the rest of the vest.

After I ran without the front bottles (and put a bladder in the back, which wasn't the easiest to stick in, but it ran fine) I did not have any pain. However, I still felt like the vest would move up and down on my shoulders a bit and would not mold to my body as well as the Salomon vest.

That said, the build quality of the UD Ultra is excellent as far as the materials go from the initial impression runs.

I also like the many front pockets for gels , salt stick, keys, trash baggy, etc.

I've seen reviews mentioning replacing the standard bottles with the malleable / soft flask kind. Seems kind of silly to have to immediately ditch the standard hydration solution though.

Hydration tube routing for a bladder is superior on Salomon's vest as well where the routing hole is at the bottom of the back and the tube comes UP the side versus coming over and down the shoulder. But it's good enough that it's useful still on the UD ultra.

All in the all the price is what makes it right since I already had a bladder. Salomon might have superior fit and ergonomics but it's $30 more expensive for the s-lab adv skin3 set (latest model) that is the equivalent. Of course Salomon has 2 soft flasks so if you're going to replace your UD hydration you might as well try out the Salomon vest too.


No problems, exactly what you want
Familiarity:

I've used it once or twice and have initial impressions
This is a great running vest. I love the pockets and the stiff meshy type of shoulder material. I had trouble deciding between this one and the Krupicka... I was worried the Jurek was going to be quite a bit more bulky, but it really isn't.
Great vest long-distance trail training
Familiarity:

I've put it through the wringer
This has been a perfect hydro vest for ultra training. I was originally a bit hesitant of moving to a pack with bottles on the front (pervious packs where back bladders), but I've found this to actually be much more comfortable, and even as the bottles empty over the course of your run, the vest stays stable and comfortable. After a few miles, you barely notice it's on.

The pockets are really useful, and it's nice to have the stash pickets for gels/bars directly tucked into the bottle pockets. Also, the main side pockets are perfect: by having them back around the side, they don't put any pressure on your body, even when full with bars/phone/random stuff.

And as someone who has been using this vest in humid Brazil for the last year, I can't tell you how amazing the materials and water-proof aspects are. The small pocket on the front left is perfect for keeping some money/bills, and will stay perfectly dry. And the pack as a whole breathes incredible well, dries quickly, and the main compartment even keeps everything more or less dry regardless. Plus, my being places fairly high on your back, it minimizes the amount of sweat that other running packs that sit lower might produce.

A note on size (which I went back and forth on a lot before making my purchase. I am 6'2", 170, so that awkward place between medium and large. I ultimately went with a large, just to have some flexibility for when I need to pack the vest with jacket, food, supplies, etc. That being said, I probably could have sized down to a medium and it would still be fine. As is, I tighten the side straps (found inside the pockets) and the pack is plenty comfortable and stable. I haven't yet used the vest with a jacket (Brazil, remember?) but I imagine that having a large will also better accommodate layering when needed.

One suggestion I would make is to make the front chest pockets a bit larger, to be able to fit a phone, so that it is immediately accessible for taking photos, or changing songs if you're listening to music. But on the whole, this is a fantastic vest, and highly recommend for anyone looking for a functional, sturdy, and (admittedly) stylish vest for trail training.
So, I'm a bit concerned about how difficult it is to drink from the water bottles. You've really got to chomp down on the nozzle to get any liquid out. Am I missing something here? If I'm running an Ultra, I really don't want to spend a lot of effort just trying to get the water out of the bottles.
Hi there. The UD bottles are designed to focus on that red Kicker Valve. To make it leak proof AND high flow, squeeze the bottle while tilting it up slightly. You should get a fire-hose shot of water! It takes a little getting used to (compared to other bite-and-suck bottles) but delivers a lot of water quickly. We've also seen a lot of runners replace the bottles with our Body Bottle and Body Bottle Plus for a more traditional valve. Good luck, and thanks for the feedback!
Solid vest
Familiarity:

I've put it through the wringer
I use this vest extensively for ultrarunning and even some ultralight peakbagging. The fit runs a bit large if you ask me but I am a small and went with the medium based upon other reviews. Easily holds a ton of gear and the many front pockets, slots make your often needed essentials readily available.
Making videos is harder than it looks...
New features for the SJ 2.0...
Check it out - Scott Jurek himself tells about the updates to his Signature Series pack
How would this vest do on carrying non Collapsable trekking poles??
Hi Josh. The SJ Vest has 2 trekking pole loops plus a bigger ice axe loop and strong bungee cord on the back. You could definitely get regular poles on there, but they may rock a little, depending on the real length of the pole.

Are you planning to hike with this pack? Maybe check out our Fastpack series also, which would easily carry regular trekking poles more securely and still have the light weight and great fit of our race vests.
Saves the day mile after mile
Familiarity:

I've put it through the wringer
I purchased the SJ vest last year around this time, and it is still going strong. I've never had a chafing issue with it, even at the 100 mile distance. It is very easy to carry all your long-run needs in this, especially with the bungees on the outside. The bottles are easy to use and are leak-free. Pockets are easily accessible for phones, gels, water filters... whatever you feel like packing. Durability is no issue, and it is practically weightless. I would strongly recommend this product, and feel it has been a huge benefit to both my training and racing.
It has many pockets to take along what's needed. Did 14 miles with ups & downs and its comfortable to wear.
This is last year's model. 2.0 is already...
This is last year's model. 2.0 is already out. Will you be carrying it?
In case anyone else is wondering, the blue and gray version shown above is the updated 2.0. The red / gray is the original

Friggin' Sweet
Familiarity:

I've used it several times
When UD says they've thought of everything...they have.
This vest is remarkable. The materials are tough! The fit is fantastic. The straps are easy to adjust on the run, the pockets are easily accessible (lets face it, this is the reason for a race vest).
Some highlights: The materials stretch to fit any body type. The Cuben Fiber is so thin, but super tough (Looks for it in shells soon). The stretch material in the back of the pack shrinks along with a bladder, should you care to carry one, and doesn't let a single thing jingle or jangle. The pockets under the arms are wonderfully placed, easy to grab a phone on the run. The Gel pack pockets are in great positions.
I can't say enough about this vest. It comes with 2 ultra hightech nipple bottles that won't spill a drop. I must say, when I opened it, I had some serious reservations due to the tiny size, but man is this thing perfect. Totally worth the investment.

Do yourself a favor and buy one.