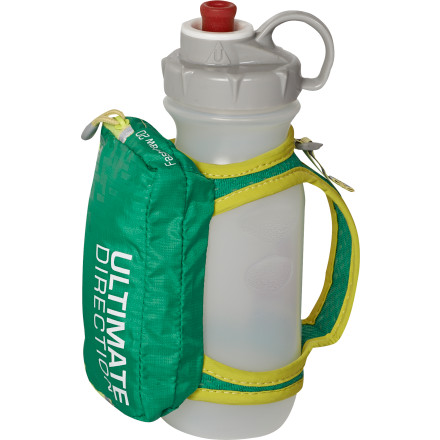 Colors
Description
It's like a water bottle with a backpack.
The Ultimate Direction Fastdraw Water Bottle stores energy gels, keys, a phone, and your wallet so you can run or work out without anything in your pockets. Cool Wick Air and Power Stretch mesh stretch around your hand without compromising breathability. Ripstop protects the back of the pocket from abrasion. The Fastdraw also features an adjustable strap to dial in your ideal fit, and a divider inside the pocket separates your phone from sticky snacks. Ultimate Direction made the bottle out of BPA-free polyethylene and equipped it with a leakproof Kicker cap for your convenience. It features an extra wide mouth for easy filling and cleaning, and the wide mouth accommodates most water purifiers.

Cool Wick Air mesh strap
Power Stretch mesh pocket with ripstop backing
BPA-free bottle with leakproof Kicker cap
Adjustable strap
Divider inside pocket
No more gatorade showers.
Familiarity:

I've put it through the wringer
After a moment of questionable sanity, and a lot of training, I found myself in the last few weeks before my first 70.3 Ironman... which was also my first race of any kind. The part of the world where I live has been experiencing an uncharacteristic level dry heat making training runs past 6 miles a bit of a miserable endeavor.

A few weeks before the event i got this bottle and gave it a test. needless to say it made my long runs much more pleasant. However I will say that I was stumped for a solid few minutes trying to figure out the top/mouthpiece system. (Here's a hint, you have to pull the mouth piece significantly harder than you probably expect.. )

When it came to race day I was stoked to have it. It's a lot easier to drink from while running than a paper cup, gives you a great way to organize nutrition in transition, and is surprisingly comfortable in the hand for a long run.
Keys, hydration and room for gel? Yes!
Familiarity:

I've put it through the wringer
My cousin and I decided signing up for yet another half marathon was a great idea, especially one at a higher altitude than we both live. Anyway, it's a cup-free course, which, in reality ALL courses should be--they sent us this little rubber cup thing you can clip on to...something? Looking for a solution I found this little gem, and ordered one for me and her! We both love them, and I use mine much more than I planned on. I used to hide my keys under my car, wait to drink water until I returned, but I don't do either of those things anymore. Love it!
The solution.
Familiarity:

I've used it several times
Carry a little bit of stuff, don't drop your bottle, and have one that won't leak everywhere with the jostling of a fast, wild descent. Been using this for shorter runs, and it's just perfect for a gel, keys, and bar in addition to the bottle.

Kicker valve takes a couple times to get used to, but that's because it's set up so well to prevent from leaking everywhere.
All you need
Familiarity:

I've put it through the wringer
This is my go-to gear for my short runs (1 - 3 hours), as it's does all you really need - after a pair of shoes, and running shorts. The "handle" works well, even if you don't grip it, so you can use your hands (say to catch a fall!) without too much both. The picket usually holds my house key, and my eTrex 20, along with perhaps a gel.

What's also an added bonus is that you can slip off the bottle, and bring the harness/pocket with you, wherever you go. I keep mine tucked in a bag on my bike, so if I feel the need for a run sometime during work, I slip away, put in a bottle that's also on my bike's bottle cage and go go go!
30 years of making top-quality hydration gear, and still going strong
Making videos is harder than it looks...
UD is full of fun and active people. Sometimes we ask them to be serious and make a video, but things go downhill fast...
Kicking it with the Kicker Valve
Great Product
Familiarity:

I've used it several times
Purchased this a few weeks ago, I've used it around a dozen times now, really has been a great piece of gear.



The pocket is huge, absolutely huge. The clip on the inside is perfect for my key, I usually take a gu or half a fastbreak, along with my debit card. I still have space for a phone, however I don't usually take my phone. I am able to shed my hat and/or gloves into the pocket if needed.



I do prefer handhelds over packs, I usually only take a pack if I'm running an unfamiliar trail which is remote, or for longer races. I plan on buying another of these handhelds for an upcoming 50k, two would be the perfect amount of space (personally at least) for that distance.



Actually drinking out of it is a challenge at first, but you'll get the hang of it. I prefer this handheld over my Nathan and Camelbak handheld bottles. This was very well thought out and created.
perfect waterbottle
Familiarity:

I've put it through the wringer
this is a nifty little running water bottle.
The Beerded Runner Brief Review
Familiarity:

I've put it through the wringer
Here is a brief review of the fast pass 20 hand held by UD hydrates

I use this on almost every run and even when I don't I leave it in the car for some post run hydration and nutrition. The storage on the fast pass 20 is great it can fit iPhone and nutrition which is what I take. My only problem is the handle could use some improvement like maybe a thumb hole and snap but it looks great I Love the style. I'd prefer a vest myself but I do Love this product as I would recommend it. For a full review on this product as well as the access 20 and many others visit my blog where I rate with beers and beards instead of stars and follow me on my social media accounts to keep up with my running adventures here are my links, thank you and to you all

Pray the prayer

Conquer the race

Taste the beer

Feel the beard

#prayrunbeerbeard

http://thebeerdedrunner.tumblr.com/



https://www.facebook.com/pages/The-Beerded-Runner/700809566607273



https://twitter.com/beerdedrunner



http://instagram.com/thebeerdedrunner



SPORTS!
FITS A PHONE!!!!
Familiarity:

I've used it several times
Finally a handheld water bottle with room for a smart phone.