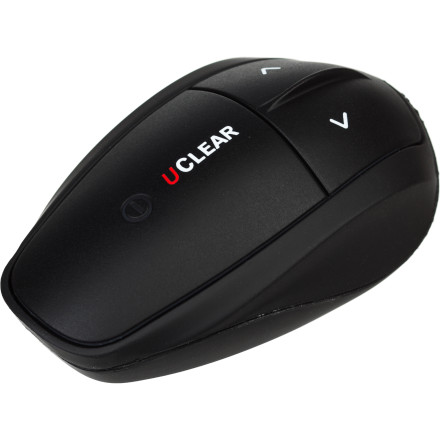 Community Images
The Uclear HBC220 Force Snow speakers enable you to rock out to your favorite tunes while you cruise the slopes, answer phone calls, and talk to people within a certain range who also have the HBC220. Based on technology developed for military communications in noisy situations, these easy-to-use speakers feature wind-filtering technology and a noise reducer to allow for clearer signals at high speeds.
Developed using technology for military communications in noisy situations, the Force Snow uses wind-filtering technology and a noise reducer to allow for clearer signals at high speeds
Quality helmet speakers allow wireless control of your tunes
Syncs up to most Bluetooth-enabled devices
Easy-to-use controls enable you to answer or decline calls, scroll through songs, accept three-way calls, and talk to other Uclear users via an intercom
Works as an intercom with other HBC220 units within 700m (2,296ft)
Embedded microphones isolate user's voice for crystal-clear communication
Weatherproof casing resists snow and dust
Included and rechargeable lithium-ion battery yields ten hours of talk time, charges in two hours, and functions in temperatures ranging from -4?? to 140??F
Includes one control unit, one set of speakers, temporary and permanent helmet attachments, rip-and-stick speaker attachments, a USB charging cable, and car and wall chargers
The only true solution for bluetooth
Familiarity:

I've put it through the wringer
I have had various helmet audio kits (mostly skullcandy) and have been very disappointed in all of them. From poor build quality to shoddy speakers, I have never had a set that I was happy with until the uclear. It just flat out works. You can talk while cruising and be heard fine. The buttons are easy to press and it is super easy to use. It is expensive but its the only option if you want a true solution to helmet audio/bluetooth
Tech invention of the year, maybe decade
Familiarity:

I've put it through the wringer
I have always been averse to riding with tunes. These change everything.



---Audio (music) is trumped by intercom, intercom is trumped by phone.

---at first the intercom function would seem intrusive, but it is not. when tree skiing, even when being diligent, you may lose sight of your partner as he/she descends ahead of you. with the intercom function enabled, you will know immediately if they are in trouble or if the terrain has forced them in to a different line. this is a device i wont ride without especially if there is a tree well risk

---range-->straight line range on grooms (for intercom) is several hundred meters. we have pushed it to at least 400 and still had clear intercom function. in the trees or on opposite sides of terrain features, the range is still great, but diminishes quickly. dont compare it to a walkie talkie. it doesnt have the same range, and the devices MUST BE PAIRED to one another...it is a closed "network." You can pair up to 10 devices on the same "network" increasing the range by allowing each UClear to act as a node that bounces the signal

---voice dialing and voice answer is awesome. set you phone to driving mode, and it will ready your incoming texts to you. no need to take your phone out ever again. If I lose sight of my partner and the intercom is out of range, I press two buttons simultaneously and can immediately voice dial them to verify safety and location

---noise cancellation-->no noise whatsoever on windy lifts or while hauling the mail down hill

---functionality-->study the manual. twice. lots of different features, and you will likely forget how to access them.

form factor-->skull candy's control unit is more sleek, but their system doesnt have intercom.



For the intercom alone this is a 5 star unit
Tons of Options
Familiarity:

I've put it through the wringer
Tons of options if you're supposed to be in the office but want to be shredding instead. Or if you want to be able to communicate with up to 10 of your buddies while you're on the mountain.



If you don't need the intercom feature for more than 2 people check out the HBC 120 plus for $50 less. All the same awesome features as the 220 like voice recognition, noise cancellation, and hands free calling but limits the intercom to just 2 people, not 10.
Great product - must have
Familiarity:

I've put it through the wringer
When I first bought this product I was a bit skeptical, but very quickly I was sold and even purchased 4 more. The sound quality is great. The module is small an stays out of the way to the point you don't realize it is there. Listening to music is a great option, and the ability to make and receive a phone call is great for the family. The real amazing part is the intercom portion of this product. Being able to have a open line of communication that is clear, responsive, and able to have 2-way (you can talk over each other) is the best. The ability to talk back and forth with my group is priceless.



I contacted the company directly to receive an additional clip for my helmet, and they were very responsive and happy to help.



I have already suggested to a number of colleagues and friends. Would highly recommend to anyone that rides a snowmobile in any terrain!
Does this effect the signal on your avalanche...
Does this effect the signal on your avalanche beacon?

Can I put it in my back pac?

Can I use head phones instead of the head set?

aka I don't want to put that on my helmet 1 looks dumb 2 I feel it would get taken off by a branch or something. I want to put it in my back pack. listen to music through it while the voice activation allows me to talk with out touching a button?
I don't know the answer for your avalanche beacon but for your other questions...



You must use the headset speakers that come with the unit and install the headpones in your helmet's speaker pockets. The speakers also contains the mics and is part of the noise reduction technology.



Like others have said below, the cord on the speakers is too short to put the control unit in your back pack. You must install it on your helmet. There are 3 install options included in the kit, a goggle strap, a side helmet strap install and a sticky install on the helmet itself. I agree the stickey install looks dumb and I would never use that option. The goggle strap or helmet strap install works best. The unit is really lightweight and you don't notice it at all. Also the buttons on the unit allow you contoll music and volume on your paired phone.
You know now they carry a set of earbuds!! which makes it so you don't have to mount the unit at all to your helmet. I agree it makes you look ridiculous. But I ordered their short earbuds just put the unit inside my coat and it works great. And yes, you can listen to music and intercom as well. The signal does not affect the beacon because it is a different signal all together.
I use the HBC220 for skiing mainly for the telephone connections and somethimes for the music and it really works well.

Note 1: the HBC 120 is not rated for temperatures below 14 degrees F. so get the HBC 220 which is rated to 40 below zero F.

Installation is easy; you just remove the circular foam cut-outs from your helmet ear pads and insert the UClear speakers. The directional microphones are part of those same speakers.

The noise canceling algorithms adthe microphone dynmics are what set the UClear apart. It's Bluetooth of course, and when a call is announced (you hear your ring tone in the speakers), you just say "pick up" or "hello" and the two microphones, which are pointing to a sweet spot just ahead of your face, pick up your voice. Your correspondent doesn't even know you are using the device.

And forget the wind or any other ambient sound; it's filtered out. I can be skiing down a trail, even against the wind and the person with whom I'm speaking will hear me clearly.

There are three buttons to control things and you can also push the big one to answer an incoming call. If you push the big one and the lower one together, a bing sounds which means that Siri is being summoned. Tell Siri what you want: "Call my wife", "Call 406-xxx", "Read my Text", "Read my email", etc. and she does it.

Note 2: Handling the buttons with gloves is unsure; the physical buttons are under a protective skin and without bare hand dexterity, it's hard to feel where you are. I have glued round topped buttons right over the UClear ones so I can feel them easily with gloved fingers.

I tell you, it really works.
Uclear HBC220
Familiarity:

I've used it several times
This is one of the best investments I have made in a while. The military grade technology that Uclear has made is like no other. I was given this product to test and my expectations where met. The unit was easy to install in my helmet that had speaker pockets. The sound inside the helmet is just like having high quality head phones in your ears and the intercom system is amazing! The distance that you can get with the intercom system was a considerable distance (with only 2 units- it increases with every aditional unit). The way the unit triangulates your voice and gets rid of all wind and external noise other than your voice was amazing. I could be skiing down the mountian and talk on the phone at the same time with no problems. The connection between my phone or ipod was never lost and I had endless music all weekend, battery life was no issue for two days of skiing. The HBC 220 had easy button commands, so never once did I have to take my hands out of my gloves to change the song or answer a call.



The weather also did not affect it. Battery life was not minimized even in the negative temperatures that it was exposed to. And wet conditions didn't even phase it. The only thing I wish had been engineered differently was the size of the buttons. AT first it was difficult to find the correct button and push with gloves, but once I got used to it it was not as difficult.



Overall the HBC 220 unit was the best money can buy. I only wish all my friends had one.
Not too bad
Gender:

Male

Familiarity:

I've put it through the wringer
I have used this product almost every day this season and found that it works just as advertised. The clarity is amazing and the voice activated calling is pretty cool. I thought the range was a long shot on their specs but I was able to talk from the top of Mineral Basin to my buddy at the bottom just fine. I don't know if I was just in super ideal conditions or what, but it worked. Great product!
How much weight does the entire system add...
How much weight does the entire system add to the helmet (if I put the controller on the helmet itself)?
Whatever the weight, it was unnoticeable. I have one and just used for for 3 days in Park City - worked perfectly, I highly recommend it. I actually took a business conference call while on a lift and boarding down a run, nobody knew I wasn't at my desk.
Noise cancellation and Improved Intercom
Familiarity:

I've used it several times
The HBC220 is new this year. It utilizes the same voice recognition and noise cancellation as the HBC120. You can be talking on the phone in 60mph winds and the person on the other end of the line can't even tell you're outside. The HBC220 gets a new improved control unit that is easier to use with gloves and a crazy new intercom feature. You can pair two HBC220 devices together and communicate hands free up to 700m apart. However you can link up to 10 people at the same time on the same intercom. The signal will bounce from one person to the next so you can have people spread out up to 1.5 miles apart and you can all communicate. It is called Multi Hop technology. The two users must be able to see each other. It will works through trees however it won't work through a mountain. If one user is one one side of the mountain, the next user is at the top of the mountain no more than 700m apart and the third user is on the other side of the mtn all 3 users can communicate due to the signal hopping from one person to the next. The device also has the ability to fix your voice in real time. If the communication gets garbled or choppy the HBC220 unit can go in and fix the signal so that the communication is always crystal clear. Developed for the military! Brought to you by Uclear! Listen to your tunes, answer a call without touching a button, communicate with other HBC220 users over intercom at great distances, and have a crystal clear conversation with the office from the top of the Tram.