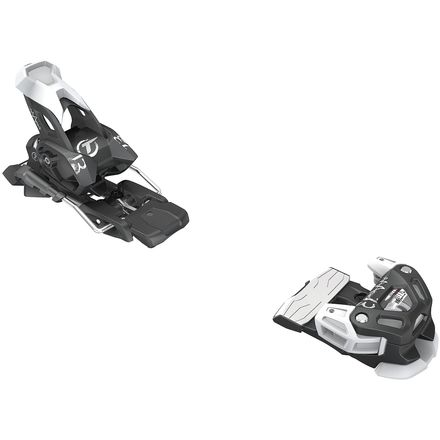 Description
One binding built to attack both the park and the pipe.
A decade ago, a binding dedicated to park and pipe skiing would have been a blip on the radar. These days, bindings like the Tyrolia Attack 13 Alpine Binding are changing that. This is an alpine ski binding with a smaller, more compact toepiece, a metal AFD, and a heel designed to take a beating without requiring the type of materials that would inhibit the ever-important swing weight of a park ski. Mount the Attack 13 and take it through the brutal compressions of the pipe, the impact of the rail line in the park, a few hard landings on the jumps, and the hammer some between-the-towers pow. This is a binding that rolls with the punches with utter reliability.
Tyrolia 2015-16 Product Videos - Attack
Christian Allen (athlete) and Andrew Couperthwait (Head / Tyrolia USA product manager) review the new Attack bindings
Does this come with a brake or not? The description says "Note: Brake is sold separate", but there's also a size selection popup, which wouldn't make sense if there's no brake.
Alfred, sorry for the confusion, they do come with brakes. We need to get our copy changed, this is from a previous year where they were not sold with brakes.
Hey. Is it an adjustable height toe?

Thanks
hei106053524-0,



The toe height is not adjustable on this binding.
This AFD does have height adjustment. However it is only certified for standard DIN ISO soles. If you are looking to use a WTR or rockered touring sole that will not work. If your boots soles are a little worn its possible the Attack will accommodate with its height adjustable AFD. The Adrenalin binding will accommodate WTR and rockered touring soles
Step in the wrong direction
Familiarity:

I've used it several times
Remember Tyrolia's recently abandoned PEAK toe piece? 40mm travel, perfect and reliable test readings, full diagonal release? AKA one of the best toe pieces ever! Well Tyrolia rushed out with their new "lower weight, lower profile, parallel-to-boot spring" to compete with Marker. The unfortunate result is a poorly designed binding that has poor testing scores, sometimes fails fresh-out-of-the-box during tests, and the unfortunate "Marker-Out", or the binding kicking out the skier too early because of -20mm travel-before-eject. The heel piece is better than the PEAK heel piece, though not very different. If this seems like an angry rant, don't even get me started on the AAAdrenaline.
Does Not Come With Ski Brake As Pictured
The description mentions this, but the photo is very misleading.