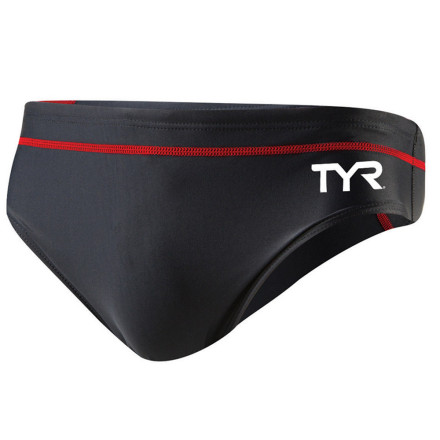 Whether you're training for a triathlon or strictly for swimming, you're going to experience the same harsh effect that chlorine has on your swim gear. That's why TYR created the Competitor Racer Swimsuit. With a 100% resistance to chlorine, both the color and fabric of the Competitor Racer will withstand the chemical rigors of indoor training and racing.
For the construction of the Competitor Racer Swimsuit, TYR used a high-denier blend of polyester and spandex. So, let's breakdown what this actually means. By incorporating these two fibers, the shorts gain the breathability and hold of polyester, while the spandex adds the required stretch for the locomotion of swimming. Additionally, the high denier, or high fiber-weight, means that the construction's knit is supportive. Accordingly, the shorts hold the muscle group of the glutes in place, protecting them from any unwanted movements or oscillation. Effectively, this reduces fatigue, meaning that you're able to swim at your threshold for longer periods of time.
The aforementioned has been further supported through the shorts' circular knit construction. This technique creates a nearly seamless tube, which provides an equal level of support over the entire leg. Additionally, this construction method minimizes the need for seams, meaning that the risk of chafing is nearly eliminated.
For durability, TYR made the shorts 100% chlorine-proof and with 100% colorfastness. So, neither your training or racing schedule stand to degrade these shorts. In terms of fit, the Racer features a mid-rise at the waist and is cut like a traditional pair of briefs. This provides a minimal surface area of coverage, thus favoring hydrodynamics over that of muscle support.
The TYR Competitor Racer Swimsuit is available in four sizes from Small to X-Large and in the colors Black/red, Black/grey, and Navy/red.