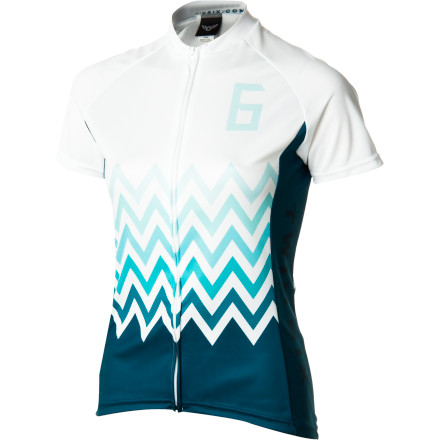 Detail Images
Instead of being forced to choose between solid colors or jersey's that embody '80s apparel we're all trying to forget, wear the Twin Six Climber Women's Jersey on your ride. Its sole emphasis isn't on aesthetics, it's just a nice bonus, as every jersey is made from a soft-to-the-touch, breathable polyester microfiber.
Now, this isn't the same as your thrift store variety polyester. Instead, it's been used for both the aforementioned softness and its overall light weight. These characteristics are made possible by the materials low denier, or fabric weight by fiber. Also, this gentle knit makes for effective moisture management. So, while you're using the jersey for its namesake, you won't run the risk of overheating or drowning in your own sweat.
We're not saying that the Climber will perform miracles -- after all, a 90 degree ride is a 90 degree ride. But, if you've been hanging out in Zone Two for 30 minutes on a climb, you can make use of the jersey's full-length, invisible zipper for on-the-spot heat dumps. And for the storage of your ride essentials, the jersey also features three ample rear pockets.
The Twin Six Climber Women's Jersey is available in the color White/teal and in six sizes from X-Small to XX-Large. Also, as an assurance of quality, every Climber jersey is 100% made in the USA and is backed by a lifetime warranty.