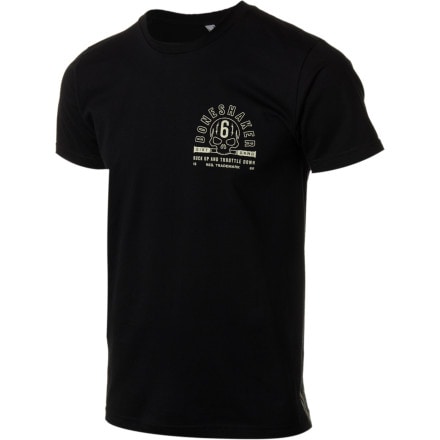 Detail Images
Description
When rigid really was rigid.
The Twin Six Boneshaker Short-Sleeve T-Shirt is an homage to those of us with half-destroyed wrists who love a rigid bike's more direct connection to the trail. Twin Six apparel is designed to be a wink and a nod to the sport we love, without screaming, 'I'm a cyclist.'
Twin Six was started by two graphic designers who happen to be passionate road and mountain bikers. They were fed up with the direction that cycling apparel was going, with bright, irritating colors and brand logos, so they decided to design their own apparel—apparel they could wear proudly. As it turns out, they helped change the direction of the entire industry by putting a little retro style into their clothing and inspiring others to do the same. So, if you see Ryan Carlson or Brent Gale, you might want to thank them.
The Twin Six Boneshaker T-Shirt comes in Black and is available in sizes Small to XX-Large. All Twin Six apparel is proudly made in the USA.