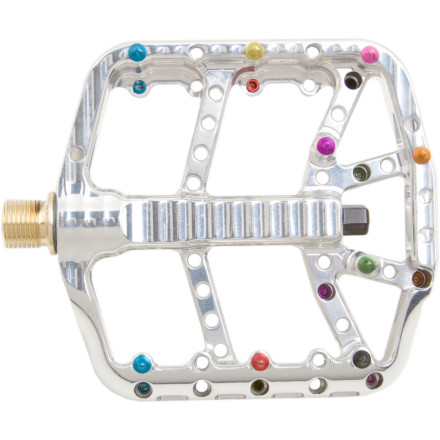 Detail Images
The madmen at Twenty6 can't seem to stop tinkering with their already bold pedal designs. The Prerunner Ti pedal takes cues from their previous Rallye and 6Foe models. It's a CNC machining continuum if you will. The progression goes something like this -- light and burly pedal, lighter burly pedal with greater traction capacity, and finally, lightest burly pedal with concave platform for best traction.
Twenty6 Products has a well-deserved reputation for their finish quality, and no-fear attitude when it comes to their rainbow of color options. It's an inventory nightmare for us, but you get to creatively customize your steed. The Prerunner Ti pedal is the most shapely that they've ever produced. Compared to the older designs, its complex curves are downright sexy. It's also the thinnest and lightest. This weight savings comes as a result of their quest to define and remove all of the material that was not necessary to provide either attractive surface for your feet or strength for aggressive riding. The end result is a 256g pedal and a much bigger pile of machined aluminum shavings on the shop floor. In fact the Ti version is a stunning 94 grams lighter than its predecessor, Rallye Ti.
The Prerunner Ti pedal is surprisingly thin. They will place your foot about as close to the pedal spindle as physically possible -- the closer the better, for finer balance. This inherent stability affords a greater measure of confidence for sketchy descents and landings. The new internals allow for the pancake thin shape. The new titanium spindle runs on all-new self-lubricating turcite bushings. These new bushings are particularly interesting because they are of an angular contact design. The spindle preload can be easily adjusted for this reason. Twenty6 uses quad o-rings to seal contaminates from the bushings.
The Prerunner Ti pedal uses machined aluminum traction pins where the older designs relied on small hex bolts for this unsung job. The new pins are black anodized aluminum, and each pedal comes with the 18 pins already installed. For those that like to coordinate the colors on their bike, the pins come in all of the same 8 anodized colors as the pedals for a totally customized look. Custom pin kits will be sold separately. The pins thread into the pedal; and should they get tagged on a rock or otherwise get destroyed, the pins can be removed easily from the backside and replaced. The Twenty6 Products Prerunner Ti Pedal is available in 8 anodized colors -- Black, Blue, Green, Orange, Pink, Purple, Red, and Yellow. 256g
Expensive but pretty legit
I switched over from clipless to these (matched with 5.10 freerider shoe) and I stay stuck to them like glue. My only beef is that sometimes the pins break a little too easily in my opinion. But they are super easy to change out.
A little overhyped & expensive, but still high quality & beautiful, and has great support from the mfg
They came a bit tight, resisting spinning, which I thought would detract from pedaling performance. To see if they would loosen up with a ride, I tried them out in front of the house, and without too much effort, I managed to get the pedal body to come off the pedal spindle, due to the threads of the nut that holds the pedal body on the axle being stripped off.

I sent them in to Twenty6, where they replaced the stripped nut, rebuilt it, and got it spinning smoother, and got them back about 10 days after they left my hands. I just weighed them out curiosity and found that they came in at 314g, which is what HnR lists, but some other sites list this as weighing 265g. My scale is properly calibrated and zero'd with the tray. This seems to be the latest version, which has a beefed up pedal body, which I hear was necessary due to the tapped holes for the pins not holding up to pedal strikes.

For the price, I expected the best, but compared to the competition, their price seems too high for what you get. It's no longer super light, but more around the weight of a Point1 Podium, which was my other option. The need to replace pins frequently seems to make them even more expensive; I've already lost 3 pins after only 2 rides. Despite all that, it's one of the only quality options if you want it in a certain color. I kind of took the looks part for granted, but the more I look at them, the more I appreciate them. The beauty of them is what you are really buy into. Kind of seems a shame that I'm putting them on my primary trail ripper, in place of some stout Sunline V-1s, which sees a lot of pedal bashing due to the 12.5" BB height and how trails seem to be built to take you through the chunky rocks on purpose (which I happen to like).
I heard these pedals are warrantied for...
I heard these pedals are warrantied for life? Is this true?
Tyler fixed up a pair of my 6foes recently - and those were the first kind of pedals he ever made. That's the nice part about a small, American company - he made it, he stands behind it. Super nice dude.
Best Answer
I had the pedal platform come off the spindle on my first test ride on them in front of my house, trying to "break-in" the pedal spinning resistance, since they were a bit tight, especially the right side.

I e-mailed them and got this response from customer service:

I'm sorry to hear you had issues with your pedals. We had a few that got sent out the door in the big shipment to Backcountry that were a little on the stiff side. Since everyone's level of pedaly-ness in their local terrain varies from place to place,some people prefer the stiffness and some don't, so we tend to get varying reactions to the "factory settings". If you ever have this issue again, the best way to speed up the "breaking in" of your pedals is to take them apart and sand the inner blue turcite-plastic bushing with a little strip of sandpaper. That will increase the dimension that applies pressure to the assembly and loosen the spin a bit.

Obviously, that bit of advice is a bit late – if you're looking at stripped threads and the like, your best bet is to mail them to us and we will rebuild them, tune them up and get them spinning evenly and more freely for you.

Please, if anything, don't second-guess your purchase. Our pedals cost as much as they do not because of brand markup or because we all drive fancy cars here – they cost what they do because they're made entirely in-house, we're passionate about every detail and we proudly stand behind the products we make. If you find a way to blow them up, we will put them back together for you so you can keep riding! We still service pedals we manufactured years ago, of long-discontinued designs.

Twenty6 Products
805 Mantle Drive #B
Belgrade, MT 59714

You paid a lot of money for those pedals, and we want to make sure you get what you paid for. We'll be glad to take care of this for you!"

Coincidentally, it's the same issue another reviewer, bob4680062, here faced: http://www.hucknroll.com/mountainbike/review/Ummmthey39;re-light/200112859.html

I'm not going to give them 2 stars for this though. Going to wait until I can put them through the same punishment I put my much heavier Sunline V-1s through.
Have had 3 pairs of these pedals now on different bike's and have nothing but good luck with them. Light weight, Good feel and always stuck in to the pedals while jumping. Very stylish.
I was looking for a pair of pedals that could be used for recreational riding. I thought these would be perfect, as they're light and good looking. Unfortunately, within 100 yards of my house, the platform came off the spindle. The pedals don't spin easily, which I've been told by the manufacturer will loosen up. In the meantime, I'm spending precious energy just trying to get my pedals to spin. I'll keep these until I find something better. I wouldn't recommend.
They look beautiful, initially traction is great, and are light.

Three days of riding, $250 later, nearly all the pins were missing or had been replaced, four of the tapped holes are broken away. These are expensive, overdesigned garbage.

Not for a DH rider that likes natural terrain! Think I'm going back to Straitline.
I really dig these pedals traction is crazy, super light they make my walking (wheelie) even more perfect and long, my crank feels more sensitive its a pretty dank pedal!
, ☃bcs_badge_alumni_label☃
MTBR Vid on the Prerunner
Have only gotten a couple rides on these pedals so far but super stoked on this upgrade. Incredibly light when compared to my Atomlabs that weight 530 grams versus these 265 gram helium pedals. The pins are deadly if they brush skin, but make it impossible to slip a foot while railing the trail or spending time in the air. Pricey, but well worth the benefits IMO.
Great pedals, grip better than my specialized lopro pedals, very light. the best part is probably the break away pins.
, ☃bcs_badge_alumni_label☃
Get Some Good Shin Protection
So, besides the colors for any occasion and the beautifully machined form, this pedal performs as well as any pedal I've ridden.

The replaceable traction pins are some of the gnarliest shin shredders ever. You can purchase replacements pins in a variety of colors, but be aware, unless you rock lower leg protection, these will soon be red with your blood. Even the light brush up against them can lead to wounding.

The design is significantly improved over Twenty6's earlier pedal, the Rallye. The thin, concave profile lends itself to serious grip and control, especially when you throw some 5 10 shoes with Stealth rubber in the mix. The traction pins are also redesigned and are now appropriate to bring into S&M situations.

Did I mention they are really light?

For me, the only down side to these is the price. How am I supposed to afford all the colors?