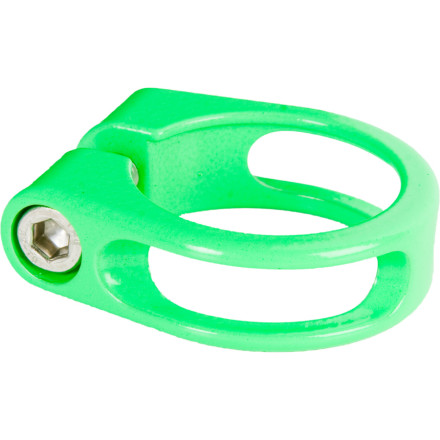 Add a little extra touch of lightweight bling to your rig with the Twenty6 Designs Seatpost Clamp. The Twenty6 Seatpost Clamp enables you to find your bike in a sea of clones so you won't have to worry about getting shot at again when you accidentally steal somebody else's pride and joy.
What do you think about this product?
Have questions about this product?
I have used this seatpost clamp and it has been great. I havent had any slippage at all. I think the other review may have the wrong size and or seatpost size. They are super light, the assortment of colors is awesome and its been great in my experience.
GOT THIS TO REPLACE MY STOCK CLAMP MOSTLY FOR LOOKS, AFTER I TIGHTENED THIS UP PRETTY GOOD MY SEAT SLID DOWN IN THE FRAME,
SO I TIGHTENED IT SOME MORE, THEN SOME MORE, FINALLY AFTER I TIGHTENED IT ALL THE WAY - THE SEAT STILL TURNED IN THE FRAME.
LOOKS GOOD IF THATS ALL YOU WANT