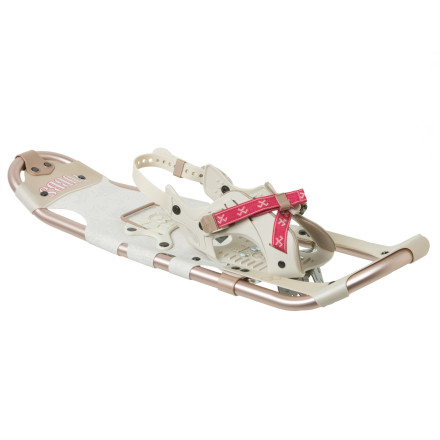 Detail Images
Whether you traverse an established trail or blaze your own, the Tubbs Women's Wilderness Snowshoe helps you maintain traction when you ascend or traverse sloped terrain. Featuring Tubbs' easy-entry 180 Binding system and stainless steel crampons, the Wilderness is a cinch to get into and holds its own when traveling over icy patches.
Fit-Step frame features an innovative upturned tail that reduces impact on hip, knee and ankles by ten percent
Rotating Toe Cord enables the tail of the snowshoe to drop in order to shed snow and make every step easier; rotation limiter prevents over-rotation and shin bang
ActiveLift 16-degree heel lift makes moderate ascents easier by lifting your heel to reduce calf fatigue and Achilles strain
Carbon-steel Cobra toe crampon provides constant contact in variable or icy conditions
Easy-to-use 180Pro binding provides a stable base for active trekking, and features Tubbs' Control Wings for a comfortable and secure fit
SoftTec decking provides durable, lightweight flotation
Love these snowshoes!
Familiarity:

I've used it several times
I was new to snowshoeing and did a lot of research before picking these. They are awesome! Easy to get in and out of and great bindings. I love the features. The heel lift makes uphill terrain a breeze! They have inspired my boyfriend to get a similar pair!
Rockin' My Winter World
Familiarity:

I've used it several times
I started snowshoeing as a way to get out with my dog in the winter. I literally don't go out the back door to the yard without them at this point. They're really easy to get in and out of (I wear Lacrosse 1600 gram boots with these, which are HUGE). Very comfy to walk in, and don't kick up an ungodly amount of snow. Overall, these were a great investment and I look forward to many good years with them.
Do these kick up a lot of snow when hiking?
Only if your running or using a longer gait. If you are casually walking with them it will kick up a bit of snow but, shouldnt be a real problem.
Bought these for my girlfriend and she loves them. They fit well and work wonders in the snow. Great for backcountry snowboarding.
I bought these to replace a pair of older, less expensive Tubbs that never seemed to stay on and had a heel strap that was worthless. So the binding system was very important and these didn't disappoint. Used them four times on packed trails and fresh deep snow. They are very, very easy to walk in and stayed well fastened durning a 3 hour hike in powder and steep grades. I had no trouble figuring out the binding system. I did a short, steep, icy slope (not something I'd make a habit of in snowshoes) to test them out and they were great-- the crampons held nicely during a couple of steps at a very high grade on almost ice without the binding slipping. I sunk up to my knees in deep powder but given they are not touted as backcountry snowshoes I wasn't too surprised even though I'm on the lower half of their advertised weight range. Would buy these again for the purpose I bought them for--although my next pair will be more compatible with deep powder so I can explore a little more past the end of an established trail. They were fun and I enjoyed the hikes without having to worry about uncomfortable snowshoes.
Reliable Tubbs
Gender:

Female

Familiarity:

I've used it once or twice and have initial impressions
This is a great showshoe. The bindings are easy to adjust and put on, once you figure out how to do it. I wish instructions or helpful hints on adjusting had been included. Other than that, they are great. Very sturdy. This is my second pair of Tubbs-I upgraded to Wilderness from Frontier because of the better bindings. I expect to get many years of use from them. I snowshoe daily up here in VT.
Looking for a hiking snowshoe for my active...
Looking for a hiking snowshoe for my active daughter 135 lbs . Don't think she'll need the mountaineer shoe so I was looking at the tubbs
Women's flex series. My concern is that they are plastic. Are they durable?
The only bits that are plastic are the bindings, and the deck. The frame is aluminum, the crampons are steel. That is pretty common these days in hiking shoes. These would be about perfect for her assuming of course she is not hauling a pack weighing 30+lbs, if so you might want to look into a bigger shoe, a 25" would be ideal and give her more float while backpacking. If she is just going to be out doing day hikes and just fun trips out in the woods the 21" will be perfect for her. Tubbs quality is top notch, and I can assure you that these are more than durable enough for her, and should last her many happy years.
Tubbs Wm's Wilderness Snowshoe