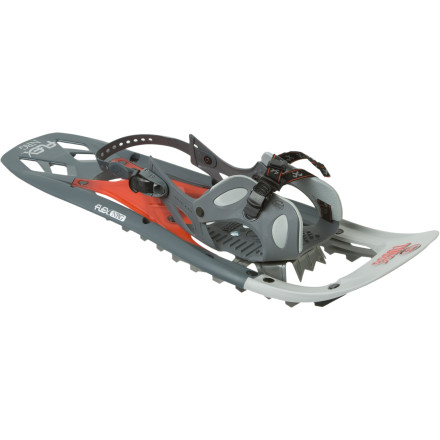 Detail Images

Videos

Community Images
Ditch the treadmill and the stairstepper, because the Tubbs Men's Flex NRG Snowshoes will allow you to keep up your fitness routine in the dead of winter. The NRG's Flex Tail technology allows the snowshoe to roll more naturally underfoot from heel-strike to toe-off, so you can walk or even jog with a more natural-feeling gait. Tubbs gave the Flex NRG its patented Soft Strike Zone under the heel of the binding to make your walk, hike, or run easier on your joints.
Torsion Deck design allows torsional articulation throughout the body of the snowshoe, maximizing comfort and traction on uneven terrain or variable snow conditions
3D Curved Traction rails ensure superior side-hill grip and hard-packed and icy conditions and on steep faces
Rotating Toe Cord enables the tail of the snowshoe to drop in order to shed snow and make every step easier
Do women buy this snow shoe also? I weigh...
Do women buy this snow shoe also? I weigh 165 lbs and the womens version goes to 150 lbs. (22"). Is the shape different, based on men or womens snowshoe, or only the length 22 or 24".
Best Answer
There is really little to no difference between the mens and womens version of the Tubbs Flex NRG Snowshoe other than color scheme. However our stock at the moment dictates that the mens will be 24" and the womens will be 22". Weight limits on snowshoes are primarily there to give you some sense of the practical limits of a snowhoe's length. Longer length will give your more surface area contact with the snow, and more surface area means a greater ability to stay afloat. You could be fine with the 22" womens version, but I would suggest the mens 24" because it will add a little float to your trekking without much if any loss in agility.
Keep,



When looking at the weights on snowshoes, I'd recommend looking at the weight of the items you'll be bringing with you and adding that to your weight:



Your weight

+

Gear

=

Combined weight (use this to determine the proper snowshoe)



Some companies* not all will make Women's snowshoes shorter and wider. While Men's snowshoes will be longer and narrower. This is due to Women naturally and normally (not always but most of the time) have wider hips which is conducive to wider snowshoes.



This snowshoe in particular is going to suit you well for what I'd refer to as "Mixed Terrain Snowshoeing" (Can we trademark that one?)



It'll be great for a mix of ice and hardpack... say a windblown peak or on some deep powder after a big storm.



However, keep in mind that these shoes don't have a heel riser on them so if you're doing some steep terrain... you're calves will be wagging a war with you. But these bindings will make for an incredibly easy on and off in the cold when you want to keep you fingers covered!



Jared D.

Gearhead

800.409.4502 ext 4055
Versatile and Ease
Familiarity:

I've used it several times
The Tubbs Flex NRG Snowshoe is designed to make things easier for you! These snowshoes use the NRG Flex Tail technology which allows you to walk or even jog with a more natural feeling and it provides less strain on your joints. The carbon steel crampons are great for traction on icy/hard packed snow conditions on steeper slopes. Also, the rotating toe cord affiliated with the binding system makes it very easy to get in and out of the bindings fast. Highly recommend this snowshoe.
Tubbs Flex NRG Snowshoe - Men's
Great snowshoe
Gender:

Male

Familiarity:

I've used it several times
Great snowshoe for trails. Used them on packed trails in the Black Hills. Worked great. Very easy to walk in. Great bindings. Easy in and out. Would highly recommend them .
This is the first pair of snowshoes I ever used and boy did it treat me! Looking at the basic design, these are your plastic frame snowshoe. They take a beating in the snow, but their flexibility and give make traveling over rocky areas a breeze. You do not have to worry about rips or tares with these. The binding was a little questionable. It's one solid step in binding, with a heel strap and an arch strap. I thought it would be flimsy, but I was wrong and held firm. Another concern would be balling around the binding, but this didn't truly happen either. The crampons were solid carbon steel which made the entire shoe a little heavy, but grip on a couple of frozen lakes was superb. There was no heel support with this model like you may see on a similar MSR brand for this price, but I was actually passing people up hill with the grip I had on these. All in all, very well built.
The feature-rich FLEX NRG is the gold standard for ergonomic comfort. The patented Soft Strike zone is coupled with the biomechanically-designed FLEX Tail to make the FLEX NRG a dream for your joints, and the new, slim deck shape makes your fitness and recreational endeavors more natural and comfortable.
Perfect allround snowshoe
I bought these because of the agressive traction rails and rotating toe cord, which help a lot. Traction is perfect on steep hills, there is only minimal sliding going downhill. Walking through deep powder was a lot of fun in these snowshoes, the snow glides of the back with ease, no flinging up of snow.