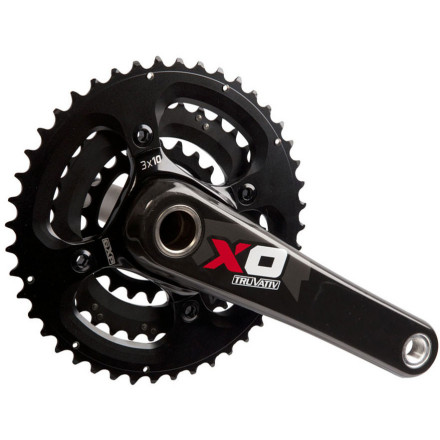 When your mountain bike needs to be more like a Jeep and less like a pre-runner Toyota, you need gear choices for any terrain. And nothing beats a triple crankset for gear options. This Truvativ X0 Silver GXP 3.3 10-Speed Crankset gives you options aplenty. Whether you need a super low granny gear for steep climbs or a huge gear for a Mammoth Kamikaze style descent, you can rely on the 22, 33, 44 tooth arrangement found here. It's a true all-mountain crankset. This X0 Silver Edition Crankset is structurally identical to the standard X0 piece, but the spider and portions of the chainrings are polished and clear anodized for a special kind of shiny that reminds us of our first mountain bikes.
The X0 Crankset uses carbon fiber like the top shelf XX crank, but there are a few differences. Unlike the XX crank, there's no alloy spine connecting the threaded pedal insert and the crank/spindle connection. SRAM engineers figured out a way to eliminate it, instead using a stiff structural foam core inside the composite skin. Don't think for a second that it's weaker; part of SRAM's goal for X0 was to make it burly enough to handle serious abuse.
Another difference is that this X0 crankset uses an aluminum spider where the XX spider is an integral part of the carbon crankarm assembly. While it's a few grams heavier, the X0 system allows you to remove the spider if you want to change from three to two rings or vice versa. As is, this 3x10 setup has a bolt circle diameter of 64/104mm. It's smaller than the 80/120mm BCD of the double ring version, but this is what allows the smaller tooth count for the inner ring.
SRAM re-engineered the shift ramps, pins, and cut outs on the middle and outer chainring to create the smoothest upshifts possible. On most chainrings these days, there are two sets of ramps and two drop points where the chain can get lifted or dropped quickly and under pressure. This means that twice each pedal revolution you'll hit these spots, so the shifting can be iffy if you shift at any other time. You've probably experienced this with the pause and clunk or sometimes smooth movement on other crank systems. The X0 outer ring allows perfect shifts just about all the way around the crank. They call this X-Glide.
The Truvativ X0 Silver GXP 3.3 10-Speed Crankset has Clear Coated Carbon fiber arms with a Polished and Clear Anodized 7075 T6 aluminum spider. The chainrings are made from the same 7075 alloy and have polished accents. It's available with either 170 or 175mm crankarms and features a 22, 33, 44 tooth chainring set. It requires a Truvativ GXP bottom bracket (not included).