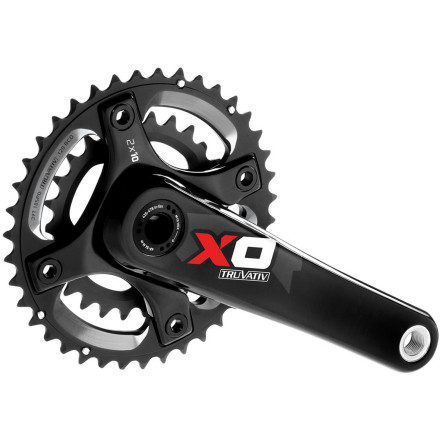 Colors
This Truvativ X0 GXP 2.2 10-Speed Crankset uses carbon fiber like the top shelf XX crank, but there are a few differences. Unlike the XX crank, there's no alloy spine connecting the threaded pedal insert and the crank/spindle connection. SRAM engineers figured out a way to eliminate it, instead using a stiff structural foam core inside the composite skin. Don't think for a second that it's weaker; part of SRAM's goal for XO was to make it burly enough to handle the rigors of all-mountain riding.
Another difference is that this XO crankset uses an aluminum spider where the XX spider is an integral part of the carbon crankarm assembly. While it's a few grams heavier, the XO system allows you to remove the spider if you want to change from two to three rings or vice versa. As is, this 2x10 setup has a bolt circle diameter of 80/120mm. Of course, it's an exclusive measurement, but for the chainring tooth combinations SRAM wanted to offer, it optimizes the stiffness of the rings. And stiffer chainrings mean quicker, more precise shifts.
Not only did they design their own optimized bolt circle diameters, but they re-engineered the shift ramps, pins, and cut outs on the outer chainring. On most chainrings these days, there are two sets of ramps and two drop points where the chain can get lifted or dropped quickly and under pressure. This means that twice each pedal revolution you'll hit these spots, so the shifting can be iffy if you shift at any other time. You've probably experienced this with the pause and clunk and sometimes smooth movement on other crank systems. SRAM's X0 outer ring allows perfect shifts just about all the way around the crank. They call this X-Glide. Another improvement stems from having only two rings. From the small ring, the chain can only go up, from the big ring, only down. With this in mind, each ring can be shaped specifically for its more focused purpose.
The Truvativ X0 GXP 2.2 10-Speed Crankset has Clear Coated Carbon fiber arms with a Black anodized 7075 T6 aluminum spider and chainrings and has Black, Blue, Gold, or Red color accents. It's available with either 170 or 175mm crankarms. The crankset comes in a standard double configuration or a double with a bash guard. The 42/28t and 39/26t configurations come as the standard double configuration and the bash guard can be found on the 38/24t and 36/22t options. It requires a Truvativ GXP bottom bracket (not included).
Share your thoughts
What do you think of the
TruVativ
X0 GXP 2.2 Crankset
? Share a...
XX1 with a different paint job.
Familiarity:

I've used it several times
I got these because I had too narrow of a q-factor on my old XX 2x10 cranks to convert to 1x11. In a 2x setup using an old XX 39t ring as a bash guard I have enough room to run a 30t narrow wide Blackspire Snaggletooth ring for the steep rocky rides. For racing and lower elevations I have a RF direct mount 32t ring that works very well. These cranks are a killer deal due to the removable spider allowing for XX1, XO1 spiders or a direct mount ring from either SRAM, Absolute Black, Race Face, Wolftooth, and others. The actual weight for the cranks without the spider and BB is 470g in the 167.5 q-factor GXP version. I like how stiff these cranks are under my substantial 220lbs+ gear. Bottom line if you want light stiff and strong cranks but don't want to break the bank these are your ticket.
Is the spider removeable on this crank? I plan on converting it to a 1x11 with a direct mount ring.
Best Answer
Yes it has the removable spyder so you can put a single ring ... direct mount or get the adapter for 94 BCD and put a ring on.
Thanks BOGDAN! These are awesome cranks and I was able to mount a RF NW 32t direct mount ring to save some weight and improve the ride quality of my Orbea.
Awesome, I'm debating getting a set too :-) I'm just a bit concerned that they are not really strong enough for DH as I saw some cranked cranks
I currently weigh 220lbs and haven't felt any flex and Truvativ carbon tends to be over built and plenty of guys run these cranks on WC DH sleds.
I have used the X.0 drivetrain for years and the nice thing about it is that it is like a swiss clock, always precise, well built, and beautifully crafted. Abuse after abuse, beating after beating the X.O group gets the job done.

The cranks are easy to install and complement the rest of the X) group perfectly.