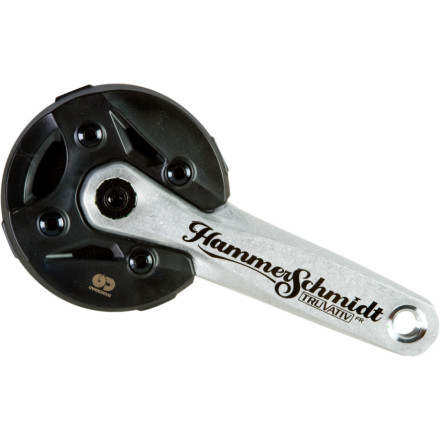 Shuttle rides are great, but even your best buddies eventually get tired of hauling your dirty carcass up to the top of the hill over and over again when they could be doing something more fun... like changing their fork oil. Dragging your freeride bike up to the top of the run is no walk in the park either, but the Truvativ HammerSchmidt Freeride Crankset could very well be the solution to your gravitational problem.
The HammerSchmidt Freeride retains the single-ring security you're accustomed to but now adds that very useful -- and sometimes necessary -- granny gear so that you can pedal your way into another run of downhill bliss. The key is a set of selectable planetary gears contained within HammerSchmidt's surprisingly compact and thoroughly sealed housing that offers both 1:1 and 1:1.6 'Overdrive' ratios with a single chainring. A 22T ring thus effectively delivers 22/36T gearing while a 24T ring mimics a 24/38T. All throughout, your chain never leaves that one chainring and is held on tight by the included chain guide. Even better, the smaller package diameter also yields more ground clearance than the 30-something chainring you'd normally run.
In the event your freeride follies also include uphill sections in the middle of the run, you'll appreciate how the HammerSchmidt quickly swaps gear ratios with a simple push or pull of the familiar SRAM trigger shifter. Since there's no waiting for the chain to physically move between two rings, gear changes are instant -- full load or no load. Shift right at the bottom of a steep power climb with wild boars hot on your tail or while casually coasting along and enjoying the view; HammerSchmidt won't care. In fact, you can shift while you're pedaling backwards.
If you're already running a two-ring Truvativ Holzfeller setup and chainguide, a complete HammerSchmidt Freeride setup is also only 11g heavier at 1785g and adds virtually nothing to the Q-factor.
Be warned: the Truvativ HammerSchmidt Freeride Crankset will only mount on frames with ISCG 03 or ISCG 05 tabs, and you'll also need the HammerSchmidt bottom bracket and trigger shifter. Crankarms are available in 165mm, 170mm and 175mm lengths.
What do you think about this product?
Have questions about this product?
Unanswered Question
I have a 2010 diamondback mission 2 and...
I have a 2010 diamondback mission 2 and i'm interested to upgrade with truvativ hammerschmidt crank set.my first question is... Is this compatible with my bike? And second question wil be... What else do i need to complete the upgrade. Thanks in advance